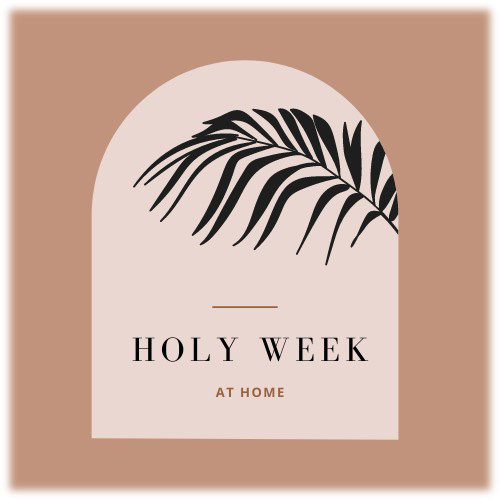 Self-guided retreat resources for Holy Week 2022
Prepared prayerfully by the Diocese of Erie Office of Faith Formation
How can you use this guide?
Each day (Palm Sunday, Holy Thursday, Good Friday, Holy Saturday, Easter) has 4 resources: Written reflection, optional online video reflection, reflection questions, and an activity for families.
Consider using the written reflection and questions for private prayer, journaling, and/or dinner table discussion with your family. The family activities are designed to engage children in a prayerful observance of Holy Week.
Wishing you a blessed Holy Week, from wherever you will celebrate it.

QUICK LINKS to content below:
Palm Sunday
Holy Thursday
Good Friday
Holy Saturday
Easter Sunday


Reflection:
"Jesus is coming." "He is here." "Let's go!" Can you imagine what it would have been like to wake up that Palm Sunday in Jerusalem? To be able to see Jesus, possibly talk to him, look in his eyes, be healed by him, etc. Would you have been the person staking out your spot the night before? Getting up extra early? Or would someone have to drag you there? Whoever you are, wherever you are it doesn't matter: Jesus loves you and is overjoyed to see you. This Palm Sunday imagine what that day would have been like for you, and know Jesus wants to be with you, whoever you are, and wherever you are on your faith journey.

Video: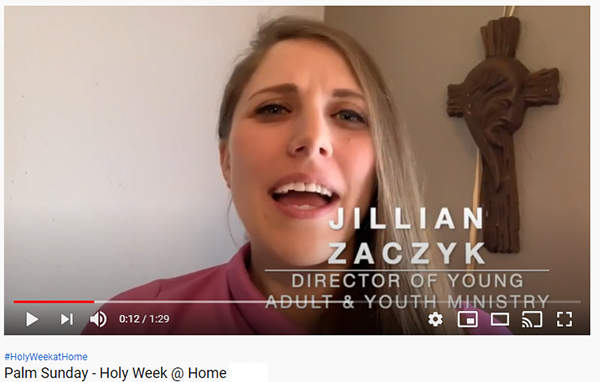 Reflection questions:
• How are you making a joyful procession toward Christ?
• Who is missing from your procession? What is some small way you can invite them to join you in your procession this week?
• Ask God how you can reflect Christ's love for that person to them between now and Easter.
Family activity:
Take a prayer walk outside in your neighborhood, at a park, or somewhere in nature. Carry your palms with you in your hands or in your pockets. Talk to each other about what that first Palm Sunday would have looked like for you.
Reflection:
Holy Thursday, or Maundy Thursday (Maundy is Latin for "command"), is a very important celebration in our Church. Firstly, the institution of the Eucharist is the most tremendous gift to us. And then, after supper was over Jesus got up from the table, tied a towel around his waist, and washed the disciples' feet saying, "This is my new commandment to you: Love one another as I have loved you. What I do for you, you must do for others. You must be servant to all." This is our invitation tonight: follow the example of Jesus and become a servant to others. Another beautiful ritual that occurs during Holy Thursday Liturgy is the stripping of the Altar and Sanctuary. This symbolizes the stripping of life that Jesus endured. We strip the altar of linen, candles, flowers. It is left bare until the Easter Vigil. What beautiful ways we can enter into this celebration: We can wash each other's feet at home, as well as strip our dining room tables bare.

Video: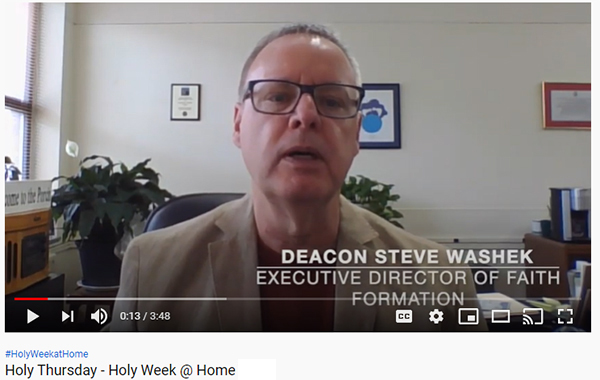 Reflection questions:
• How have you been a servant to the people that you love?
• How have you accepted acts of kindness and service from others—or have you chosen not to accept them?
• Ask God to lay on your heart a person you can reach out to in service, as well as someone whose kindness you feel challenged to accept.
Family activity options:
• Stripping of the Altar, adapted for a family dining room table
• Family Foot Washing Service, adapted from LighthouseSouthBay.org
Reflection:
Good Friday is full of symbols and rituals and is often a very somber day. The cross has become the most well-known symbol of Christianity in the world, and maybe even the most well-known symbol of all. The crucifix is uniquely Catholic, and it reminds us that our sins are no small thing.

Take time today to reflect with the cross or crucifix in your home. And don't be afraid to feel the heaviness of what we remember today, because especially today, we remember Jesus's Sacrifice with sorrow, but also with the joy of knowing how it saved us.

Video: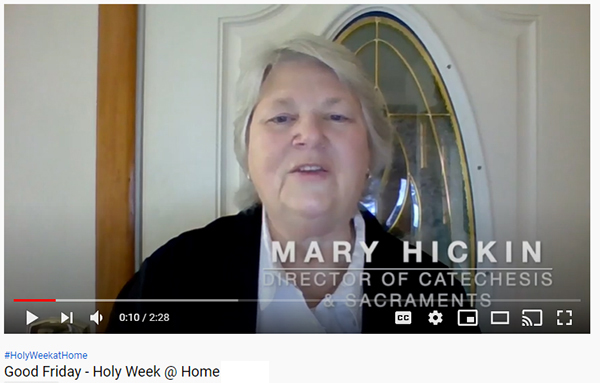 Reflection questions:
• What does it mean to be saved by the cross? How does the sacrifice of Jesus, the Lamb of God, affect you personally?
• Imagine yourself at the Via Dolorosa – the path Jesus took as He made His way to Calvary. Look into His eyes as His mother did, as we honor that moment in the 4th Station of the Cross. Let your heart cry out to Him. What is it you would say to Him if you were at the foot of the cross? Tell Him now.
Family activity options:
• Tenebrae Service at home (CatholicAllYear.com)
• Veneration of the Cross for at Home (Diocese of Corpus Christi/Catholic Company)
Reflection:
"We are called to "wait in joyful hope for the coming of Jesus Christ." But sometimes, waiting can be a challenge—not to mention the challenge of doing it joyfully and with hope! Holy Saturday is an entire day of waiting built into our liturgical year, and it reminds us that waiting can be an act of faith. Jesuit priest Pierre Teilhard de Chardin invites us to "Give Our Lord the benefit of believing that His hand is leading you and accept the anxiety of feeling yourself in suspense and incomplete." What an apt reminder that is in this year of pandemic, which for some might have felt like an entire 12 months of Holy Saturdays, waiting for it to be safe for them to return to their parishes to celebrate Mass in person.

Recall the rituals of holy fire and water that are part of our Easter Vigil celebration. They give us a tangible, physical reminder of God's activity in our lives and the entire earth around us. And, receiving Christ in the Eucharist is a gift beyond measure. No matter how long the pandemic might make some wait for this gift, what a joyful moment it will be to return to the altar of God and receive that which we await today: The Risen Christ.

Video: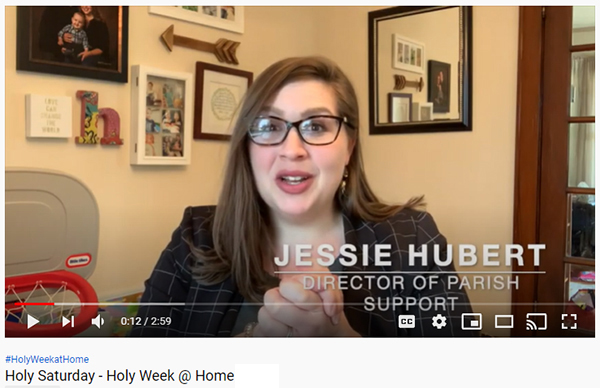 Reflection questions:
• What are you waiting for in your life? Ask Christ in your own words to come and sit with you in your waiting, and to make your waiting holy.
• What rituals do you love about Easter Vigil, and why? Walk through those rituals in your prayer today and immerse yourself in the memory of them.
Family activity: Paint a stained-glass window at home
Adapted from CatholicIcing.com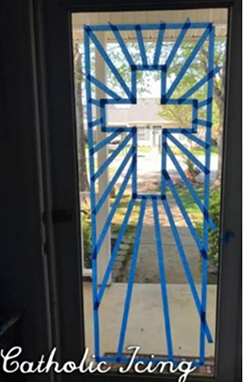 Part I (Holy Saturday): Create an outline of a cross with painter's tape on your front storm door or window. Use painter's tape to add an X coming out of the cross and add a border. Then, using tape, create "rays" coming out of the cross. Your children will want to finish painting it on Holy Saturday! Talk to them about the value of waiting in joyful hope for Easter Sunday, when they can add the color. You'll work on Part 2 of this project as your family activity for Easter Sunday (scroll below).
Reflection:
Mary of Magdala, Peter, and the other apostles were confused, scared, and dismayed when they found out that the tomb was empty. Little did they know that having an empty tomb is the beginning of the Good News. Perhaps it is hard for us to exclaim, "Hallelujah!" and find the joy of the Resurrection amid this pandemic where we see sicknesses and deaths, economic disruptions, postponed schedules, and all kinds of uncertainties. Yet like the apostles, we could hope that today is a new beginning. Indeed, today is a new beginning of the Good News and life itself. Jesus Christ is risen! Let us put our faith in the hope that we too will rise with Christ!

Video: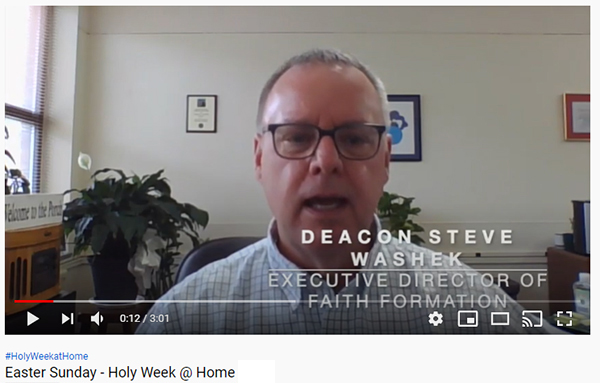 Reflection questions:
• What hope and encouragement do you need this Easter? How can your family, friends, and parish support you in this? Have you asked them for this support?
• Easter calls us to be a Resurrection people: What tomb in our life do we need to arise from?

Family activity: Paint a stained-glass window at home
Adapted from CatholicIcing.com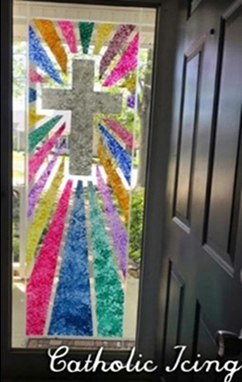 Part II (Easter Sunday): Mix equal parts washable craft paint & dish soap. Invite your children to use fingers, cotton balls, or brushes to paint each wedge a different color. Celebrate the light that comes with Easter morning!