A BIG thank you to all our guests who supported the 2018 Club CC Night!
It truly was a fun-filled night of Celebration and Continuation of the good works of Catholic Charities!
Thank you for making the good works of Catholic Charities possible! Please consider joining us next year for what we anticipate will be another SOLD OUT event! Until then, please look back on the good times on our Photo Gallery.

2018 Helping Hands Honorees
Ann & Charlie Rutkowski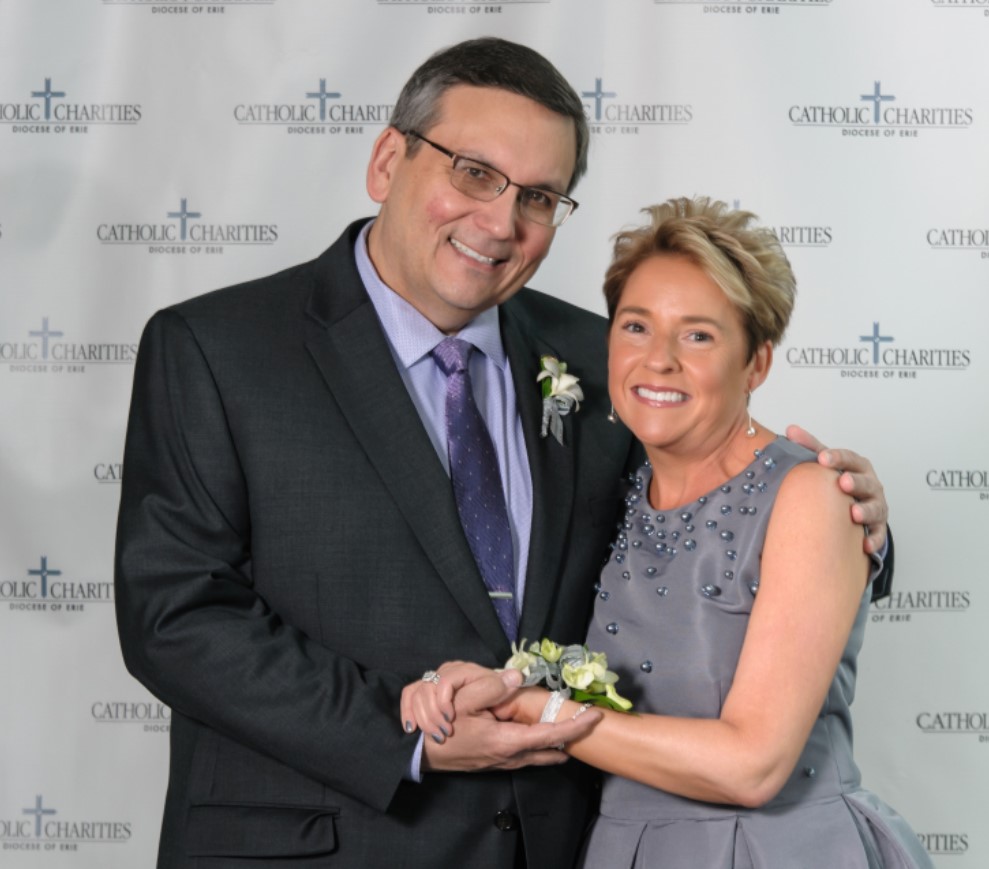 2018 Host Circle Couple
Meg & John Britton





2018 Host Circle

:

Atty. Jay & Ruth Alberstadt, Gregory & Ann Badach, John and Bridget Barber, Dr. Warren & Christine Beaver, Dr. & Mrs. Michael Cooney, Dale DeMarco, Chris & Mary Fette, Bill & Becky Hilbert, Mr. & Mrs. Thomas J. Loftus, Lisa & Mark Louis, Mary Maxwell, Mark & Lisa McCain, Frank & Mary Therese Riley, Sally Rouch, Charlie & Ann Rutkowski, James & Mary Rutkowski, Daniel & Dawn Schaaf, Tim & Annalynn Shuttleworth, Benjamin & Colleen Stumpf, Dan & Maryanne Tempestini, Christine & Jim Toohey, James & Mary Ann Toohey
Sponsors



DIAMOND CIRCLE
GOLD CIRCLE

Purchase Tickets
Club CC Night is over, but charitable contributions can still be made to help assist our affiliate agencies by clicking here! We appreciate your dedication to help us serve the needs of others through your generosity!

Accommodations
We would like to thank the
Sheraton Erie Bayfront Hotel
for the discounted rooms they offered to our guests, on the evening of Club CC Night!
We look forward to another successful collaboration of working together with them again, next year!!
About Us
In 1991, Catholic social service agencies were gathered together to form Catholic Charities of the Diocese of Erie. Together, the affiliate agencies that form Catholic Charities include: Harborcreek Youth Services, St. Martin Center, Catholic Charities Counseling and Adoption Services (CCCAS), and Better Housing for Erie; Prince of Peace Center (Farrell), Good Samaritan Center (Clearfield), St. Elizabeth Center (Oil City), and Catholic Rural Ministry in Potter and Venango counties.
In addition, the diocese's commitment to respecting the dignity of all human life gave rise to the evolution of two nursing homes: Saint John XXIII Home (Hermitage), and Christ the King Manor (DuBois), as well as its Office of Social Justice and Life, Office of Disabilities Ministries and Ministry with the Deaf and Hard of Hearing; the Family Life Office, and the Office of Diocesan and International Missions.
Guided in faith by the Holy Spirit, Catholic Charities agencies, ministries and programs continue to be witnesses and servants of Jesus Christ, committed to the sacredness of all human life and the betterment of society.
Club CC Night is a fund-raising effort to help
CELEBRATE
the good works accomplished through these affiliate agencies, while helping to provide the funds necessary to
CONTINUE
the good works
yet to be done!