The History of Catholic Charities of the Diocese of Erie
Established by papal decree in 1853, the Diocese of Erie extends many ministries across its 10,000 square mile borders. With local oversight and financial support, clergy and lay leaders built a strong foundation of ministry-minded and regionally grounded human service agencies and institutions, designed to provide a social safety net for persons in need. While many social and pastoral concerns were addressed over the years, they lacked a coordinating tether to provide for their common Catholic identity.
In 1991 under the leadership of The Most Reverend Donald W. Trautman, these Catholic social service agencies were gathered together to form Catholic Charities of the Diocese of Erie. While the agencies and programs continued to operate as individual entities, Catholic Charities became a separate corporation as part of a two-tiered governance structure, which include the agency director and board at the local level, and the corporation members at the diocesan level. These corporation members include the bishop of the diocese as Chairman, the vicar general, the diocesan chancellor and the executive director of Catholic Charities.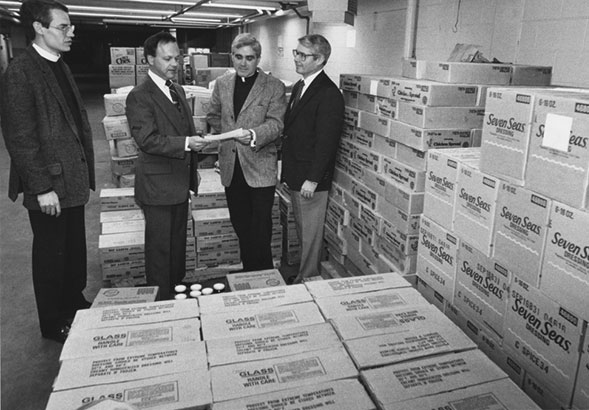 Sharon Food Bank, Nov. 1983

Together, the affiliate agencies that form Catholic Charities include: Harborcreek Youth Services, St. Martin Center, Catholic Charities Counseling and Adoption Services (all in Erie), Prince of Peace Center (Farrell), Good Samaritan Center (Clearfield), and St. Elizabeth Center (Oil City).
In addition, the diocese's commitment to respecting the dignity of all human life gave rise to the evolution of two nursing homes: Saint John XXIII Home (Hermitage), and Christ the King Manor (DuBois), as well as its Office of Social Justice and Life, Office of Disabilities Ministries and Ministry with the Deaf and Hard of Hearing, and the Office of Diocesan and International Missions.
Guided in faith by the Holy Spirit, Catholic Charities agencies, ministries and programs continue to be witnesses and servants of Jesus Christ, committed to the sacredness of all human life and the betterment of society.