Donations sites in Erie County
Erie PA for Ukraine is a humanitarian effort started by the Slavic community in Erie. Their work is going to assist civilians and refugees of Ukraine.

Donations are being accepted
Wednesdays & Saturdays
from 3:00 pm – 6:00 pm
at 820 W. 20th St., Erie

A list of requested items can be found below.


| | |
| --- | --- |
| | |



________________

Five Catholic Churches serving as donation drop-off locations
Items will be sent to Lublin, Poland and Ukraine. Items may be dropped off at the below locations. Please call ahead.



Holy Trinity Parish


2220 Reed Street
Erie PA 16503
Office phone: 814-456-0671



Our Lady of Mount Carmel Parish


1531 East Grandview Blvd.
Erie PA 16510
Office phone: 814-825-7313



Saint Casimir Church (Our Mother of Sorrows Parish)


629 Hess Ave.
Erie, PA 16503
Office phone: 814-452-4832



Saint Hedwig Church


521 East 3rd Street
Erie PA 16507
Office phone: 814-454-6263



Saint Stanislaus Parish


516 East 13th Street
Erie PA 16503
Office phone: 814-452-6606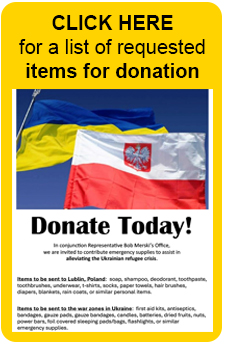 ________________

First Ukrainian Pentecostal Church is collecting donations of money and medical supplies.
Checks can be made payable to First Ukrainian Pentecostal Church, with "Donations for Ukraine" in the memo line.
Please mail monetary donations to 3510 Pine Ave., Erie, PA 16504.
Donations of medical supplies can be dropped off at the church.
Questions can be directed to Pastor Rogulchik at 814-528-7409 or Pastor Vladymir Snitko at 814-602-1079. Please call or text before leaving any donated medical supplies.