Bishop's portraits and coat of arms
Click on an image below and when the larger image appears (the entire image must appear from top to bottom), right-click and choose "save as" or "save target as."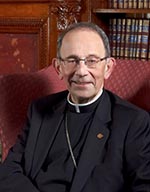 Explanation of the coat of arms
The coat of arms of Bishop Lawrence T. Persico combines the coat of arms of the Diocese of Erie with his personal coat of arms using traditional elements. At one time in history, bishops wore a pilgrim's hat, called a "galero," in a bright green. A gold-colored episcopal cross behind the shield was carried immediately in front of any bishop whenever he was exercising his office.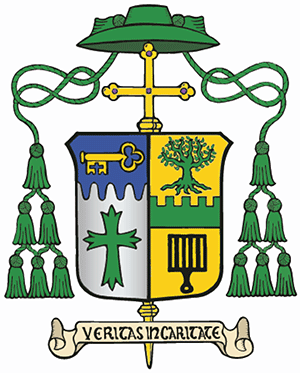 The left side of the shield contains symbols of the Diocese of Erie. The main part of the field is silver, depicted here in white, and contains a large green Latin cross. The ends of the arms of the cross expand and terminate in the three points making it a patoncé cross. The upper third of the shield is colored blue and separated by a line of division suggesting the waves of Lake Erie. The gold key is a symbol of St. Peter, the titular saint of the diocesan cathedral church.
The right side of the shield contains the personal coat of arms of Bishop Persico. The background is gold, depicted here in yellow. Across this field is a bar called a "fess" in green with an upper edge that suggests the wall of a castle and the name green-burg (city), the bishop's native diocese.
Above this bar we see a green tree suggesting a peach tree from which the family name Persico is derived. Below the bar is a black gridiron, a symbol of St. Lawrence, the bishop's patron saint, who is thought to have suffered martyrdom by being roasted alive by his persecutors. These three symbols also reflect the bishops under whom Bishop Persico has served by repeating a symbol from their coats of arms: from Bishop William Connare, the fess; from Bishop Anthony Bosco, the tree; from Bishop Lawrence Brandt, the gridiron.
Below the shield is the bishop's motto, "Veritas In Caritate," "Truth in Love," from Ephesians 4:15: "Rather, living the truth in love, we are to grow up, in every way, into him who is the head, Christ."
The coat of arms was designed by Father Guy Selvester, a priest of the Diocese of Metuchen, N.J., and an expert in heraldic design, specializing in ecclesiastical heraldry.