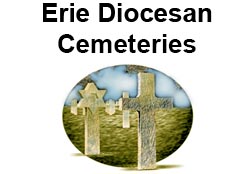 Calvary Cemetery Office Hours
Monday – Friday: 8:00 a.m. – 4:30 p.m.
Saturday: 8:00 a.m. – Noon
Closed Sundays and Holidays and at noon on Good Friday, December 24th and 31st.
Mission Statement
Because of our faith perspective, Diocesan Catholic Cemeteries cannot be looked upon primarily as a business. Rather they are sacred places where the dead repose in Christ until their resurrection and where the bereaved are ministered to. This ministry, as Catholic Christian witness, is to give consolation to those who have been touched by death because of the hope of eternal life which our faith in the Resurrection of Jesus Christ gives us. Through baptism, we have been baptized not only into the Lord's redeeming
death,
but also His Resurrection. We are
then
people of hope and our cemeteries are likewise places of hope, which can give comfort to those who are mourning. Consequently, the work of those who staff our cemeteries is to be marked by welcoming, compassion, faith, healing, and hope.