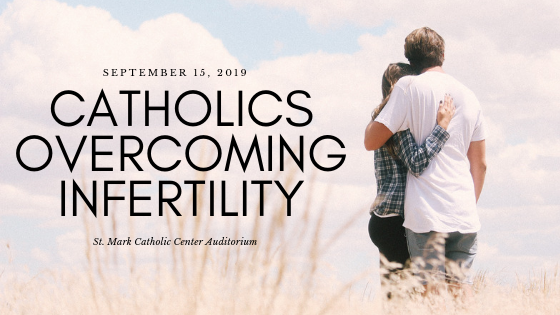 The Diocese of Erie invites you to join other couples facing infertility at St. Mark Catholic Center on Sunday, September 15, 2019 from 1:00pm - 4:30pm. The seminar is designed to support couples at this important time in their lives and provide medical, non-medical, spiritual and emotional resources. See the speaker list below for an overview of session topics and presenters.


Human Dignity Guiding Reproductive Testing and Treatment
Fr. Christopher Singer, Diocese of Erie
Unpack the Church's teaching on human dignity and build a framework to evaluate fertility testing and treatment in light of human dignity.

Understanding Your Fertility: Creighton Model FertilityCare
Mrs. Sheri Lang, FertilityCare Practitioner
Learn about biomarkers indicating the inner workings of a woman's cycle and how to restore reproductive health using NaPro Technology as well as sustainable lifestyle changes.

From an Ob/Gyn's Perspective
Dr. Jaime Obst, Ob/Gyn, Sisters of Charity Hospital, Buffalo
Be prepared for questions at the doctor's office and know which procedures support your faith. Understand faithful and medically sound alternatives if you are offered something contrary to your faith.
Growing through Adoption
Danelle Stone, Director of Adoption Services at Catholic Charities Counseling and Adoption Agency
Educate yourself on the adoption process and local adoption agencies.
The Whole-Person Approach
Mr. Joseph Haas, Executive Director of Catholic Charities Counseling and Adoption Agency
Recognize the emotional resources available for individuals and couples as they face the joys and challenges of this time in their lives.
Real Life: Couples
TBA
Couples who have faced infertility share how it affected their marriage and their faith, including how they found strength and joy in both.