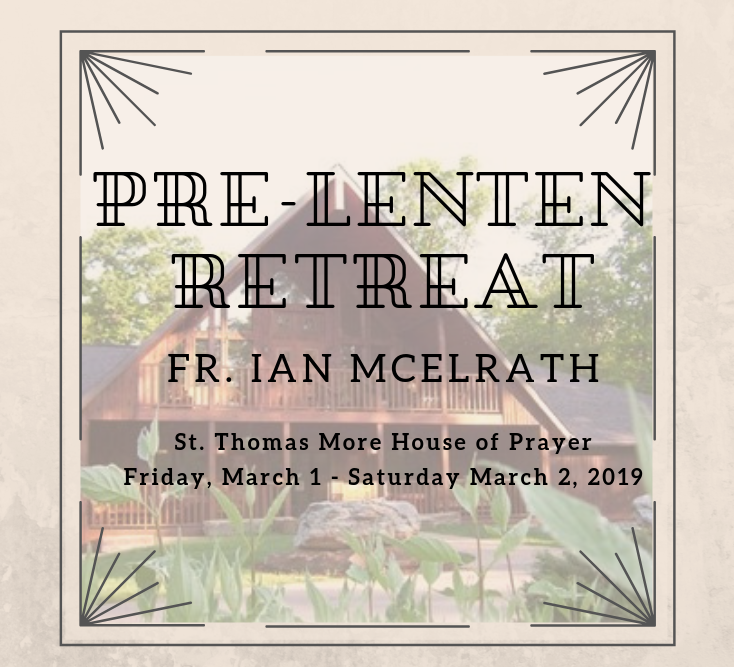 Register by phone by calling Kate at 814-824-1259 or register online here.

Retreat Theme
From Darkness to Light: Lent with the Gospel of John

Accomodations and Pricing:
The retreat will be held at St. Thomas More House of Prayer in Cranberry, PA. Overnight registrations are $70 per person or $100 per couple and include Friday dinner. Commuter registrations are $5 per person. If commuters would like to stay for Friday's dinner, they will need to order Friday's dinner separately at a cost of $12 per person. Please complete your registration by February 25 (extended from the January 31 date in the newsletter).
Pre-Lenten Retreat Schedule:
Friday, March 1st
3:00 PM Early Arrival
5:15 Welcome in Foyer
Evening Prayer
6:00 Dinner
Gathering / Introduction
Conference I
8:00 Night Prayer
Holy Hour / Confessions
Social
Saturday, March 2
nd
8:00 AM Morning Prayer / Mass
Breakfast
Mid-morning Prayer
10:10 Conference II
Mid-day Prayer
12:15 PM Lunch
1:00 Conference III
3:00 Mid-afternoon Prayer*
5:30 Evening Prayer
8:00 Night Prayer
*The retreat ends after Mid-afternoon Prayer, but participants are invited to linger and depart after Evening or Night Prayer. Please note that dinner WILL NOT be served on Saturday.