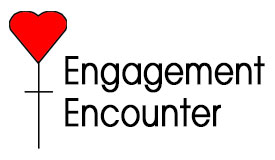 Built on the belief that "a wedding is one day...marriage is for a lifetime," the Engagement Encounter program helps couples build and refine their thoughts and prepare for married life.
Schedule:

March 27, 28, 29, 2020
at St. Mark Catholic Center
429 E. Grandview Blvd.
Erie, PA 16504
Start time: 7 p.m. on Friday
Ending time: 1 p.m. on Sunday
REGISTER ONLINE
Engagement Encounter brochure
Details for Couples Attending Engagement Encounter
Read our Faith magazine story
Join us on Facebook
Kate Wilson
, Director
Family Life Office
429 E. Grandview Blvd.
P.O. Box 10397
Erie, PA 16514-0397
Phone (814) 824-1261 • 800-374-3723
Fax (814) 824-1264