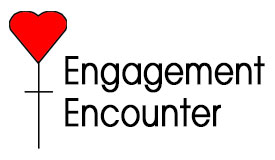 Engagement Encounter provides a weekend getaway for couples as they learn and discuss topics integral to their marriage. Couples enjoy the luxury of putting the details and pressures of life away for a few days while they grow and enjoy extended time for private conversation. A team of married couples and a priest provide reflections and some thoughtful experiences along the way.
2023 Schedule:


January 13-15, 2023



Other opportunities for Engagement Encounter will be added through the year. Please check back if the available options are not compatible with your schedule.



Click here to register for the 2023 Engagement Encounters.

Held at St. Mark Catholic Center
429 E. Grandview Blvd.
Erie, PA 16504
Start time: 7 p.m. on Friday
Ending time: 1 p.m. on Sunday
Engagement Encounter brochure
Details for Couples Attending Engagement Encounter
Read our Faith magazine story
Join us on Facebook
Kate Wilson
, Director
Family Life Office
429 E. Grandview Blvd.
P.O. Box 10397
Erie, PA 16514-0397
Phone (814) 824-1261 • 800-374-3723
Fax (814) 824-1264