DIY Marriage Tune-up
Married couples, this web page is for you. Whether you participate in the activities alone or with a group of married couples, you'll find something fun to enrich your marriage and REV it up! Enjoy the ride and tune-up your marriage!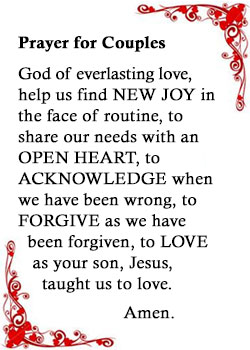 Six Dates for Catholic Couples
Ten Great Dates
Ten Great Dates Sample Video
USCCB National Marriage Week Page
New Year's Resolution for Couples
For Your Marriage
Weekend Opportunities
Worldwide Marriage Encounter - for healthy marriage
www.yourmarriageisworthit.org
Retrouvaille - for troubled marriages
www.helpourmarriage.org
---
Kate Wilson
, Director
Family Life Office
429 E. Grandview Blvd.
P.O. Box 10397
Erie, PA 16514-0397
Phone (814) 824-1261 • 800-374-3723
Fax (814) 824-1264