Retrouvaille: Toward healing a hurting marriage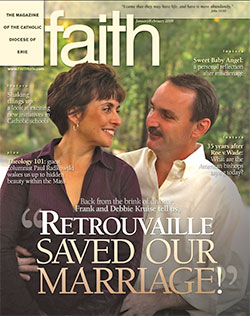 Read the Faith magazine cover story:
"Retrouvaille saved our marriage!"
Retrouvaille is a weekend experience for couples who are experiencing difficulty in their marriage. Held in complete confidentiality and privacy, Retrouvaille is designed for couples who need help strengthening a marriage that no longer feels life-giving. Following the completion of the weekend, couples are encouraged to attend a 6-week follow-up program.
For confidential information or to speak with a couple experienced in the Retrouvaille program, please contact the Family Life Office at 1-800-374-3723 or 814-824-1261.

Click here to find a retrouvaille near you
Kate Wilson
, Director
Family Life Office
429 E. Grandview Blvd.
P.O. Box 10397
Erie, PA 16514-0397
Phone (814) 824-1261 • 800-374-3723
Fax (814) 824-1264