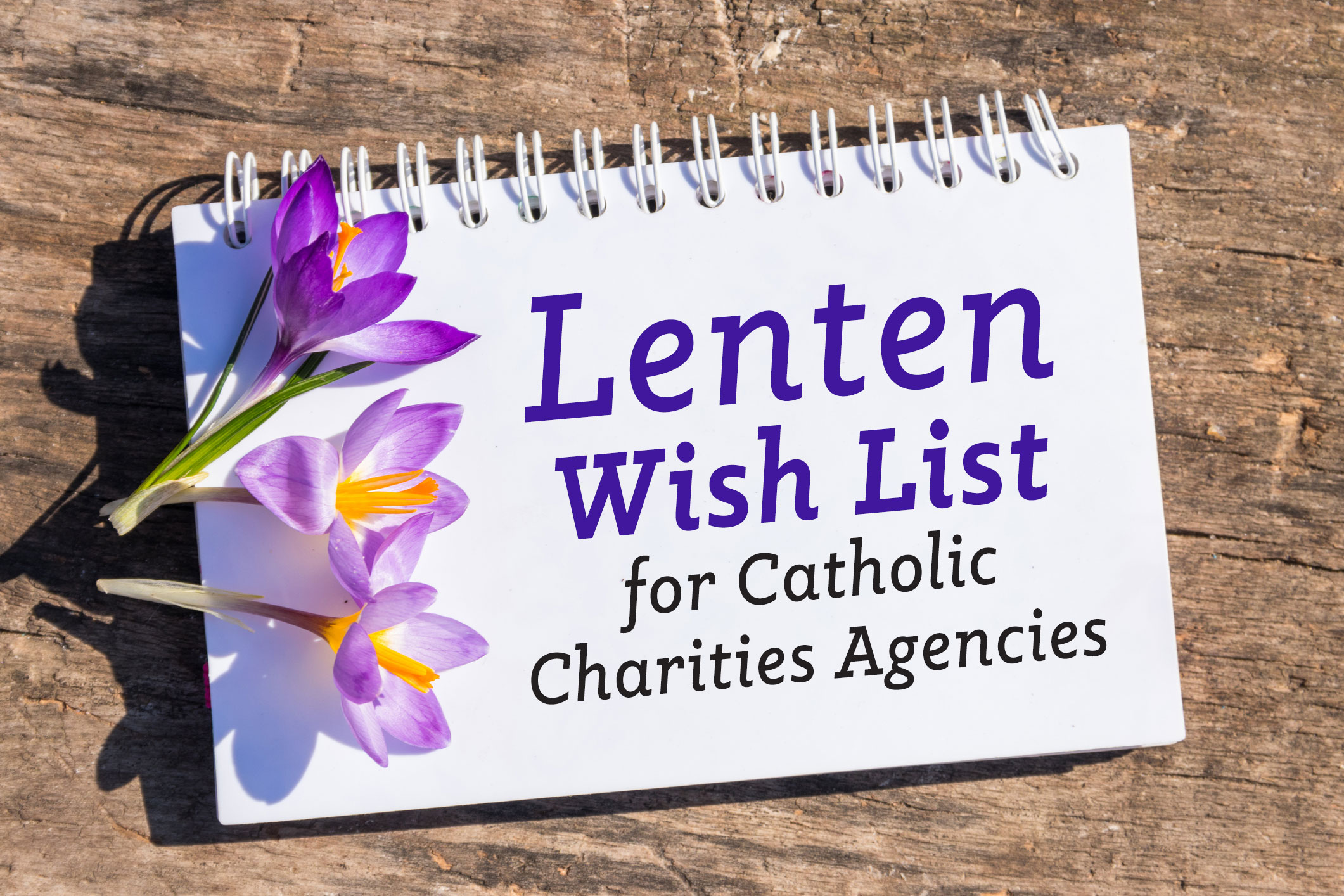 Want to make a difference? Catholic Charities welcomes donations during the Lenten season. Charities agencies across the 13 counties of the Diocese of Erie invite you to review their wish lists. What is the best fit for you?


Catholic Charities Counseling and Adoption Services (CCCAS), eight locations
Professional counseling, pregnancy counseling, adoption services and emergency case management.

Diapers in all sizes
Baby formula and baby food
Gift cards for food, gas, prescriptions and other emergency needs

Joe Haas, CEO
(814) 456-2091
jhaas@cccas.org
Erie/Main Offices: 329 W. 10th St.
Bradford: 125 Main St.
Clearfield: 312 E. Market St.
DuBois: 90 Beaver Ave.
Greenville: 85 High St.
Grove City: 1310 S. Center St. Ext.
St. Marys: 32 S. St. Mary St., Franklin Center
Sharon: 995 Linden St.
---

Christ the King Manor, DuBois
A continuing care retirement community providing skilled nursing care, personal care, Alzheimer units,
rehabilitation services, home support, and independent living cottages and apartments.

Daily devotionals booklets
Painting materials for crafts
Puzzles
Corn Hole
Any age appropriate games (Large print cards,etc)
Personal items: razors, shampoo, soaps, etc.
Sudoku and crossword books

Robin Badger, Activities Director
P.O. Box 448
1100 W. Long Ave.
DuBois, PA 15801
(814) 371-3180, ext. 112
rbadger@christthekingmanor.org
www.ctkmanor.org
---

Good Samaritan Center, Clearfield
Homeless shelter for temporarily homeless men, and coordinated emergency services for the community.

Nonperishable food
Paper towels
Toilet paper
Cleaning supplies
Hygiene supplies for guest residents
Gift cards for emergency food or transportation need

Douglas Bloom, CEO
11 N. Front St.
Clearfield, PA 16830
(814) 765-6880
goodsamcenter@atlanticbb.net
---

Prince of Peace Center, Farrell/Shenango Valley
Provides crisis assistance, soup kitchen, thrift store, case management and life-skills education.

Personal hygiene items
Household cleaning supplies
Gently used household items or furniture
Restaurant or grocery store gift cards for emergency needs
Gift cards for gasoline or prescription help

Jennifer Wallace, CEO
502 Darr Ave.
Farrell, PA 16121
(724) 346-5777
popc@princeofpeacecenter.org
---

St. Elizabeth Center, Oil City
A food pantry and thrift store serving individuals and families in the Oil City Area.

Non-perishable food
Hygiene products
Household cleaning supplies
Household items for the thrift store
Gift cards for food, gas, prescriptions and other emergency needs

Doug Kennedy, CEO
311 Emerald St.
Oil City, PA 16301
(814) 677-0203
saintelizabethcenter@verizon.net
---

St. John XXIII Home, Hermitage
Provides skilled nursing care, long-term care, personal care, hospice, respite care, Alzheimer care and
independent living cottages.

Puzzles
Crossword books
Playing cards
Sudoku
Men's or women's socks
Adult slippers of varied sizes
Small prayer booklets
Signed greeting cards


Kirk Hawthorne, Administrator
2250 Shenango Valley Freeway
Hermitage, PA 16148
(724) 981-3200
klhawthorne@stjohn23home.org
---

St. Martin Center, Erie
A social services agency providing food pantry, early learning, emergency assistance (rent, mortgage, utility),
housing and budget counseling.

Personal hygiene items
Home cleaning products
Small sized children's books
Art supplies for children

David Gonzalez, CEO
1701 Parade St.
Erie, PA 16503
(814) 452-6113
dgonzalez@stmartincenter.org