ALTAR SERVERS RECOGNIZED
Mary Solberg
09/20/2018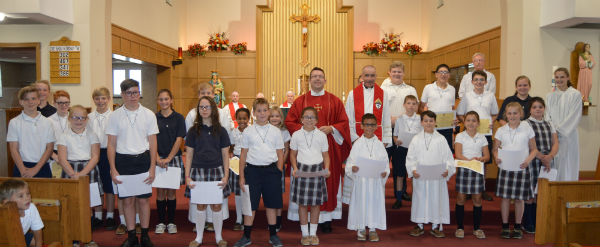 The Vocation Office of the Diocese of Erie and Erie's Serra Club have recognized the hard work of many altar servers from seven different Catholic parishes in the Erie area.
The girls and boys who serve the parishes of St. Joseph/Bread of Life, St. Stanislaus, Holy Trinity, Our Lady of Mount Carmel, St. Boniface, St. James, and St. Peter Cathedral parishes were honored with medals and certificates at the St. James School Mass on September 14. Altar servers were also recognized at all the weekend Masses at St. Joseph Church/Bread of Life Community on September 15-16.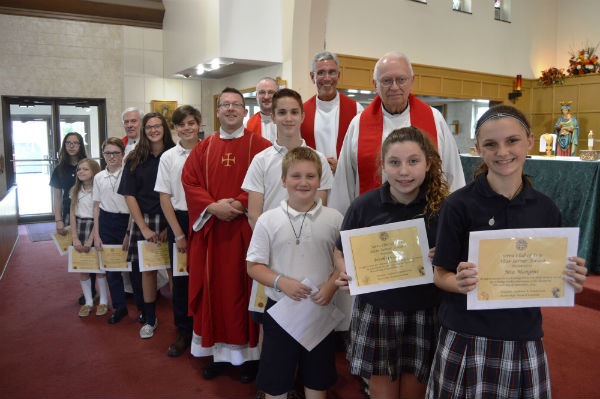 Father Michael Polinek, diocesan vocations director, presented the awards along with representatives of the Serra Club, an organization devoted to the support of religious vocations, along with parish priests.
"Altar servers literally assist the priest in bringing Jesus to the people in Holy Communion!" Polinek said. "They can experience and participate in Mass in specific ways. The altar servers I have served with in my travels throughout the diocese seem to have a greater sense of what is happening at Mass, a regular prayer life, and a sense that God has a specific vocation for them. We want to recognize them for their willingness to serve and to encourage them to seek out their vocation in life."
Each server received a medal of St. John Berchmans, the patron saint of altar servers.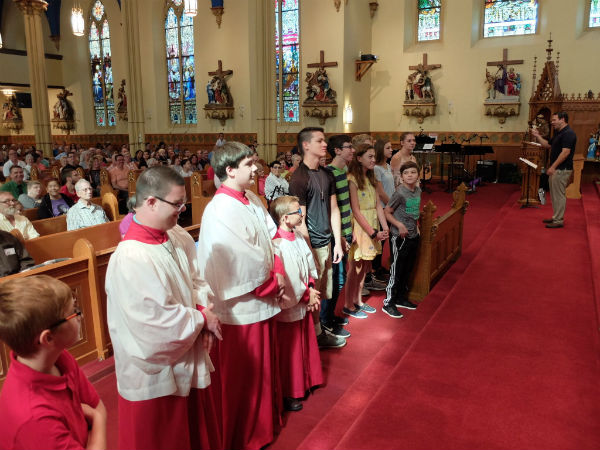 -