BISHOP PERSICO CELEBRATES MASS AT SCI MERCER
Anne-Marie Welsh
08/03/2018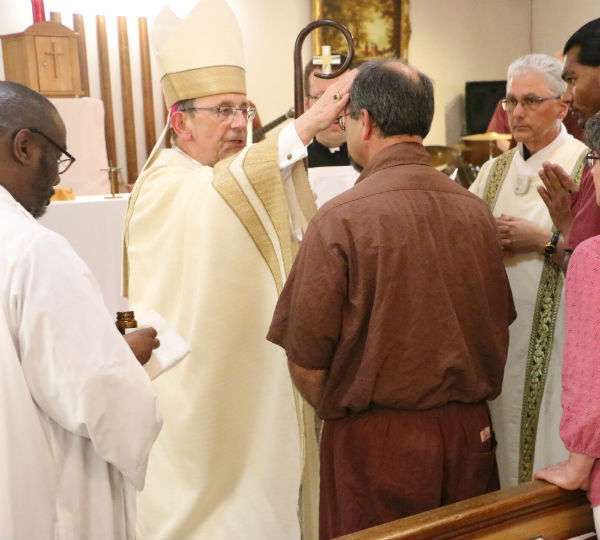 During an evening he called "uplifting," Bishop Lawrence Persico celebrated Mass at SCI Mercer on Aug. 2. At a Mass attended by more than 40 people, two men received the sacrament of baptism, while four received confirmation.
"I always find it moving when we celebrate the sacraments of initiation, or even just celebrate Mass with inmates at our state correctional institutions," the bishop said afterward. "There's just a connection. They are so open to hearing the Word of God, and they have a hunger for that Word, to give them some substance in their lives."
During his homily, Bishop Persico emphasized that all of us face difficulties.

"I don't have to tell you that life can be complicated," he said. "We go through rough spots that lead to suffering. But we don't go through it alone. Christ walks with us."
He noted that Christ's life wasn't all healing and miracles.
"He experienced betrayal, dying alone on the cross," the bishop said. "But when all seemed lost, look at what happened: the resurrection."
Bishop Persico encouraged the men present to turn to Christ in moments of loneliness or sorrow.

"There is no glory without the cross," he said. "That's the Christian journey. But as Christians, we do not carry the cross alone. Christ helps us."
Before baptizing and confirming the men who had requested the sacraments, Bishop Persico encouraged everyone at the Mass to use the opportunity to renew their own baptismal promises and commitment to Christ.

Bishop Persico was the principal celebrant at the Mass, which was concelebrated by Father Matt Kujawinski, pastor of Immaculate Heart of Mary Parish in Mercer. Deacon Ed Horneman, chaplain at SCI Mercer, read the Gospel. His wife, Diane, served as sponsor for one of the men who received confirmation. Father Michael Polinek, director of vocations for the Diocese of Erie, was the master of ceremonies. Two inmates were altar servers, and a choir of several prisoners provided the music, singing with great enthusiasm.
-