BISHOP PERSICO TO HOST VIRTUAL TOWN HALL
Anne-Marie Welsh
05/18/2020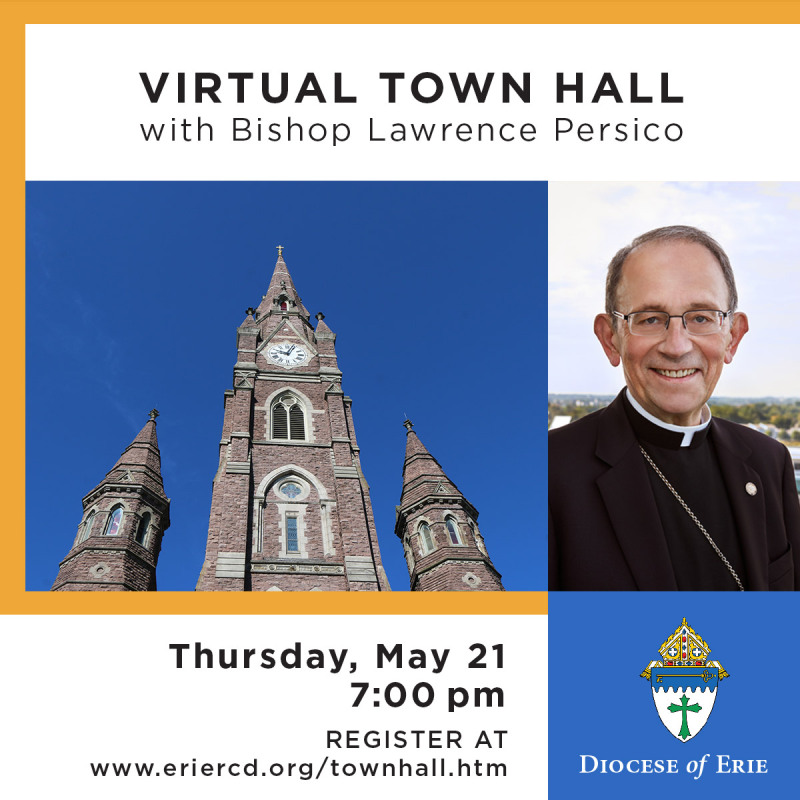 ERIE — Conversations among family and friends, as well as on social media, have been ramping up now that Bishop Lawrence Persico has announced a gradual return to the restoration of public worship. Exchanges on Facebook, in particular, indicate there is considerable disagreement about how and when people should return to Mass, in particular.
The wide range of thinking on the topic is one of the reasons Bishop Lawrence Persico is holding a virtual town-hall meeting via Zoom on Thursday, May 21 at 7 pm. During the one-hour presentation, he hopes to address many of the dozens of questions that have been submitted in advance by parishioners from across the diocese.

Parishioners are welcome to register for the event at http://www.eriercd.org/townhall.htm. Questions can be submitted as part of the registration process, or by sending an email to townhall@eriercd.org. They can also be submitted directly online at www.eriercd.org/townhallquestion.htm.
The event is being made possible through a collaboration with Gannon University. Those who are not able to watch the event live will be able to see it on the diocesan website, www.eriercd.org, where it will be posted beginning May 22.
-