BISHOP TRAUTMAN LAID TO REST
Anne-Marie Welsh
03/08/2022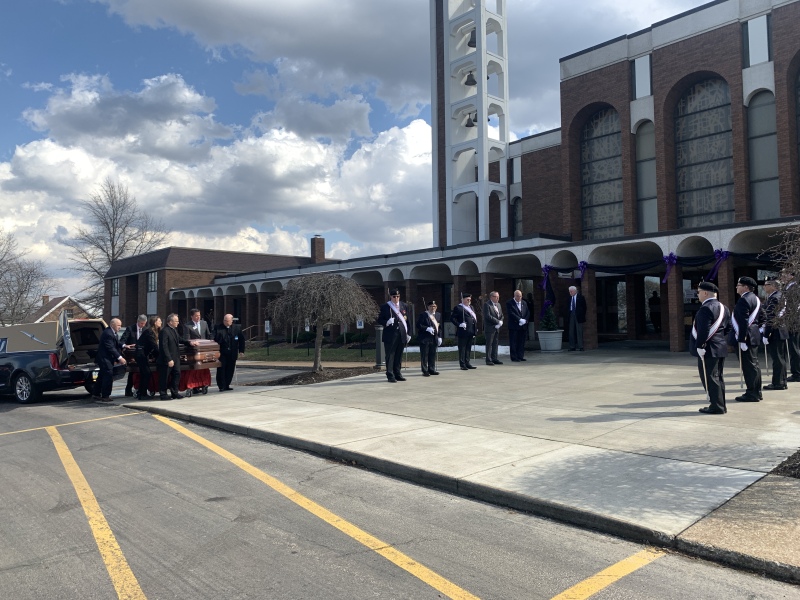 ERIE — "He appreciated good liturgy and so did I. I think that's what linked us," said Gretchen Wagner of Notre Dame Parish in Hermitage, speaking about Bishop Emeritus Donald W. Trautman just after his funeral Mass at St. Peter Cathedral, Erie, on Monday, March 7. They first met decades ago, when Wagner was involved in prison ministry at SCI Mercer.
"He used to come down for Mass and confirmation," Wagner said, before reflecting on her final visit with the retired bishop in October. "I had a chance to promise him I'd come to his funeral."
Despite the formality of an episcopal funeral — the grandeur of the cathedral, the presence of eight brother bishops, the breathtaking music of the choir — the funeral Mass for the bishop emeritus was a very personal event. Family, dear friends, clergy, women religious, colleagues who had served with him and invited guests gathered to pray, as at any funeral, for the repose of his soul.
Over a two-day period that included a public viewing, a memorial Mass, vigil prayers, a private viewing for clergy and finally, the funeral Mass and interment, Bishop Trautman was remembered by those who knew him personally. Msgr. Robert Smith, who offered the homily at both Masses, captured a good deal of the general sentiment.
"St. Pope John Paul II once said of shepherds of the church that they must (be people) who know the depth of the human heart, who can share the joy, the hope, the agonies, the distress of people today, and who are at the same time prayerful people who have fallen in love with God. Bishop Trautman was that kind of good shepherd. He fed us in so many ways. Mind, heart and soul. Today we commend him to the Lord."
Limited space in the cathedral as a result of ongoing renovations may have contributed to a sense of unity and fellowship among those in attendance. As with any funeral, those present at both the memorial and funeral Masses seemed eager to share their memories of the deceased.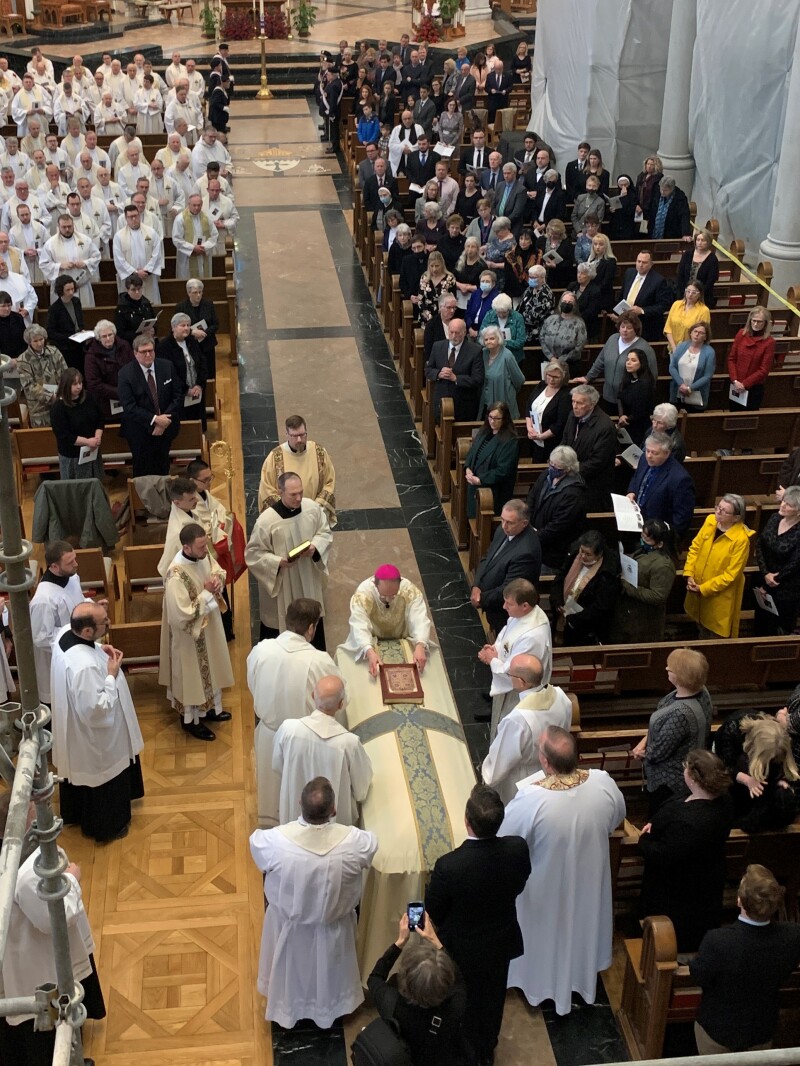 "Bishop Trautman was very supportive of me in his time as bishop," said Msgr. Richard Siefer, pastor of St. Catherine and St. Michael the Archangel parishes in DuBois and vicar for the Eastern Vicariate of the diocese. He served 22 of his nearly 47 years since ordination under the leadership of Bishop Trautman.

"I don't know how emotional I was outwardly," he said, "but internally, it was very emotional. Bishop Trautman was the one who submitted my name to become a monsignor. It was something I never dreamt of. But when it happened, I told him I didn't care about the title, but that it was his support and encouragement that meant much more."
The Most Rev. Lawrence Persico, who presided at both Masses and received the body at Our Lady of Peace prior to the first viewing hours, recalled Bishop Trautman as a very gracious person who always had a sincere interest in the people he met. He also remembered him as a great teacher who was proud of the clergy, religious and laity of the Diocese of Erie.
"This had been his life," Bishop Persico said, noting that Bishop Trautman had worn many hats, including those of pastor, administrator, rector, auxiliary bishop and bishop. "He gave himself totally to his role as bishop. He had a full life of service to the church."
That service began early, as Msgr. Smith, who served as Bishop Trautman's vicar general, pointed out in his homily. Despite the great Catholic devotion of the future bishop's parents, when young Donald Trautman announced his intention to enter high school seminary in the ninth grade, his parents encouraged him to wait until after high school.
"Guess who won?" Msgr. Smith asked. A knowing chuckle reverberated throughout the cathedral.
He shared two additional stories eliciting more nods of understanding.
First, he recounted how Bishop Trautman brought out albums with photos of his ordination and first Mass each year on the anniversary of his ordination.

"Talk about being excited," Monsignor Smith said. "You would have sworn he was ordained that very morning."
Then, after listing several initiatives Bishop Trautman had introduced, including a short-lived but fruitful chapel at the Millcreek Mall; the introduction of Faith magazine and FaithLife newspaper, (now the digital Diocese of EriE-news); Catholic Rural Ministry, first based in Potter and McKean counties and later expanded to Venango County; the permanent diaconate; the Office for the Protection of Children and Youth; and the beginnings of the Catholic Foundation, he zeroed in on one outreach effort he felt personified the way Bishop Trautman operated.

"It all started with a bologna sandwich," he said, before talking about how people used to knock on the door of the bishop's residence asking for food long before Bishop Trautman arrived in Erie. Sandwiches and coffee were generally offered.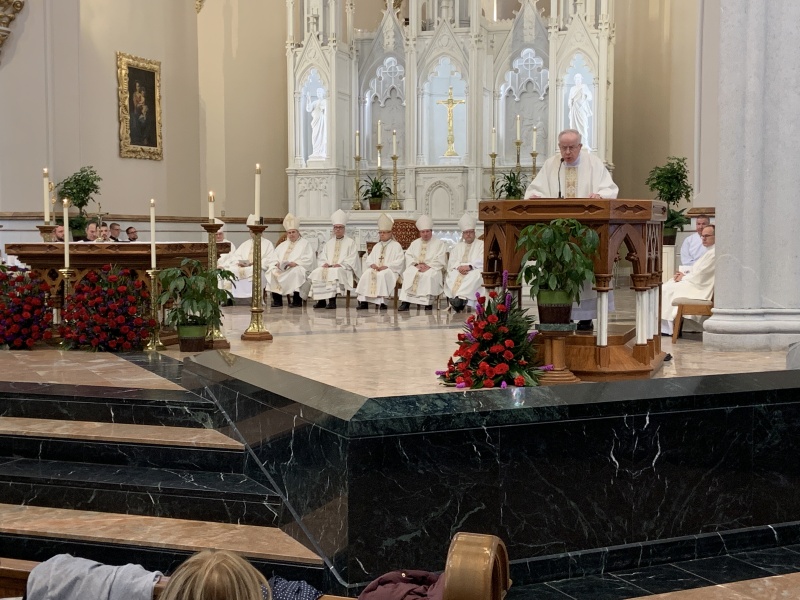 "The bishop became aware of what we were doing," Msgr. Smith said. "And he said, 'That's good, but I think we can do better.'" After discussion with the administrative cabinet, he collaborated with St. Martin Center in downtown Erie to establish a program where people could sit down and have a hot breakfast each weekday.
Eventually, Msgr. Smith said, Bishop Trautman felt that what had become the Bishop's Breakfast Program was not enough.
"We're feeding the body but not caring for the soul, the person," he told Msgr. Smith. "I think we can do better."
Soon counselors from the Catholic Charities Counseling and Adoption Services Office were brought on board to help participants sort through family issues, explore employment and address other needs.
"It was a caring presence, seeking to find those who were lost," Msgr. Smith said, reminding those in attendance of Christ's admonition to feed the hungry, give drink to the thirsty and clothe those with nothing to wear.
"The bishop was always looking for ways to help."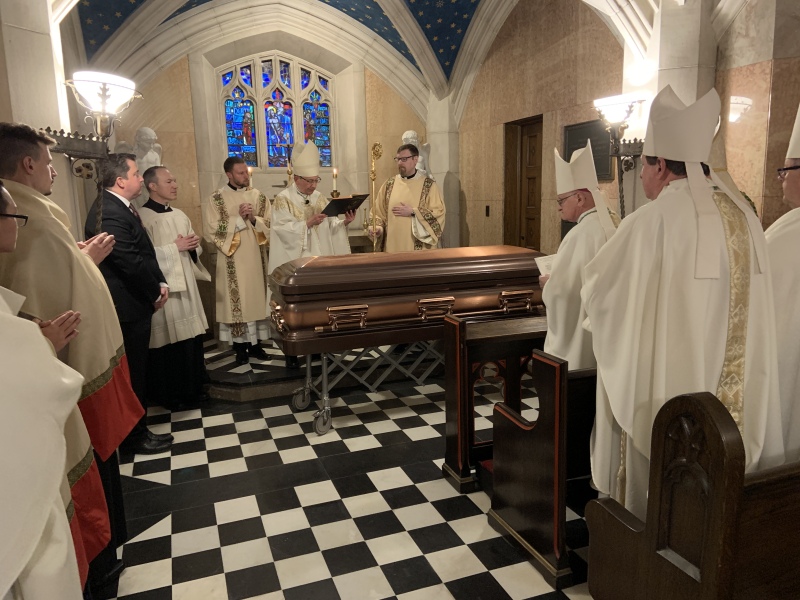 Toward the end of the funeral Mass, as with any funeral for clergy in the diocese, the priests offered a moving a cappella version of Salve Regina prior to the final commendation. Then, with the assistance of several students from Cathedral Preparatory School, the bishop's coffin was taken to the crypt underneath the cathedral. There, the vigil light that had been lit earlier that day was removed and the students hoisted the bishop to his final resting place.
"We look to our faith today for a measure of consolation," Monsignor Smith had said. "Faith the bishop firmly embraced. Faith he lived and preached so well. Faith that assures us that he lives. He's alive in Christ. More alive than ever before. Alive forever."
-