CATHEDRAL PREPARATORY STUDENTS BUILD COMMUNITY AND RAISE AWARENESS IN 10TH ANNUAL BOX VILLAGE FUNDRAISER
By Melanie Sisinni
11/28/2022
Students from Cathedral Preparatory School participated in the school's 10th annual Box Village fundraiser from the evening of Monday, Nov. 21, through the morning of Tuesday, Nov. 22. The fundraiser simulated an experience of homelessness in which participating students slept outside in tents and shelters made from cardboard. This year's event was held on a weekday, and the students were required to attend school the next morning, in the same way that many homeless men and women are expected to report to work the next day.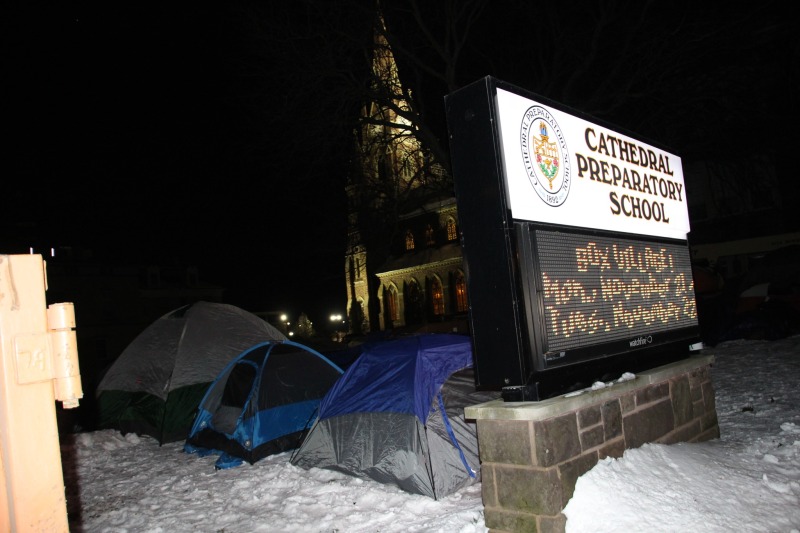 Father Jason Feigh brought the initiative to Cathedral Prep when he began his tenure at the school. After six years of success, several students from the Villa Maria Academy campus approached Father Feigh about starting the program on their campus too. Since this was the first year that the two schools had merged into one campus, it was an occasion for building community, as well as raising awareness.
Students participating in the event "lived" in the village from Monday to Tuesday, and they collected donations for Emmaus Soup Kitchen on the corner of West 9th and Sassafras streets. Students were not permitted any electronics, and food was by donation only.
Emily Grenci, Campus Minister at Cathedral Prep helped to chaperone the event.

She said, "Overall, the students seemed to be excited to experience the event and were the most enthusiastic about collecting money for Emmaus as that was a very direct way for them to know that what they were doing was going to be assisting a worthy cause."
This has become a tradition and example of Cathedral Prep's steadfast devotion to the service of their community and fulfilling their Catholic mission of service, while also supporting the spiritual development of the students.
"A grace moment happens when you spend time in community," said Father Feigh. "They (the students) unite first and foremost in prayer and recognize that Jesus is present in this service. They have fun building their boxes, and they have time in fraternity canvasing on the streetcorner. It sparks a relationship that wasn't there before, which happens in homeless villages too."
Through the experience, students gain empathy for the homeless community they are immersed in.
According to Father Feigh, "The big thing I'm trying to do is say that Jesus is present on the football field, the classroom, and a homeless event. It is so important to do whatever we can to make Christ's name and more importantly his love present."
-