CATHOLIC CHARITIES' ANNUAL FUNDRAISER CELEBRATES SUCCESSES
Anne-Marie Welsh
05/12/2019
ERIE — As he welcomed more than 300 people to Club CC, the annual fundraiser for Catholic Charities in the Diocese of Erie, Erie's Bishop Lawrence Persico painted a picture of the impact the organization is having in northwest Pennsylvania.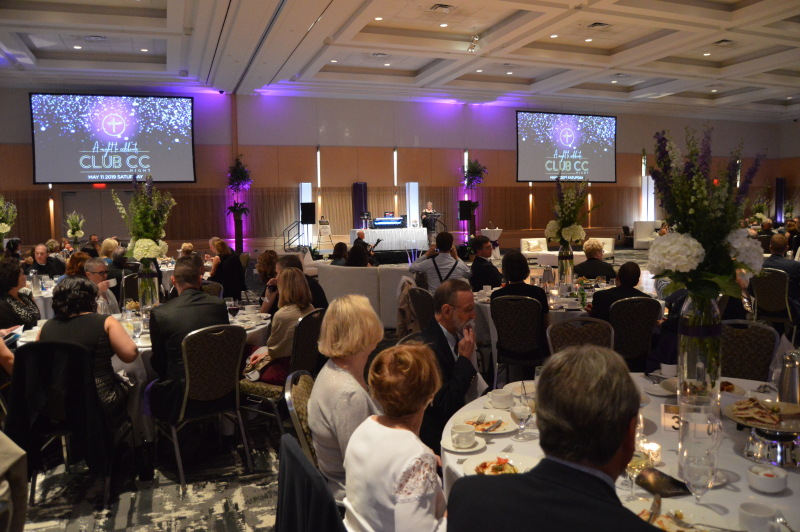 "The people who work in our agencies have first-hand experience helping parents who know what it's like to forego dinner so their child can have something to eat," he said. "They have had the privilege of helping a man find suitable clothing for a job interview he might not otherwise be able to accept. And they know what it's like to work with a single mom on the verge of homelessness, providing her not only with housing, but also with months of education that will help her get on her feet, grow in confidence, and establish a better life for herself and her children. "
Acknowledging the importance of emergency aid, the bishop noted that Catholic Charities is committed to finding long-term solutions and to empowering clients.
As the evening began, Bishop Persico also announced a significant milestone.
"As of this evening, the profits we have raised and have been able to distribute
through this annual gathering since 2007 — and I'm talking after expenses —
has officially surpassed the $1 million mark," he said.
Assuring attendees that all money donated to Catholic Charities through the annual fundraiser are used for the sole purpose of helping those in need, Bishop Persico expressed his gratitude for their generosity that "is truly and directly providing critical assistance."
"Reaching this milestone is a testament to who we are as church and to what can happen when people are united by their belief in living out the Gospel. We celebrate this moment, and we rededicate ourselves to continuing to respond to this call," he said. The evening, emceed by WJET-anchor Jill McCormick, also included the presentation of the Helping Hands Award given for outstanding service to church and community. This year's recipient was Michael Bailey, honored for his volunteer work with several initiatives. They include the Shining Stars program which brightens Christmas for hundreds of children through the St. Martin Center; work as a master gardener providing fresh produce for many ministries including the Emmaus Soup Kitchen; and a weekly Communion service Bailey and several St. Luke Parish parishioners offer at the LECOM Senior Living Center.
One of the evening's highlights occurred after Bailey received the award, when Lilyea Steblak shared her personal story of receiving Christmas gifts through the Shining Stars program.
She and her family arrived from the Ukraine with their green cards and only a few bags of belongings when Lilyea was just seven.
"Thanks to Michael Bailey and the staff and volunteers at St. Martin Center, my siblings and I had a guaranteed gift on Christmas morning for over five years," she said. Now an employee of the Erie Federal Credit Union, Steblak has come to recognize the courage it takes for parents to request assistance.
"They moved past the comfort zone and were willing to ask for help," she said, before offering them a special greeting in her native tongue.
Steblak thanked the EFCU for giving her the opportunity to take part in something powerful.
"'People helping people' is our credit union's philosophy and I love the fact that we stand by that and serve our community," she said. "I thank my coworkers who volunteer with me, and leaders who implement such positive values that I believe truly make a difference." She also expressed gratitude to St. Martin Center and Catholic Charities.
"Today I stand before you as proof that things like this do make a difference. It's what gave me hope and the desire to move ahead, to grow and work hard, so that one day maybe, I can be just like all of you here tonight, and express my thanks by being able to give, and continue the ripple effect."
The evening's program concluded with Ann Badach, executive director of Catholic Charities for the Diocese of Erie, surrounded by the organization's board members on the stage.
"Those of you in attendance tonight are here because you care very much about others in our community, and because you believe in the work and the mission of Catholic Charities," she said. "And while I keep things going on a day-to-day basis, it is with the vision of Bishop Persico and the advice and wisdom of board members, as well as the daily commitment of our agencies that we offer hope to those in need."
-