CATHOLIC FOUNDATION MAKES IT EASY TO SUPPORT YOUR PARISH ONLINE
Lisa Louis
05/12/2020
Bringing offertory envelopes to Mass is part of our Catholic tradition. When public Masses were suspended on March 17 due to the COVID-19 emergency, our offertory practice was upended. It's no surprise, then, that offertory giving began to suffer even while the financial obligations at parishes remained the same.

Only about half of the 96 parishes in the Diocese of Erie have an online giving tool, so the Catholic Foundation of Northwest Pennsylvania stepped up to create a page on their website to assist those parishes that do not. Donations given to parishes through this page are passed on in weekly checks from the foundation to parishes designated by donors. No administrative fee from the foundation or diocese is charged to parishes. Donors simply choose their parish from the drop-down menu to designate their gift.
"I tried it myself and it works very well," says Msgr. Richard Siefer, pastor of St. Catherine of Siena Church and St. Michael the Archangel Church in DuBois. "After I made my donation, I had my online receipt."
Msgr. Siefer has had a great response after promoting this online giving tool among his parishioners.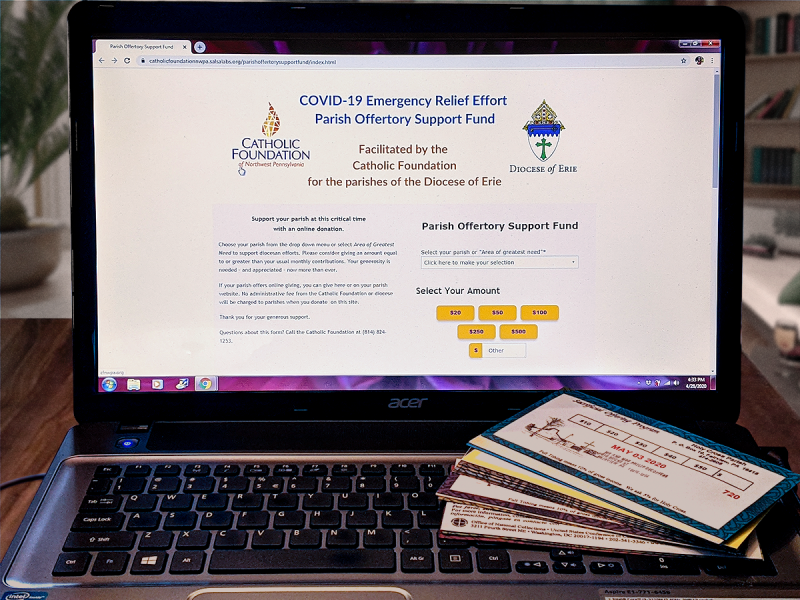 "I am pleased that the Catholic Foundation is assisting parishes and other institutions in the Diocese of Erie with the online giving initiative. I am encouraged that people can access this resource to financially support their parishes."
As of May 10, 2020, 42 parishes from all around the diocese have received gifts through the Parish Offertory Relief Fund on the Catholic Foundation website. Donations have come from eight states outside of Pennsylvania. Snow-bird parishioners and others living away can now easily support their hometown parish online.
Are you current with your offertory giving? Please consider making your online gift right here.

To facilitate emergency funding relief to a broad range of Catholic organizations in the diocese affected by the pandemic, the Catholic Foundation is offering another option for giving, collaborating with the national #iGiveCatholic website, a platform introduced for the December 2019 Giving Tuesday.
This is a wonderful way to support your Catholic school or many important ministries that are providing food, clothing and shelter to those in need. A number of outreach efforts run by communities of women religious are affiliated with this platform as well.
To support your local Catholic school, nonprofit ministries or parish, search for it at https://erie.igivecatholic.org/. While the #iGiveCatholic platform is now temporarily in use to facilitate COVID-19 relief funding, the Catholic foundation is looking forward with enthusiasm to leveraging #iGiveCatholic in its full potential on the international and global #GivingTuesday scheduled for Dec. 1 , 2020. For more information about #iGiveCatholic, contact Michelle Basista at (814) 824-1192.
While these initiatives are helping our parishes, schools and ministries during this difficult time, they also align with the foundation's mission to provide permanent and secure funding to strengthen and grow the church's mission and ministries in northwest Pennsylvania. For more information about these online giving efforts or any activities of the Catholic Foundation of Northwest Pennsylvania visit www.MyCatholicFoundation.org or call Lisa Louis at (814) 824-1237.
-