CATHOLIC MINISTRY THRIVES BECAUSE OF EFFORTS OF MANY
Sheila Grove
01/03/2020
ERIE — Many early morning commuters in downtown Erie in the 1990s may remember a long line of people stretching from Sassafras Street to the kitchen door of the bishop's residence on Ninth Street. The line formed because of the kindness of the cook at the bishop's residence and the generosity of the bishop. Any who were hungry were welcome to a bologna and cheese sandwich each weekday morning.

In 2007, Joe Fontecchio responded to a growing need, and in conjunction with Bishop Donald Trautman and St. Martin Center, developed a plan that eventually became the Bishop's Breakfast. Fontecchio used St. Martin's Parade Street kitchen to prepare the food to be served at St. Paul United Methodist Church.
More than a decade later, thanks to the coordinated effort of the Diocese of Erie, Catholic Charities and individual donations, the weekday morning meal continues. Currently a hot breakfast consisting of eggs, oatmeal, grits, bread and cereal is served at 7:30 am, Monday through Friday. On Fridays, local dentist Dr. Richard Reichel treats the guests to doughnuts. Many days, apples are available for guests to take with them.
Guests assist volunteers with unloading the van that delivers the food purchased and prepared by St. Martin staff to St. Paul, which provides the space that includes a large dining area and kitchen area with refrigeration.
All are welcomed. There are no criteria for admission, just the willingness to share a meal. Each morning, 30 to 80 people are served by a contingent of at least five volunteers. Each day is staffed by a different team coordinated by volunteer Mary Therese Riley.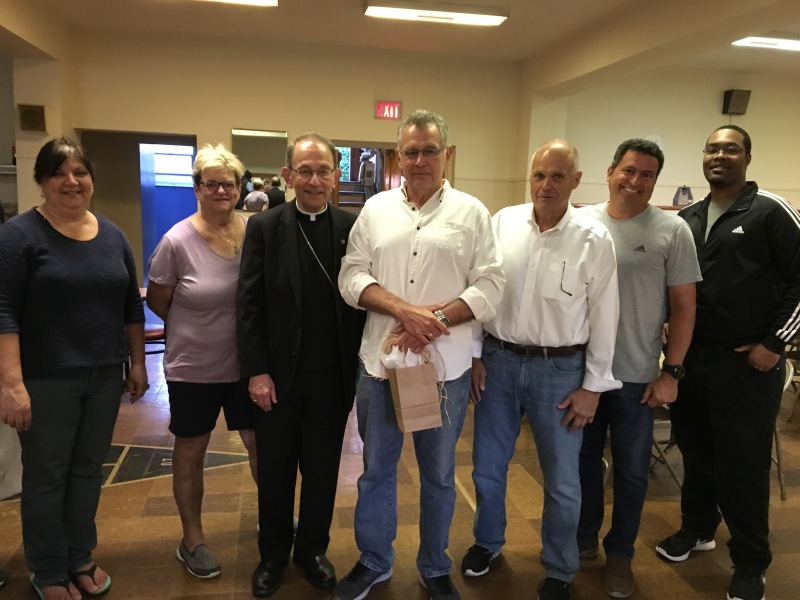 "It is a challenge, but whenever we have a need, God provides," said Riley, who became involved when Fontecchio approached the St. Peter Cathedral Women's Council for help in 2007. Cathedral parishioners have remained active supporters and volunteers with the program.
On December 10, 2019, approximately 60 guests were treated to a Christmas gathering. It is an annual event at which clothing — sweatshirts, coats, underwear, socks and more — collected primarily by members of St. Peter Cathedral is distributed. This year, financial donations allowed for each guest to receive a backpack and a hoodie as well. Bishop Lawrence Persico greeted the guests and distributed gift cards. Ten days later, approximately 75 guests received gift bags and socks prepared by Mercy Center for Women.
This outreach is one of many examples of Christian service provided locally that goes relatively unnoticed in the Diocese of Erie. Mary Therese Riley sums up the effort succinctly:

"It certainly is an example of a Catholic response to the call to witness through works of mercy and love."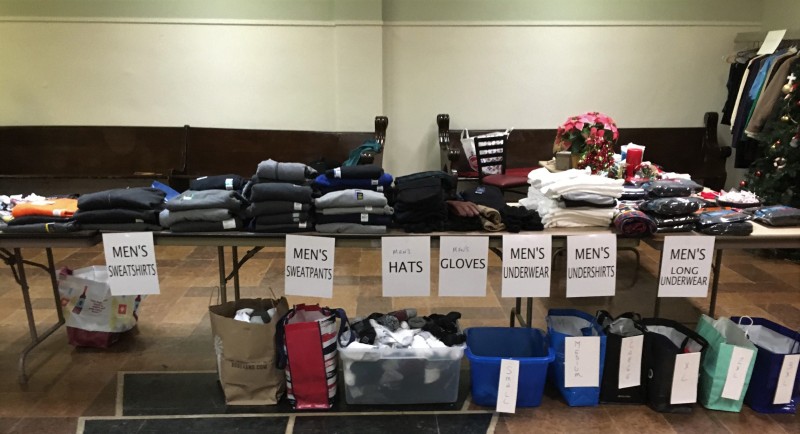 -