CATHOLIC SCHOOLS OFFICE PROVIDES OPPORTUNITY FOR EXCELLENCE
Sheila Grove
05/17/2021
ERIE — The Catholic Schools Office in the Diocese of Erie took a new approach to its Middle States accreditation process this year. Rather than each school completing the process independently, most of the schools opted to be included in a diocesan-wide assessment. The strategy was successful: the schools received word of their accreditation in April. Although the full report is yet to be sent to the diocese ─ look for a Diocese of EriE-News story soon ─ the Catholic Schools Office has begun to implement some preliminary recommendations.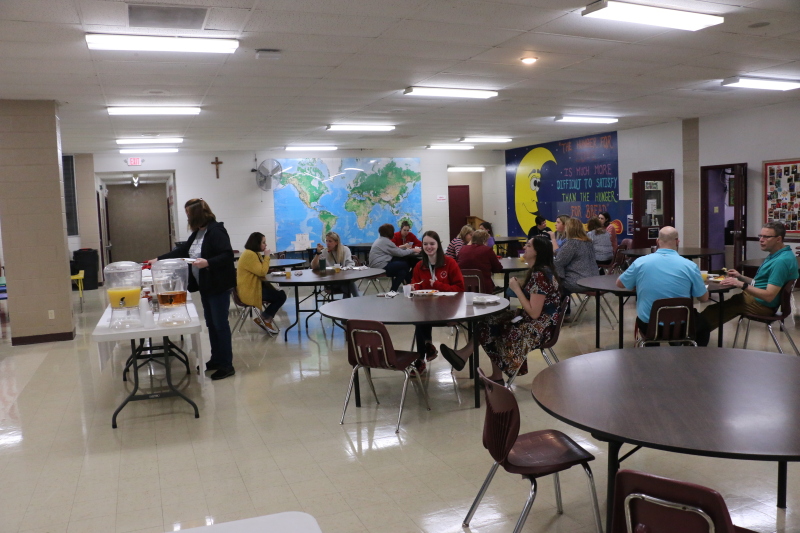 The annual spring professional development day, "Curriculum, Instruction and Assessment" (CIA Day), held this year on April 30, provided a timely opportunity. During 16 workshops, preschool through eighth-grade teachers and administrators met with educational consultants who introduced strategies designed to enhance instruction across academic disciplines.
"Working in professional learning communities allows teachers to build a strong cross-curricular framework that is a catalyst for continuous improvement and advanced student achievement," says participant Angela Wyant, art teacher at St. Stephen Elementary and Venango Catholic High School, in Oil City. "It is an exciting process that allows teachers to work collaboratively and build relationships that help all students excel across subject areas. As a parent of a student in Venango Regional Catholic Schools, I am so happy to see that this is the direction our Catholic schools are headed, and as a teacher I am excited that we will get the opportunity to work together to better support our students. It truly is a great process!
At the CIA Day, educators were introduced to the Standards for Mathematical Practice being incorporated into the current curriculum. The standards "broaden the focus in the teaching of mathematics and encourage teachers and students to expand their thinking about the mathematics they encounter across curriculum areas and in real-life situations," says Caryl Unseld, curriculum assistant for the Catholic Schools Office.
The standards form life-long mathematical thinking habits. They encourage thinking deeply and generalizing skills from one problem to the next beyond those taught in the mathematics classroom. Learning goes beyond memorizing an algorithm (process) to understanding why the algorithm works and requires outside-the-box thinking whether in the science lab, art classroom or the gym.
"I was most impressed with the correlation between learning to read and learning math: the comparisons between phonics and numbers and the cohesiveness between problem-solving strategies in content areas," says Matthew Masotto, fifth-grade teacher at St. John Paul II Elementary in Hermitage. "Incorporating (the standards into) the curriculum is fantastic. Developing in-depth and specific learning standards will allow us to zone in on areas of concern as well as areas of excellence in the students' skills."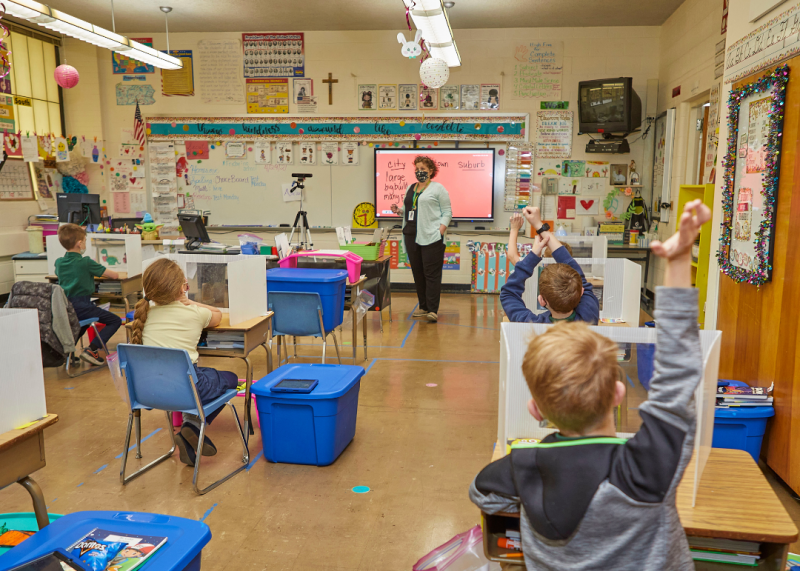 The level of engagement of administrators and leaders was impressive as they "discussed content and implementation and planned for future opportunities for integration into their settings," says Eliza Thomas, consultant and presenter, and provides a solid ground for impacting student achievement. It begins with the environment created for the teachers so they, in turn, create an optimal environment for students. "It will be exciting to see how a shift in thinking allows for maximum student impact," Thomas says.
Presenter Kristin Hiltly, Hilty Consulting, also impressed by teacher involvement in the workshop and evident commitment to quality education, expresses confidence in the outcomes when students are "given the freedom to think flexibly about numbers and build critical thinking skills while keeping problem-solving at the forefront of their learning."
The adoption of the Standards for Mathematical Practice will support teachers in adding a creative layer of pedagogy to an already robust curriculum and will have a positive effect on a student's overall educational experience. Students in Catholic schools in the Diocese of Erie, who enjoy the privilege of a values-driven curriculum, will be better able to make informed contributions to the development of meaningful solutions to increasingly complex global problems.
-