CATHOLIC SERVICES APPEAL 2021: WHY GIVE?
Anne-Marie Welsh
02/01/2021
Even those who faithfully participate in the Catholic Services Appeal are not always able to articulate the need for this vital annual outreach. The deep impact of the COVID-19 pandemic, however, demonstrated its importance more clearly than ever in 2020.
"Your donations to the CSA last year meant diocesan staff remained available without interruption throughout the pandemic," Bishop Lawrence Persico said in a video released as part of the 2021 Catholic Services Appeal campaign. "They ensured that parishioners maintained some sense of community this past year, even during the difficult months when we were not able to have public worship."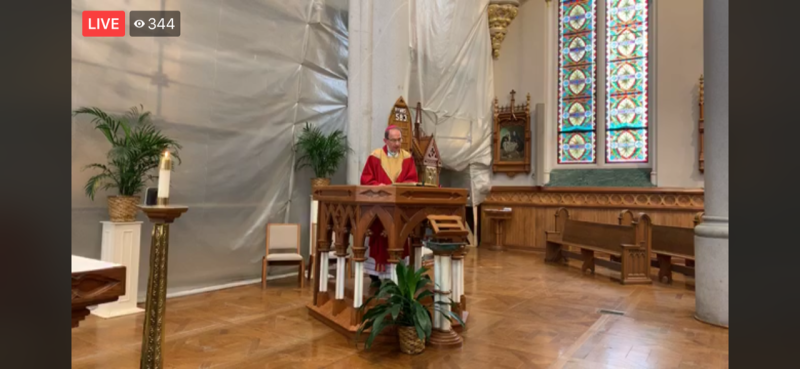 Publications including Faith magazine, which dedicated two cover stories to the pandemic, remained in production, keeping parishioners informed and connected to each other. The weekly Diocese of EriE-News also never missed a beat, bringing local, regional, national and international news of interest to Catholics to anyone who subscribed to this weekly email, free of charge. Readers of both publications and users of the social media efforts that accompany them had easy access to letters from Bishop Persico, to online worship opportunities, to news about new COVID protocols as churches were able to return to public worship, and to details about how Catholic schools were proceeding.
The Faith Formation team also sprang into action, providing resources not only to parish leaders, but also to Catholics and the general public. They hosted livestreamed daily gatherings for several months so people could come together for discussion and prayer. They created a special #HolyWeekAtHome campaign, inviting people to participate in activities that would give them hope and purpose in the earliest days of the pandemic. And they continued to lay the groundwork for an expansion from religious education into lifelong faith formation in parishes, developing a robust website for the Advent and Christmas seasons. There, they offered resources that could be enjoyed on a week-by-week basis, with themes, prayers and activities designed to infuse spiritual meaning into celebrations at home in a year like no other.
These are just some of the tangible resources made possible through the CSA. Simply put, the Catholic Services Appeal is a reminder that as unique as each parish is, all are part of the same Catholic family. The work of the diocese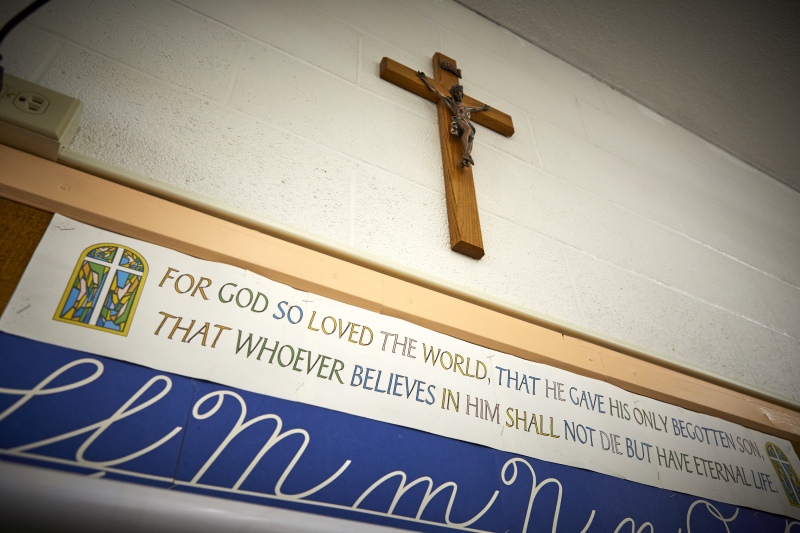 is the work of the church. The CSA funds programs and ministries that are beyond the resources of any one parish. Every diocesan office and ministry supported by the CSA, such as the Catholic Schools Office, Catholic Charities and the Office for the Protection of Children and Youth, are available to assist in every area of the diocese. The CSA helps the Diocese of Erie fulfill its mission to evangelize, educate, serve, proclaim the Word and celebrate the sacraments.
Many donors are inspired to participate because they know that funds raised over and above their parish goal remain in the parish.
"I've thought so often of those who had to navigate the 1918 pandemic a hundred years ago," Bishop Persico said. "Imagine going through what we've faced
without technology. Our pastors did everything they could to secure the equipment they needed to at least share Mass with you via livestream last year, in some cases, using the funds they were able to keep in the parish after last year's CSA campaign."
Bishop Persico was among those who livestreamed a number of prayer opportunities with the onset of the pandemic, including the celebration of Mass on Easter from an empty cathedral. Prayer services from the United States Conference of Catholic Bishops, as well as with Pope Francis in Rome, all have been made available to parishioners in the Diocese of Erie this year.
In discussing the 2021 CSA campaign, Bishop Persico acknowledges some people may not be in a position to give, or to give at the levels they are used to, this year.
"Our brothers and sisters need us now more than ever," he said, pointing out that the work of the diocese is focused on the spiritual and temporal needs of the people of northwest Pennsylvania.
The goal for this year's Catholic Services Appeal is $4.235 million. A website with links to the bishop's CSA video, as well as a chart of exactly how the dollars are used, can be found at www.eriercd.org/csa.html.
-