CHURCH MUST HELP MILITARY FAMILIES FACE UNIQUE CHALLENGES, ARCHBISHOP SAYS
Junno Arocho Esteves/Catholic News Service
12/09/2019
VATICAN CITY (CNS) — The brutal reality of war is just one of the challenges the Catholic Church is called to help members of the U.S. Armed Forces and their families cope with, said Archbishop Timothy P. Broglio of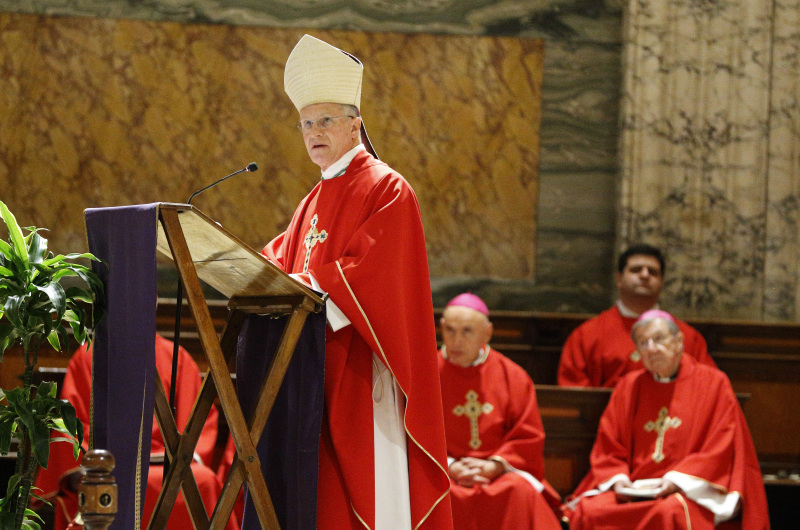 the U.S. Archdiocese for the Military Services.

"For 19 years, the United States has been at war, and this is a reality that anyone who has volunteered for the military knows and that touches him or her directly," the archbishop told Catholic News Service Dec. 3.
"The havoc that this has wreaked on families is a very great concern, and I hope that these days of the 'ad limina' visit will be an opportunity for dicasteries to be aware of the situation, and I hope to learn some things that I might be able to take back," he said.

Archbishop Broglio is among the group of bishops from the District of Columbia, Delaware, Maryland, Virginia, the U.S. Virgin Islands and West Virginia in Rome Dec. 1-7 for their visit "ad limina apostolorum"— to the threshold of the apostles — to report on the status of their dioceses.

The group, along with bishops from Louisiana, Alabama, Kentucky, Mississippi and Tennessee, met with Pope Francis for nearly three hours Dec. 3.

According to its website, the U.S. Archdiocese for the Military Services currently serves more than 220 installations in 29 countries. Along with providing the full range of the Catholic Church's pastoral ministries and spiritual services to the men and women -- and their families -- who serve in the nation's five military branches, the archdiocese ministers to patients at Veterans Affairs medical centers and foreign service personnel working outside the United States.

However, among the challenges facing the archdiocese, Archbishop Broglio told CNS, is the shortage of priests, which is "an issue that strikes us very, very deeply."

Archbishop Broglio said he is hopeful that his meeting with the pope as well as the various Vatican offices will help better ministry to the families of the Military Archdiocese.

"Of course, my five auxiliary bishops are here with me as well, so we have six pairs of ears listening to these meetings," he said.

On the same day of their meeting with the pope, the bishops met with Cardinal Kurt Koch, president of the Pontifical Council for Promoting Christian Unity. Archbishop Broglio said the "unique situation" of the archdiocese, which includes working with ministers of other faith groups, helped enrich their discussions on ecumenism.

"We bring a certain advantage to that," Archbishop Broglio said. "And Cardinal Koch was very much aware of the fact that that's a reality for the military."


-