DESPITE PANDEMIC, SEEK NEW OPPORTUNITIES FOR SPIRITUAL GROWTH
Sister Nancy Fischer, SSJ
07/14/2020
ERIE — When the onset of the novel coronavirus mandated a stay-at-home order from the government, we Catholics were suddenly denied the ability to attend Mass together.
I couldn't help but ask myself, "How will we grow spiritually without experiencing the most important religious rite of our faith tradition?"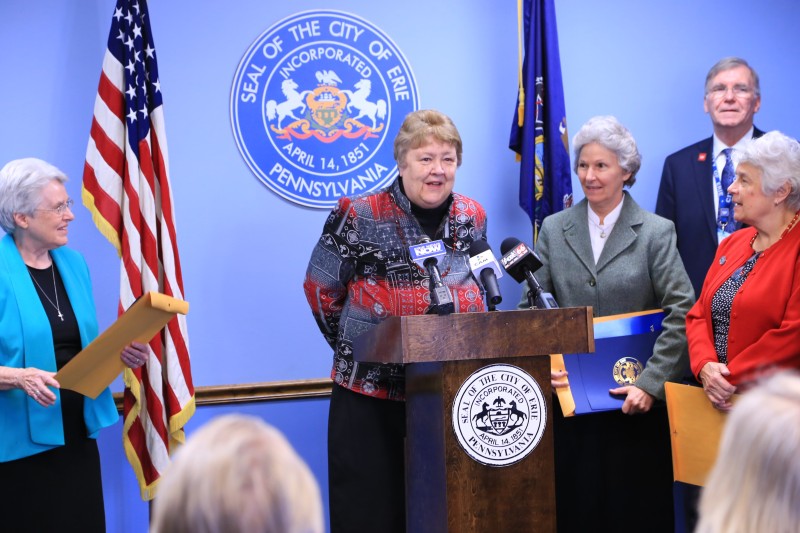 For the last few months, this has been a challenge for those whose lives are centered around the celebration of the Eucharist.
What I quickly learned, though, was that the church did not close its doors and say, "Have a nice life." It has offered many experiences that have helped me continue to gather with the Body of Christ.
Praying with the Catholic community has manifested itself in countless ways in recent months. For me, it began one Saturday evening when my housemates and I gathered in our living room to participate in the online liturgy from St. Peter Cathedral with Father Michael Ferrick, rector.
Then, the following day, I connected my two iPads carrying different celebrations of the Sunday liturgy: one with Bishop Lawrence Persico live from St. Mark Catholic Center in Erie, and another from Our Lady of Mercy Church in Harborcreek, with Msgr. Gerald Ritchie.
Each celebration was the same, but different. Listening intently to the readings and hearing three homilies on one weekend gave me plenty to think about during the following week. Each perspective on the Sunday readings provided new insights for my spiritual journey.
It didn't end there. During the initial time of quarantine, the Catholic Church celebrated the sacred Triduum, a four-day remembrance of the suffering death and resurrection of Jesus. I again joined Bishop Persico online, but this time I felt as if I had a front-row seat for the entire celebration.
One thing that at first seemed to be missing was gathering with others to rejoice in the risen Christ, who is the center of our lives. Anyone who knows me is aware of my passion for community; I truly missed being with other people. But the online experience brought a different energy.
Without distractions, I found myself concentrating more on the readings, listening to each word of the celebration, holding on to the homily, reflecting on the music and taking nothing for granted. At communion, rather than feel deprived, I reflected on the God who was and is already in me helping me to live and grow through an unwanted and very scary world health crisis.
My prayer experiences have not ended after those first weeks of the pandemic. If I wanted to participate in daily liturgy, I had ample opportunities. I have joined Father Michael Polinek at the Cathedral, Father Jonathan Schmoltz in Emlenton, and Father Larry Richards at St. Joseph in Erie. The living words of the Gospel always linger with me long after the end of the Mass.
Other opportunities continue to enrich my spiritual life during this time. At 1 p.m. every day (Mondays, Wednesdays and Fridays on Facebook, and Tuesdays and Thursdays on Instagram), I can gather with people from around the diocese who participate in a 10- to 20-minute offering from the Office of Faith Formation. A facilitator reads Scripture and offers comments on how God speaks to us though the Word and through each other.
On Tuesdays at 4 p.m., a group of Sisters of St. Joseph and our Associates meet virtually for faith-sharing. We pray together and share how God is helping us to navigate through this difficult time. Through the marvels of technology, we can see and hear each other as we open our hearts to God and to the wisdom of one another.
On Wednesdays, Zoom unites me with members of the North American Forum for Small Communities. Members from all across the country read the upcoming Sunday Gospel and reflect on it in light of our own lives. My perspective has broadened by listening to so many different perspectives and the effect the virus has had on others. The experience has helped me to think and pray beyond my own life, beyond our city, and beyond the Diocese of Erie.
On Thursdays, I participate in another small group gathering with Sisters Marian Wehler, OSB, and Tina Geiger, RSM, who minister to the people of the Oil City area. I feel encouraged listening to the heartfelt sharing of people who are seeking to find God and grow during this challenging time.
COVID-19 has changed the normalcy of our lives. But as we ask God for answers, he provides new opportunities to support and nourish one another as Church. We, indeed, have had to be Eucharist for each other.
-