DIOCESAN STAFFERS COLLECT A DOZEN 2020 CATHOLIC PRESS ASSOCIATION AWARDS
Anne-Marie Welsh
07/07/2020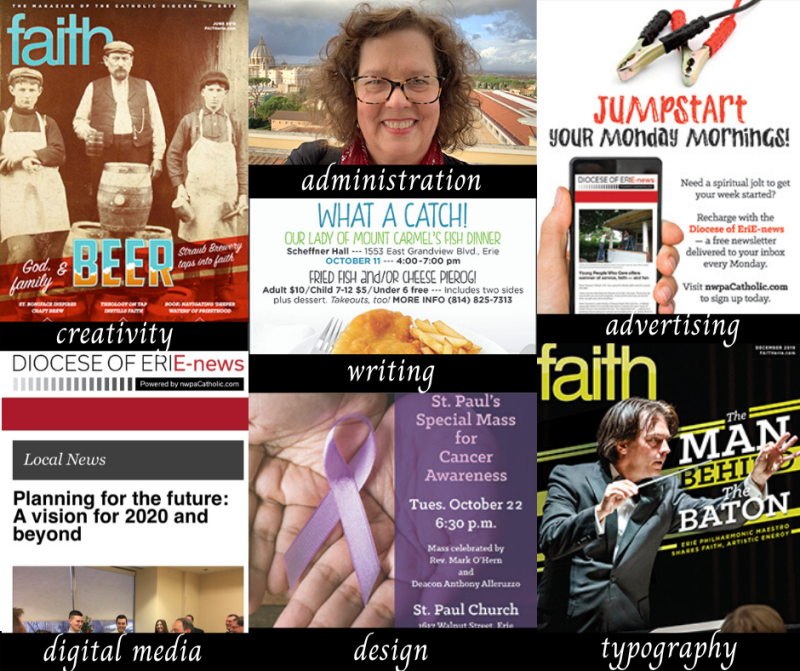 ERIE — Staff members from the Communications Office of the Diocese of Erie received 12 awards from the Catholic Press Association at a July 2 virtual conference attended by hundreds of Catholic media throughout the U.S., Canada and overseas.
"We try to be creative and work hard because we support the efforts of so many people doing a lot of important work in the diocese," said Anne-Marie Welsh, director of the office. "The awards are never our goal, but it's always reassuring when the professionals who judge the work of dioceses across the country determine we are doing a good job." She noted she was particularly pleased the staff was recognized for a broad array of skills from writing and administration to design and advertising work.
Additionally, Father Scott Detisch, administrator of St. John the Evangelist Parish in Girard, was honored in this year's Catholic Press Association Book Awards. He took first place in the "Church Professional" category for his book, From Hero to Servant to Mystic: Navigating the Deeper Waters of Priestly Spirituality (Liturgical Press, 2019).
According to the Catholic Press Association, the purpose of the media awards is to acknowledge the outstanding work of its members as they strive to further the mission of the church.
"On a daily basis they inform, inspire and educate readers keeping them connected to their faith, and telling the story of the church," the CPA writes.
A full list of the awards, including links to the winning publications, can be found at www.eriercd.org/news/awards.html.
2020 Catholic Press Association awards won by the Diocese of Erie:
First Place
Best Use of Typography
The Man Behind the Baton
Credit: Matt Watters and Mary Solberg
Most Effective Use of Small Space
What a Catch
Credit: Elizabeth Butterfield
Second Place
Communications Director of the Year
Anne-Marie Welsh
Best Feature Article - Diocesan Magazines
Single Collegiate Moms
Mary Solberg
Best Layout or Article Column - Diocesan Magazine
The Man Behind the Baton
Matt Watters and Mary Solberg
Best Ad copywriting
Don't Worry, Be Jolly
Elizabeth Butterfield
Third Place
Magazine/Newsletter of the Year - Diocesan Magazines
Mary Solberg and Matt Watters
Best E-newsletter
Communications Staff
Best Ad copywriting
Jump Start Your Monday Mornings
Elizabeth Butterfield
Best use of Typography
God, Family & Beer
Matt Watters and Mary Solberg

Honorable Mention

Best Single Ad Campaign with Publication
(St. Paul's Special Mass for Cancer Awareness)
Elizabeth Butterfield
Best Cover for Color - Large
The Man Behind the Baton
Matt Watters and Mary Solberg
-