DIOCESE RECOGNIZES COUPLES CELEBRATING MILESTONE ANNIVERSARIES
By Melanie Sisinni
08/14/2023
Each year, the Family Life Office of the Diocese of Erie organizes milestone anniversary Masses, celebrating couples who have been married for 25, 40, 50, 60 or more years. Masses are arranged in two different diocesan counties to allow a maximum number of couples to participate. The first anniversary Mass of 2023 was held on August 6, 2023, at Our Lady of Peace Church, Erie, with Bishop Lawrence Persico presiding. More than 85 couples were in attendance. A second milestone anniversary Mass will occur on Sunday, August 20, at Ss. Cosmas and Damian Church in Punxsutawney.
During his homily at the Our Lady of Peach Church Mass, Bishop Persico dissected the words from St. Paul's letter to the church at Corinth, a prevalent reading at wedding ceremonies.
"Love is patient," he began. "Patience. What a gift! It embraces that virtue that never allows despair over the foolishness, insults and unteachableness of others — like when your husband doesn't listen or your wife just doesn't seem to understand. Patience — it recognizes that all of us are on a journey toward wholeness; a journey that will last our life long, a goal worth waiting to achieve."
When Bishop Persico referenced the line, "Love does not seek its own interest," he discussed loving with a selflessness like that which led Jesus to accept his cross so that we might have life and salvation.
Bishop Persico asked, "How many of you, after 25, 50 or 60 years of marriage, have faced the reality of sickness and pain in your spouse? Or if you've been so blessed, in the life of your child? Have you not at some point or another prayed that you would be able to assume the pain of the one you love and that they be spared?"
Many couples exchanged knowing glances, put their arms around each other, or held hands during this moment. The love and devotion these milestone couples shared for their partner was palpable.
After the homily, each couple's name was called, and they were presented with a certificate for their milestone anniversary.
Mr. and Mrs. William Reinhold were in attendance, celebrating 65 years of marriage. At the reception following the Mass, they linked arms and admired the many couples also recognizing milestone anniversaries.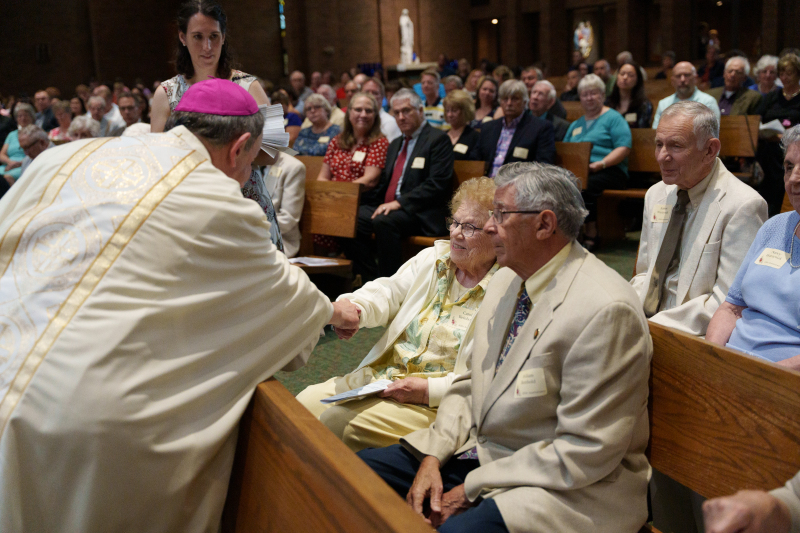 "It's nice to see so many people married for so many years," said Mr. Reinhold. "I look in the paper every Monday and see the list of divorces, and it gets bigger every week. As soon as they have a fight or a disagreement, they break up."
He reflected on his marriage and the joy of being with his beloved wife.
"It's been a long time, but time went fast. You take the bad with the good. There's been ups and downs, but it's been a good marriage," said Mr. Reinhold.
It was apparent to anyone witnessing the Mass and reception that followed — these couples truly embodied their marriage vows, loving each other in sickness and health, through good times and bad — and they will continue to do so for many years.
-