DO NOT BE AFRAID TO BE A WITNESS TO GOD'S LOVE, POPE SAYS
By Justin McLellan, Catholic News Service
03/20/2023
VATICAN CITY (CNS) — Christians must not be afraid of being judged or condemned for bearing witness to the gifts and love they receive from God, Pope Francis said.

Before praying the Angelus with some 25,000 visitors gathered in St. Peter's Square March 19, the pope reflected on the day's Gospel reading from St. John in which Jesus gives sight to a blind man on the Sabbath.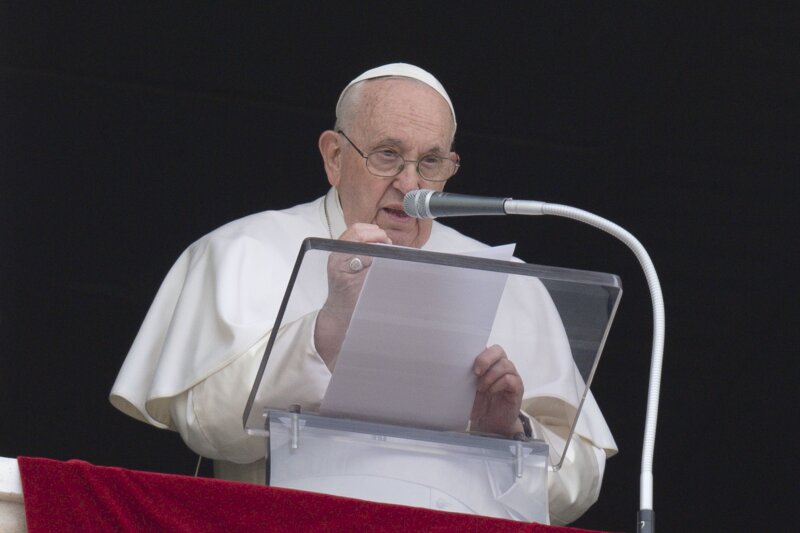 The pope compared the reactions to the healing from the blind man's neighbors and parents, who refuse to accept the miracle when questioned by the Pharisees out of fear of retribution, to that of the blind man himself who after being healed calls Jesus a prophet.

Whereas others have "closed hearts" before Jesus' miracle due to fear or skepticism, the blind man, said the pope, "is not afraid of what the others will say" because he has been healed in both body and spirit by Jesus.

"When Jesus heals us, he gives us dignity," said the pope. Jesus "freed him and gave him sight without asking anything from him, not even a thank you, and he bears witness to that."

The pope encouraged the visitors gathered in St. Peter's Square to ask themselves if they, like the blind man, know how to see the gifts and love they receive from God.

"Are we happy to say that Jesus loves us, that he saves us, or like the blind man's parents, do we let ourselves be caged in by fear of what people will think?" asked the pope.

Pope Francis urged Christians to ask God for the grace to see "even the most difficult circumstances in life as occasions to work for the good, as Jesus did with the blind man."

On the feast of St. Joseph, which is celebrated as Father's Day in Italy, Pope Francis prayed that all fathers may find in St. Joseph the "model, the support, the comfort to live their fatherhood well," and he led the crowd in praying an Our Father for them.

The pope also prayed for the Ukrainian people who, he said, "continue to suffer from crimes of war."

Pope Francis' comment followed the International Criminal Court's decision March 17 to issue an arrest warrant for Russian President Vladimir Putin for war crimes in connection with the "unlawful transfer" of children from occupied areas of Ukraine to Russia.
-