DURING SUPER BOWL WINNERS' WHITE HOUSE VISIT, KANSAS CITY CHIEFS KICKER CHAMPIONS PRO-LIFE MESSAGE
By OSV Staff
06/08/2023
WASHINGTON (OSV News) — The Kansas City Chiefs were honored with a June 6 invitation to the White House by President Joe Biden following their victory in this year's Super Bowl. The visit took an unexpected turn as Harrison Butker, the kicker who secured the game-winning field goal, used the occasion to shed light on the most vulnerable.

Butker, a Catholic, partnered with Live Action, a prominent pro-life organization, to create a custom tie that conveyed a powerful message and which he donned for the occasion.

It was adorned with the words "protect the most vulnerable" written in Latin and featured the pro-life movement's iconic baby feet lapel pin.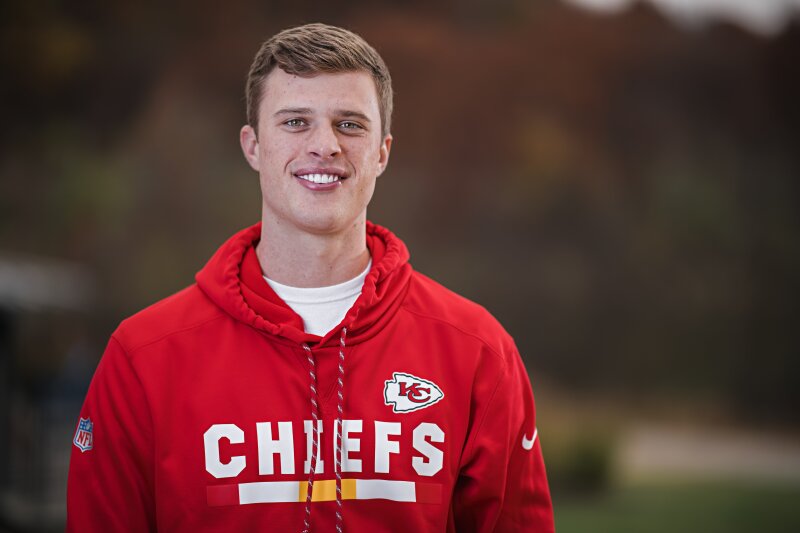 "I wanted to give a voice to the most vulnerable members of our society, the unborn, in a place where efforts have been made to normalize the tragic termination of their lives," Butker said the day after the White House visit, explaining the motivation behind his bold fashion choice.

"As a father who has experienced three miscarriages, my wife and I understand the hardships that come with losing a child. Every life is precious and should be valued whether outside or inside the womb," he said.

Biden, a Catholic, supports legal abortion.

Butker, a member of the Knights of Columbus, opened up about his own faith journey in an address in September 2020 at the Knights' 55th annual College Councils Conference, held virtually because of the pandemic. It had as its theme "Brothers in the Breach."

While he was a student at Georgia Tech, he said, a friend pointed him toward the love of Christ and encouraged him to be more active in the faith.

Inspired by his witness, Butker said he decided to reorient his life to be centered on God. That newfound relationship with Christ helped him not only in his profession, but also motivated him to act more upon his faith, such as altar-serving at the Traditional Latin Mass.

Faith isn't something only "reserved in private and on Sundays," he told attendees at the virtual conference, and referred to life on earth as a battle that can only be won by a "complete surrender" to God's love.

"Now is the time for you to take up your task, as men of the church to fight this battle for our nation, to bring Christ back to our daily lives," Butker said. "Men need to play active roles within our church, and I believe being a Knight is a great start. ... Your priests need to hear from you. They need to see you. Other men need to see you."
-