EMOTIONAL LA SHERIFF DETAILS ARREST OF SUSPECT IN SHOOTING DEATH OF BISHOP O'CONNELL
Pablo Key of OSV News
02/21/2023
LOS ANGELES (OSV News) — A 65-year-old Hispanic man was taken into custody the morning of Feb. 20 by Los Angeles County Sheriff's deputies as the prime suspect in the murder of Auxiliary Bishop David G. O'Connell of Los Angeles.
LA County Sheriff Robert G. Luna announced at a news conference Monday afternoon local time at the Los Angeles County Hall of Justice in downtown LA that citizen tips led to the 8:15 a.m. arrest of Carlos Medina, the husband of a housekeeper who had worked at Bishop O'Connell's home in Hacienda Heights, after an all-night search.
Bishop O'Connell, a native of Ireland who spent most of his 43 years as a priest serving in LA's inner city, was found dead in his home on the afternoon of Feb. 18.
The next day, the LA Sheriff's department announced that Bishop O'Connell's death was being investigated as a homicide.
Luna established a timeline based on the work of detectives that indicated that at 7 p.m. Feb. 19 a tip was received linking Medina to the murder.
"They were concerned he was acting strange (and) irrational, and made comments about the bishop owing him money," Luna said of the tip from the informant.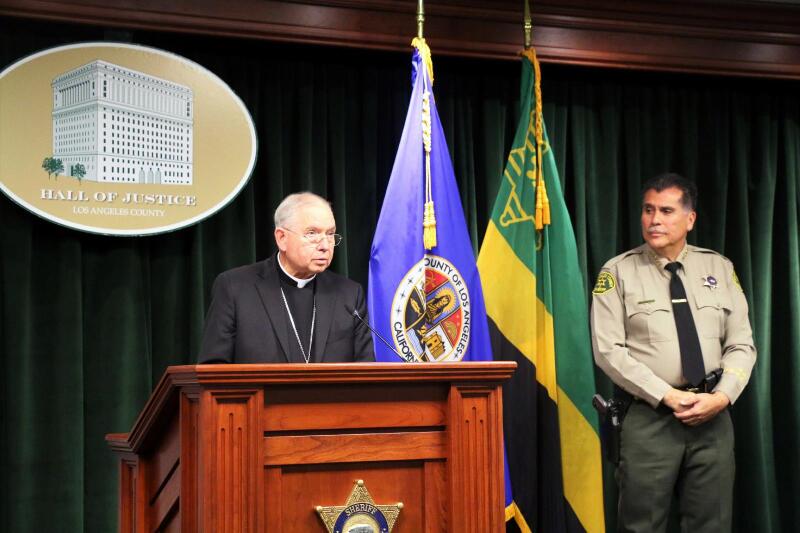 The tipster also said Medina had left his residence in Torrance and was headed for the Central California area.
After obtaining an arrest warrant, police began a search of Medina's home. Another tip at 2 a.m. Feb. 20 indicated that Medina had returned home, and Carson deputies were dispatched to the scene. Medina refused to come out of his residence when asked to surrender, Luna said.
The original search warrant was amended so Medina's house could again be searched. A tactical team dispatched again called for Medina's surrender, and he was then taken into custody around 8:15 a.m. without further incident.
Luna said two firearms were recovered and are being tested to see if they were used in the murder.
In an emotional press conference, Luna said "my heart grieves" for the death of Bishop O'Connell, based on all the calls of support he received in the investigation over the last 48 hours.
"This man, this bishop, made a huge difference in our community," said Luna. "He was loved. It is very sad that we are gathered here today about this murder."
Archbishop José H. Gomez of Los Angeles, one of the speakers at the press conference, stopped several times during his remarks to collect himself. At one point, Luna put his arm around his shoulder to comfort him.
"On behalf of our entire community, I want to share thanks for your professionalism and sensitivity," Archbishop Gomez said of the investigation. "It is a sad and painful moment for all of us. Let us keep praying for Bishop Dave and his family, just as he prayed for law enforcement officials."
Archbishop Gomez Feb. 19 called on Catholics to pray for the late bishop and those investigating his death.
"We continue to pray for Bishop Dave, and for his family in Ireland, and we pray for law enforcement officials as they continue their investigation into this terrible crime," he said at a Mass at the Cathedral of Our Lady of the Angels that morning.
Luna confirmed a deacon from nearby St. John Vianney Church in Hacienda Heights was the first to find Bishop O'Connell, making a welfare check on him after he was late for a meeting, then dialing 911. Bishop O'Connell was found in his bed with at least one gunshot wound. No firearm was recovered at the home, nor were there signs of forced entry, Luna said.
After interviewing neighbors, Luna said surveillance video showed a vehicle had pulled into Bishop O'Connell's driveway -- a dark-colored compact SUV -- which was later linked to the car his housekeeper had used.
Luna emphasized their investigation has not confirmed anything about a financial dispute between Medina and Bishop O'Connell, only that that information came from a witness.
"Our investigation continues ... to get a better picture of what happened here," said Luna. "The detectives will go out and validate."
Luna added that not all information from the investigation will be revealed yet, as "keeping the integrity of the investigation is a priority," he said. "The next step is to present all of the evidence and try to get a criminal prosecution (filed against) Medina."
Bishop O'Connell was originally from Brooklodge, Glanmire, in County Cork, the largest county in Ireland. He studied for the priesthood at the former All Hallows College in Dublin and was ordained to serve in the Archdiocese of Los Angeles in 1979.
Bishop O'Connell was named an auxiliary bishop of Los Angeles by Pope Francis in July 2015. Since then, he had served as episcopal vicar for the San Gabriel Pastoral Region, one of the LA archdiocese's five regions.
During his time as auxiliary bishop in Los Angeles, evangelization, pastoral care for immigrants, and ensuring the future of his region's Catholic schools were all top priorities for Bishop O'Connell, who believed that "parishes and schools are powerful instruments of transformation of people's lives and of neighborhoods."
Before being named a bishop, he was well-known for his pastoral work in south LA -- where he served as pastor of four different parishes -- in the years before and after the 1992 Rodney King riots. He played a key role, along with other local faith leaders, in bringing together communities already suffering from gang violence, poverty and drugs, while working to restore trust between community members and law enforcement.
Pablo Kay is editor of Angelus News, a publication of the Archdiocese of Los Angeles. Tom Hoffarth also writes for Angelus News.
-