FAITH FORMATION TEAM CREATES VIRTUAL FAITH-SHARING SPACE
Anne-Marie Welsh
04/28/2020
ERIE — "Hi Friends, how's it going? Welcome, welcome!"

Jessie Hubert, director of parish support for the Office of Faith Formation, has just gone live on Facebook. For the first few minutes, she keeps up a welcoming patter as people begin gathering by signing on for a 20-minute mid-afternoon break for prayer, Scripture reading and reflection.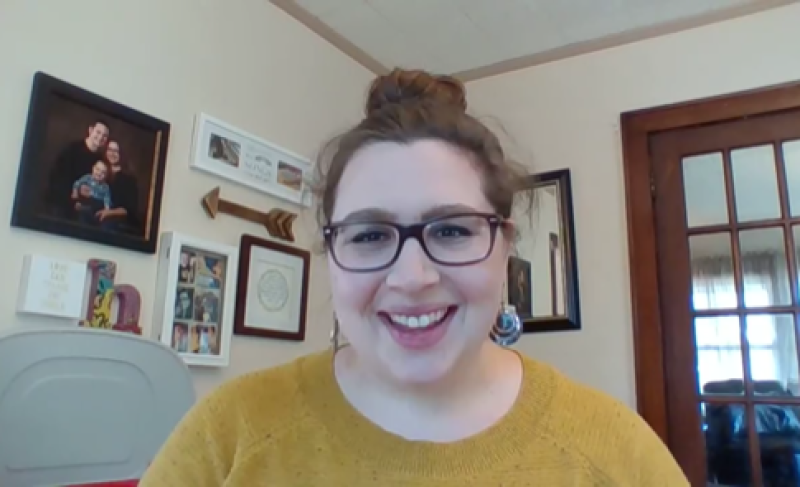 It's all part of the effort by the Office of Faith Formation to maintain a personal connection with people across the Diocese of Erie and beyond.
"We get the joy of direct ministry, connecting with people and seeing them connect to each other," says Hubert, who shares responsibility for the sessions with six others, including Patrice Swick of the Office of Social Justice and Life.
Content for each session varies, but the group established a few basic parameters: each meeting includes prayer, often followed by the day's Gospel reading, and then an invitation for those who would like to share their insights by offering written comments.
"We are committed to being as authentic as possible," Hubert says, which is why pets and little kids may or may not wander into the moderator's frame during the sessions. Different moderators use different techniques on different days. A session might include the chance to respond to a question, to hear a reflection, or to take a few moments for quiet contemplation.
"It's all over the map," Hubert says. "But the church is big enough to hold all of it."
Referencing the Pastoral Planning Prayer introduced in the diocese in 2015, which includes the line, "Inspire us to discover new ways and structures to spread your Gospel," Badach says the Holy Spirit is providing very concrete ways to do just that.
"It's been great," she observes. "It's helped us see the legitimacy of digital space. Real relationships can happen here." Those leading the sessions are hopeful parish faith formation directors may feel empowered to use the same tool within their parishes in the future.
That future will likely look a bit different as the team has been reviewing their analytics, praying and brainstorming ways to tweak their approach in order to reach as many people as possible. They plan to move their virtual faith-sharing Facebook efforts to Monday, Wednesday and Friday at 1 pm, in the hopes of reaching those who may want to use it to transition back into work after lunch, or perhaps take a later lunch break. They also will continue their presence in Instagram on Tuesdays and Thursdays at 1 pm.
As they refine these changes, they are inviting people to respond to questions they've developed in a poll, available on their Facebook page at https://www.facebook.com/FormingNWPACatholics/.
-