FAITH MAGAZINE: Disabilities Ministries offers insights for parishioners
By Michele Inter
04/01/2018
"If you haven't rolled in someone else's wheels — or you haven't walked in their shoes — then you can't appreciate how
sometimes, without meaning to, you can be condescending or arrogant," says Michele Inter, director of Disabilities Ministries for the Diocese of Erie. That's why she's created tools, including a new brochure parishes can use, to give people more confidence and encourage them to interact with people who have disabilities.
First of all, Inter reminds us that many of us have some sort of disability. "If you define disability as needing a tool to aid us in living," she says, "that can mean wearing glasses, using hearing aids or maybe using a cane."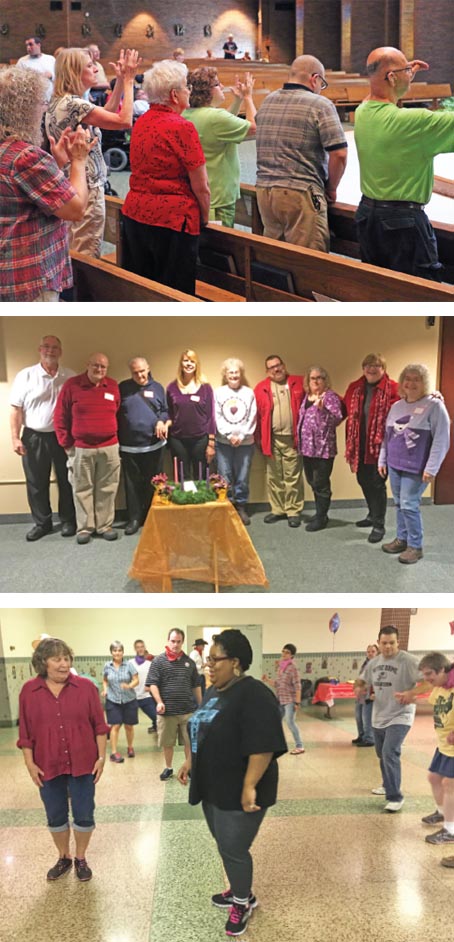 Disabilities Ministries of the Diocese of Erie offers a wide array of events throughout the year. Top: Members of the deaf community respond at Mass, following the lead of an interpreter.
Middle and below: An Advent retreat and a hoe down were among the events supported by Disabilities Ministries during the past year.
Secondly, Inter emphasizes she has encountered a great deal of openness in parishes eager to make all people feel welcome. "As Catholics, we understand that everyone has dignity, and everyone deserves self-worth," Inter says. "Isn't that at the core of Christianity? When we consider the word 'catholic' with a small c, that means universal. People do understand that all are welcome." Yet, not all of us feel confident enough or educated enough about interacting with people who have disabilities.
Inter's response is simple and practical. "Be yourself," she advises. "Your friendliness will likely overcome any faux pas." The advice Inter offers comes not only from professional knowledge — she spent 34 years as a special education teacher — but also from personal experience. "My dad was blind — he lost his sight to diabetic retinopathy when I was 16," Inter explains. "It was always amazing to me there were two pools of people: those who went out of their way to help, and those who went out of their way to ignore." As a teen, Inter found it difficult to understand those who ignored her family. Fortunately, her father remained steadfast and wise. "My dad would say to me, 'Pray for them, Michele, pray for them.'" She smiles at the memory, and at his good sense. "He also would remind me that, in his eyes, I would always look 16," she says.
Brochures are available for parishes interested in educating parishioners on the subject more fully (see the end of this article).
But Inter also has created a PowerPoint, available at www.ErieRCD.org. The introduction says the presentation "contains tips to help prevent uncomfortable moments and convey the warmth and friendliness you would like to extend to all parishioners and visitors." Inter says it's better to make a mistake while attempting to be friendly, rather than avoiding encounters for fear of not knowing what to do.
The straightforward tips in the presentation, adapted from a pamphlet series by Marilyn E. Bishop, are excellent and useful. Basically, what you want to consider, is, 'How can I make someone's life a little bit easier?'" Inter says. In recent years, Inter and her colleagues have been expanding their educational efforts to include people on the autism spectrum. "Families can end up feeling abandoned by their parish," Inter says, acknowledging the situation can be complex. As a result, she is developing a program designed specifically for people with autism. She is working to put together a team of professionals, including a psychologist, a behavior consultant specialist and/or a special education teacher. Her hope is that the team will work with parish religious educators.
"It's important that we provide help for families," Inter explains. "Mom and Dad already have a great deal of responsibility when they are raising a child with autism. This approach is designed to give them support." She plans to use what is called "backward chaining," bringing children with autism in toward the end of Mass, for whatever length of time they may be able to handle. "That way, they can get reinforcement and praise for good behavior right at the end of Mass," she says. "Then we can gradually expand the length of time they can participate." Religious educators will simultaneously be working with the congregation regarding the initiative. "People will still have moments that may disrupt," Inter says. "We need to grow in tolerance, to understand and accept that not everyone is like us.
How can we support people with autism and welcome them into our community?" She turns to the biblical story of Zacchaeus as an example of the power of Christian love. "Zacchaeus was different, according to the Bible," Inter says. "When Jesus welcomed him into his midst, it transformed Zacchaeus. But I think when we welcome people into our midst, it not only transforms them, but it transforms us." Reflecting on the experiences she's had attending Mass where the majority of people present had intellectual disabilities, she is moved by the purity, wonder and love she experienced. "That," she says, "is what we need to bring into everybody's congregation."
Do's:
Language matters. Consider the person first. Speak of a man, woman or child with a disability, not of a disabled person.
Use the word "disabled," not "handicapped."
Greet the person who has an intellectual disability.
If you are greeting a person who is blind, identify yourself.
Enjoy the spontaneity of people who have fewer inhibitions.
If someone is in a wheelchair, do not speak to him or her through an attendant; address the person directly.
Sit down so you are at eye level with a person in a wheelchair if you intend to share a conversation.
Let people with a disability set the pace. For instance, be patient if someone is struggling with speech.
Accept the unusual behaviors of some people who have mental illness as symptoms of a disease, not as a description of the whole person.
Encourage participation at Mass and parish events.
Don't:
assume that a person with a physical disability also has a cognitive disability.
use labels such as victim, crippled, unfortunate or invalid.
use words that generate pity or sorrow.
assume all people who are blind or visually impaired read Braille or that all people who are deaf or hearing impaired read lips.
touch someone's wheelchair without his or her permission.
use the term mentally retarded. Intellectually disabled
is more appropriate.
try to "cure" a person with mental illness.
argue with the irrational statements of a person with mental illness. Wait for a more rational comment to engage in conversation.
To request a copy of the brochure, Welcoming People with Disabilities, or to learn more about volunteering for the teams being developed regarding autism, contact Inter at Minter@ErieRCD.org or call 814.824.1257.
-