FORMER NFL STAR McCOY VISITS ERIE CATHOLIC SCHOOLS
09/28/2018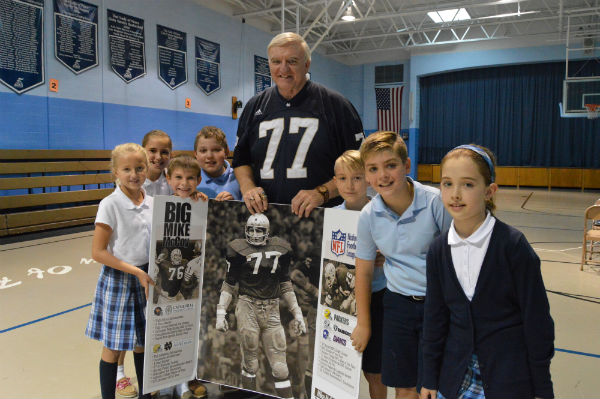 Former NFL star Mike McCoy made an impact on the football field – and, he hopes, in Erie's Catholic schools.
The Erie native and Cathedral Preparatory School graduate this week brought a message of faith, hope and encouragement to the six schools that make up the Erie Catholic School System. McCoy, now on his final speaking tour with Mike McCoy Ministries, regularly visits Catholic schools to talk about what it means to be a champion and a friend.
McCoy said the students he speaks with "all have a great definition of a friend."
"But when they do have friends, they don't always follow the definition because they want to be liked and accepted," he said before speaking with third-, fourth- and fifth-grade students at Our Lady of Peace School.

Faith, hope and encouragement enable students to make better decisions throughout their lives.
"Having Mike McCoy as a guest to speak to our students is an honor and his talk aims to solidify our mission here at Erie Catholic," said Damon Finazzo, president of the Erie Catholic School System. "Part of that mission is to build strong moral character in our students and maximize their spiritual potential through the teachings of Jesus Christ."
At Our Lady of Peace, McCoy spoke with students, shared a brief highlight film of his career, answered questions, and spent a few minutes talking with Hunter Krahe, a fifth-grader who injured his leg playing football. McCoy signed his cast.
McCoy played 11 years in the NFL – seven with the Green Bay Packers, two with the Oakland Raiders, and two with the New York Giants – and won several awards, including the Bronco Nagurski Legends award recognizing the best defensive football players in the last 40 years. He is a member of the Erie, PA Pro Football Hall of Fame, the Cathedral Prep Hall of Fame and the Pennsylvania Sports Hall of Fame.
-