FROM THE CLASSROOM TO DISCIPLESHIP
Anne-Marie Welsh
04/12/2022
NORTHWEST PA — A major change is coming to faith formation for students in grades six through 12 in the Diocese of Erie. It is significant enough that depending on the parish, it will take between five and six years to fully implement, although one key change, moving confirmation from grade 11 to grade 9, will be introduced as early as this coming fall in a number of parishes.
"It's definitely more engaging. It makes us pay attention more because it's something that we want to do. You don't actually want to leave sometimes," says a student from All Saints Parish in Waterford, where some aspects of the new approach have been tested.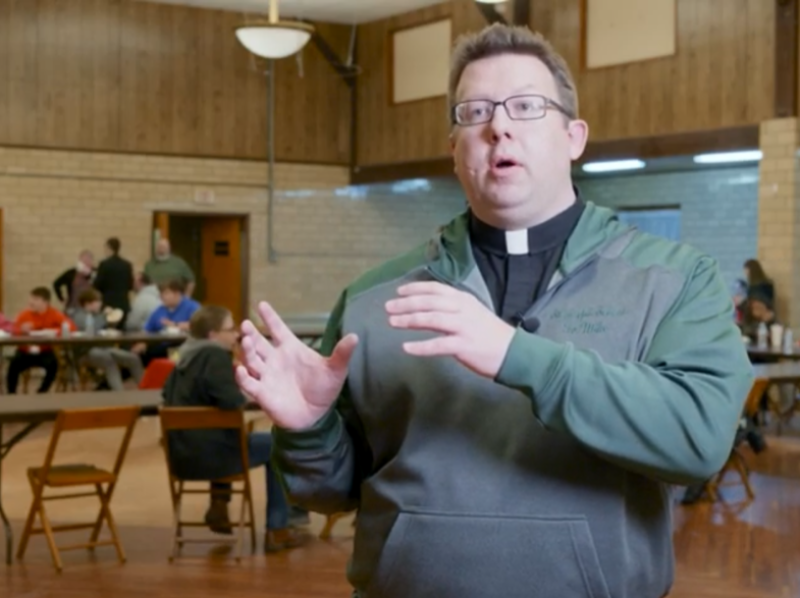 The experience has been equally positive for catechists.
"It's just a deeper level of realization about what their faith means to them," says Danielle Schoenfeldt, a catechist at All Saints. "I've seen a greater level of witness. It is incredible how kids will talk about their faith and examples of people in their lives who are faithful people."
Erie Bishop Lawrence Persico acknowledges that implementing the changes, initially called for through pastoral planning, is no easy task.
"I am very aware that everything is happening while we are on a moving train," he says. "The faith formation team has had to maintain programs, meet current needs and respond to unexpected opportunities such as engaging people in the listening sessions for the upcoming Synod on Synodality at the Vatican. But all during this time, they've been preparing for the most substantial change in religious formation for young people since 1983."
How did the plan come together?
"It's not news that what we're doing now is no longer working," says Deacon Steve Washek, executive director of the Faith Formation Office. That reality is borne out across the country. "By age 11, 17 percent of children no longer consider themselves to be Catholic; by age 17, 67 percent have left. There is nothing more precious or important we can offer to our children. We need to stop the hemorrhaging."
The faith formation team spent about 18 months studying, researching, connecting with experts and praying. They began with Christus Vivit, (Christ is Alive) the Vatican document issued in 2019 after the worldwide Synod of Bishops: "Young People, the Faith and Vocational Discernment," during which the bishops met with youth and young adults from around the world who had spent months in preparation.
The faith formation team also used the findings of the Center for Applied Research in the Apostolate (CARA), considered the gold standard for research and demographic information in the Catholic Church. And they delved into the work of the Springtide Research Institute that is focused on "the inner and outer lives of young people, ages 13 to 25."
"It is the most comprehensive and largest research done on young people specifically around religion," says Deacon Washek. "They have a category dedicated to young Catholics, so that was helpful to us."
A task force including parents, pastors, current and past religious educators, a theology teacher, a youth minister and a university professor accompanied the team as the new plan was developed.
"Everything we uncovered pointed to the importance of relationships," Deacon Washek says. "We have to move out of the classroom mentality and help students see their faith in action. Within those situations, catechesis can be integrated. The real learning happens in the discussions that ensue."
Bishop Persico supports the new approach.
"We're moving away from a classroom model to a discipleship model," he says. "The goal is to bring the student into a relationship with Christ, as opposed to just offering an academic understanding of Christ. If we foster that relationship, then their desire to 'know, love and serve God,' will grow."
Once a plan was drafted, the faith formation team held a series of meetings with those involved in religious formation in search of feedback. Along the way, team members made presentations to the Priest Council, which gave its final approval last month. Since then, the team has held listening sessions for pastors, who have proposed additional refinements, which now have been integrated.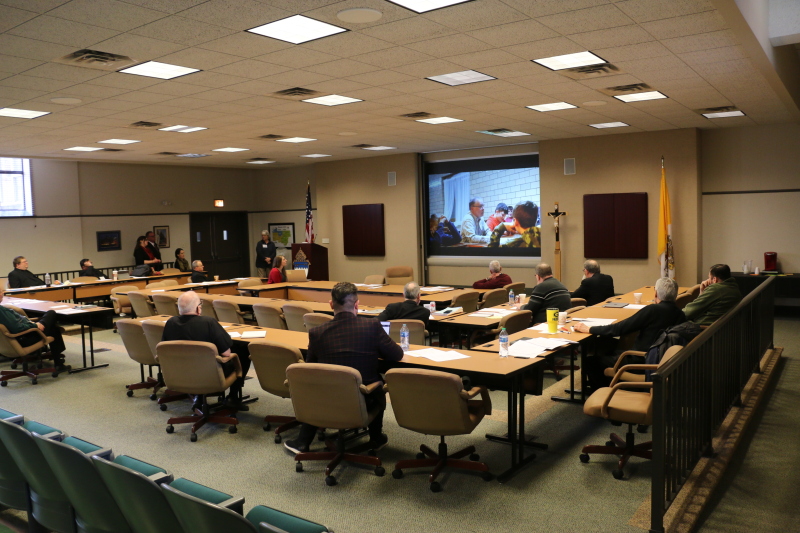 What are the basics of the plan?
Considering that the effort addresses the needs of students in grades six through 12, there are many facets. Those interested in a comprehensive understanding of the changes on the horizon are encouraged to visit www.eriercd.org/faithformation/ffprocess.html, where they will find video discussions and an overview for each portion of the plan. Among the components are:
Students in grades 6-8 will participate in the Edge program, part of Life Teen, Inc. A three-year cycle of programming includes activities, a ten-minute teaching on the Catechism of the Catholic Church or Scripture, small-group activities and discussion. The evenings conclude with prayer and a weekly challenge.



Students will prepare for confirmation in ninth grade following a format similar to that in the Edge program. While students attending Catholic schools will be welcome to participate in the Edge sessions beginning in sixth grade, participation in the ninth-grade sessions will be mandatory as they prepare for confirmation. The new faith formation website introducing the changes says "candidates will enter into a more intimate union with Christ and a more lively familiarity with the Holy Spirit — his actions, his gifts and his biddings."


Until now, students have not been brought back together on a regular basis after confirmation. With the new initiative, there are now options for students, whether or not they attend Catholic school, beginning in the 10th grade. Working in small groups, students will be invited to put their faith into practice: Learning to pray by praying together, learning what discipleship is by discipling one another and learning from adult mentors who will journey together with them in exploring what it means to live their Catholic faith.



Grade 11 will be devoted to spiritual mentoring. After students have found relationship and trust in small groups, their desire to know more will grow. Spiritual mentors will help young people relate to Christ and seek him in their prayer and everyday lives. Spiritual mentoring will deepen the students' personal relationships with Christ, provide questions and suggestions for prayer no matter where they are in their spiritual growth, and illustrate that the church cares and is invested in their spiritual journeys.


In the 12th grade, the program focus is mission. Made for Mission provides leadership skills to enhance participants' experiences in parish ministry, where they will assist with the Edge program retreats. Parishes will accompany young people right where their concerns and desires are, accessing ready-made programs ministers can use such as a college essay editing night, a discussion on discerning the next steps in their lives, etc. The goal is to help them realize and accept that they are a part of the parish family, even as they transition to the next step in their lives.
While it is a fair amount of information to take in, the good news is that at the request of pastors and parish leaders, most parishes will maintain the status quo during the 2022/23 academic year as they begin preparing for the transition. Then they will have either four or five more years to gradually implement the changes.
The change in confirmation will occur gradually, however. By 2024-2025, all students in the Diocese of Erie will be confirmed in ninth grade.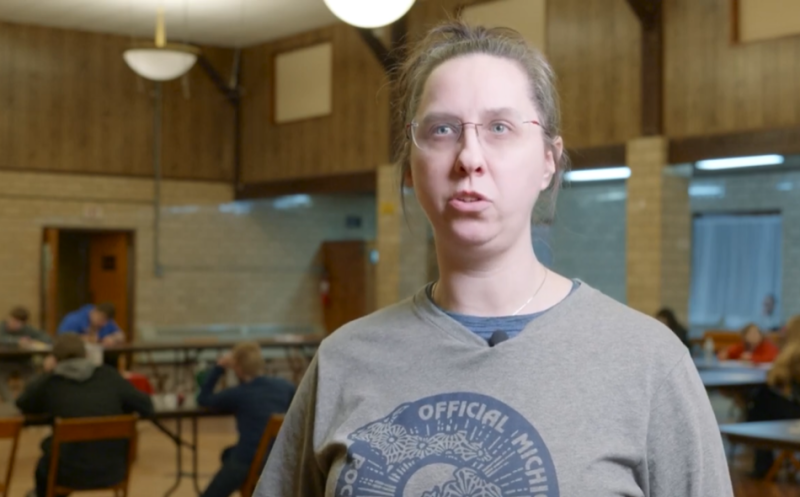 The faith formation team already has brought in experts and speakers, in some cases recording their presentations so that leaders, volunteers, parents and students will be able to grow in their understanding of the new approach. The team also is arranging a menu of options in order to facilitate success in parishes. In some cases, parishes will work with neighboring parishes. In others, special arrangements will be made to help particularly small parishes that may not have another nearby parish with which it can collaborate.
For now, both Deacon Washek and Bishop Persico are encouraging patience and openness.
"Growth takes time," Bishop Persico says. "We're not going to see results immediately. It's going to be a challenge, but we'll keep adjusting. I have no doubt we're heading in the right direction."
Deacon Washek and his team are ready.
"This is why the new faith formation team was formed," he said. "Now is the time. We strongly believe this is going to give our young people a new experience of faith. We are very much in line with what young people have been asking for."
With this new approach. adults will have numerous entry points through which they can get involved; it will no longer just be up to the catechist. Someone might be invited to give a talk. Others might serve as mentors.
"We see this as a way of evangelizing," Deacon Washek says. "It's going to strengthen the face of everyone who is involved."
Visit www.eriercd.org/faithformation/ffprocess.html for an initial look at the approach planned for each grade level. The site, which includes a link to several helpful video resources recorded within the diocese, will be updated on a regular basis.
The official decree promulgating the revised norms for confirmation can be found at https://www.eriercd.org/bishop/particularlaw.html under the heading, "Confirmation."
-