HOW THESE COLLEGE FRESHMEN FOUND THE FAITH THROUGH FRIENDSHIP
Perry West/Catholic News agency
09/05/2019
Denver, Colo. The phenomenon is well-documented. When young Catholics go away to college, a troublingly high percentage of them stop practicing their faith. And many who stop going to Mass in college never return.
Initiatives like FOCUS, and Newman Centers across the country, are all geared toward helping young Catholics stem the tide - to grow as Catholics in college, rather than wither.
Last Easter, three young men in Colorado were part of a different trend. They didn't leave Catholicism in college. Instead, they became Catholics.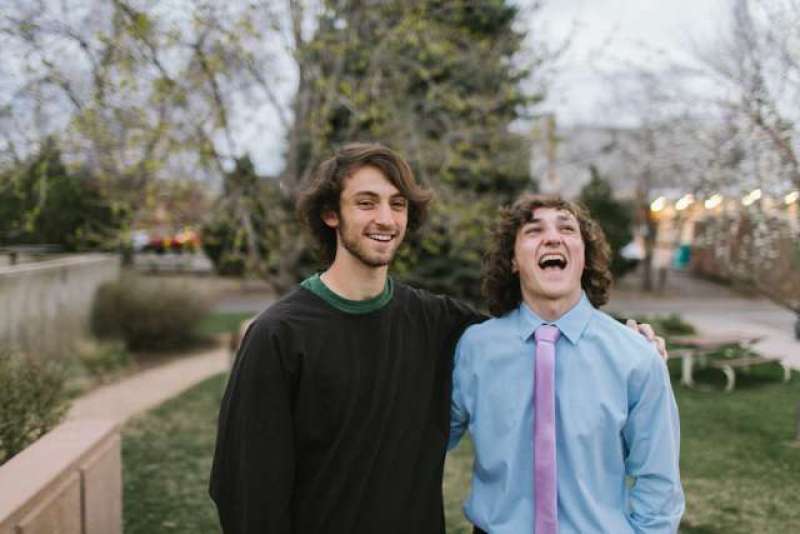 Jake Keller, a civil engineering major; Ian Horton, a finance major; and Anthony Ascolese, a natural resource management major, will be upcoming sophomores at Colorado State University in Fort Collins, Colorado.

Keller and Ascolese began their freshman year in 2018 with little religious formation at all. Horton, who had been a committed atheist until age 17, entered the University of Colorado at Boulder as a newly converted Protestant. He transferred to CSU during his second semester.

Ascolese told CNA that he grew up occasionally going to Baptist services with his grandmother, or to Mass with Catholic families, but that he had never given much attention to faith. But when he began attending CSU, he connected with some Catholic friends and was invited to some events at the Catholic student center.
"[Growing up,] they have always invited me to [Catholic] stuff, and [they] invited me to the intramural fields that are on campus," Ascolese said.
"I saw this big flag that said 'Ram Catholic,' and I was like, 'Oh no, here they go again,'" he told CNA.
Initially, Ascolese said, he felt uncomfortable at Catholic events.
"I would just feel really out of place because I didn't have much of a knowledge of God or anything like those traditional stories... So anytime I was there, like a Bible study or Mass, I felt really out of place."
But he was joined at some of those events by other non-Catholics, among them Horton and Keller. That helped overcome the awkwardness.
Ascolese said the community was friendly and he soon realized that "religious people" could be "ordinary people."
As he spent time in a Catholic circle, he grew more comfortable with the faith.
"I just kept growing and learning and hanging out with everyone and really falling in love with Mass. Everything about the Church was really coming together, and God was doing so much work through that," he said.
Eventually, Ascolese attended a campus ministry retreat: "Ram Awakening." There students participated in the sacraments, praise and worship sessions, and had religious discussions.
One of the major turning points, he said, was receiving letters of encouragement from his family and strangers during the retreat.
"The amount of love I felt from them, even just reading a piece of paper. You can really see how genuine and loving every letter was, even though I didn't know any of the people staffing it. It shows how happy, joyful, and loving they were for me being there. It was really amazing," he said.
"I think three days after that, I went over to the Church and met with Jessica Harris who leads RCIA at St. John [XXIII Catholic Church]."
Keller has a similar story. He told CNA that he and his family and attended nondenominational services a few times each year.
At Colorado State University, Keller was invited to attend some religious events by some Catholic friends from high school. He said the events began as an opportunity to reconnect with old friends, but the faith soon became his point of interest.
"I started to become more in touch with God, praying a lot more, and believing a lot more. After joining their Bible study [and] doing a bunch of stuff with the Church, I eventually went on this retreat called Ram Awakening, we have at CSU," he said.
"That retreat really changed me. I learned a lot about suffering and how that can make your life better," he further added.
Keller said he especially struggled with the clergy sex abuse scandals and the Church's stance on marriage and abortion. He said, through discussions with friends, he was better able to understand these issues.
"[The scandals] was the main thing holding me back. I guess just trying to think about priests not as someone who is representing God but someone who God is acting through. It's hard to look up to someone but also understand that they are still human and they're imperfect," he said.
"Going through with them, I wasn't doing it alone. It helped me look past the scandals in the Church because I am not doing it alone and there are other people doing it with me. Working through community helped a lot."
Holton was a staunch atheist for about ten years; as a teen he devoured the work of intellectual atheists like Christopher Hitchens. But when he was 17, he became focused on researching and understanding Christianity. After reading books by authors like Thomas Aquinas and GK Chesterton, he realized, to his surprise, that he accepted Christianity.
A new believer, Holton said he didn't know where to fit in among Christians when he began attending college. He said that one day he visited the Thomas Aquinas Catholic Center, just off campus in Boulder. There, he said, a priest answered a lot of his questions about faith, and set him in the direction of Catholicism.
"From then on, I recognized that I appreciated Catholicism more than Protestantism because it was far more beautiful, interesting, and, most importantly, that is when I realized it was true."
He started RCIA in Boulder, but he transferred to CSU in Fort Collins, where he is from.
There, he said he discovered a rich and active Catholic community among the youth. He said he was further inspired to the faith by Fr. Rocco Porter, the pastor of St. John XXIII Catholic Church near the university.
Holton said he is inspired by discovering the traditions of the Church and participating in Mass, noting he has had a strong connection to the Extraordinary Form of the Roman Rite, the Latin Mass. He said he's realized, through the impact of the saints and Catholic intellectuals, that the Church has been the most influential institution in the world's history.
"I love to know that I'm part of the faith and the Church that Jesus himself founded.  And to know that I'm participating in the original sacrifice of the Mass that's been going on for 2000 years."
"I love to couple the Bible with the Sacred Tradition that we have of how we do love Mary [and] how we do venerate the saints," he said. "Not only do we have [these saints], we have 2000 years of some of the best philosophers and theologians the world has ever seen."
The three men said that through RCIA, they were able to grow closer to Christ together, pray for each other, and discuss the intricacies of the faith.
Ascolese said it is exciting to have a group of men who shared in each other's enthusiasm and kept each other accountable.
"We talked about God, but we were also there to be there for each other and love each other. You could really see the good from that, like God was just with us during that time," he said. 
"When I knew I wanted to become Catholic, saying prayers and working with Jake...and God was working through my prayers and that really helped me too, seeing something was working."
Ascolese recalled the power of prayer: One night all of the men went to Qdoba in place of Bible study. Keller had not yet decided to become Catholic. But after their conversation at Qdoba, he received a text from Keller about his conversion.
"When I got to my dorm room, I got a text from him saying 'hey, can you send me [the RCIA] number.' which was wild to me, because I was just praying about that stuff," Ascolese said.
All the men said they felt supported by their parish and the RCIA program but added that it has been a challenge to face ethical questions, including abortion and gay marriage, with other students on campus.
When asked about additional tools parishes should offer to support new Catholics, Horton said there should be mentorship opportunities or an apologetic course.
"I think what parishes can do to support new converts would be to have a bit of spiritual mentorship by either a priest, an RCIA leader, or a theologian," he said.
"I am in favor of apologetics," he said. "I think it is very important in this day and age when most young people leave the Church because of questions about science and genesis."
All three men are excited and joyful for their encounter with new faith. They said the experience has not only challenged each other to entertain intellectual properties of the faith but it also has encouraged them to embrace a life of virtue. 
The change in his lifestyle has been a thrill, said Anthony, "seeing the difference of having God in your life can do for you, especially in the truest form through Catholicism. You can see so much good from it and the suffering you do get ultimately leads to good."
-