IN THE 'SPIRIT' OF COMPETITION
Sheila Grove
02/17/2022
ERIE — Transitional Deacon Ben Daghir and seminarian Luke Daghir, natives of St. Mary Parish, St. Marys, and their teammates from St. Mary's Seminary and University in Baltimore, took it on the road to compete in a seminary basketball tournament at the Pontifical College Josephinium in Columbus Ohio, earlier this month.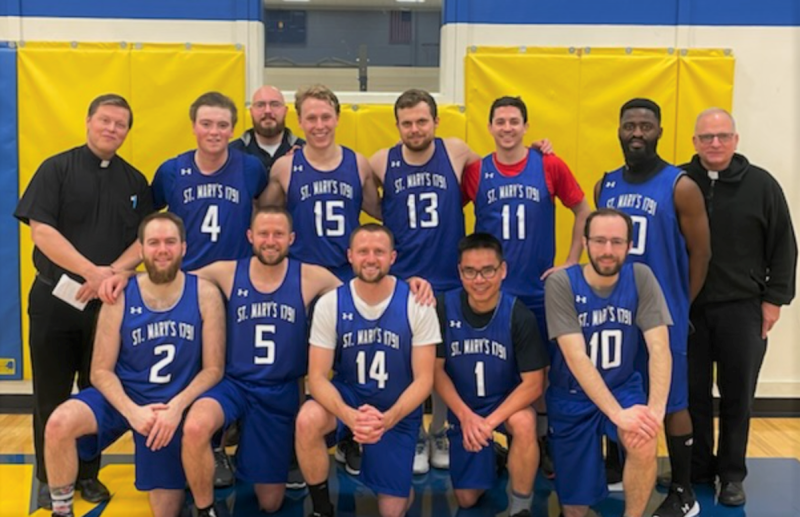 In addition to the Daghirs, Jacob Gindhat, a St. Mark Seminary graduate from the Diocese of Altoona-Johnstown, plays for St. Mary's Seminary. The team competed well in Columbus, losing to the Josephinum — tournament winners for five consecutive years — in the finals.
Deacon Daghir told the Diocese of EriE-News, "The tournament allows for seminarians from across the country to compete against one another, share meals together, pray together and celebrate Mass together. Although the seminary is very academically demanding, it provides challenges for student-athletes. We practiced as a team once a week beginning in October to prepare for this tournament. Practices were a fun way to grow in friendship, build stronger fraternity among seminarians and have healthy workouts during the school year."
While in Columbus, the Baltimore team had a chance to connect with fellow St. Mark's graduates who play for the team from St. Vincent Seminary in Latrobe — Andrew Hamilton, of the Diocese of Greensburg, and Cory Pius and Michael Scanga, both from the Diocese of Erie.
Pius, along with Christopher Beran, will be ordained to the diaconate on April 23 at St. Mark Catholic Center, Erie. Deacon Daghir, along with Deacons Nicholas Fratus and Christopher Wheeler, will be ordained to the priesthood at St. Patrick Church, Erie, on May 27.
-