IT'S TIME FOR #iGIVECATHOLIC
Sheila Grove
11/16/2020
NORTHWEST PENNSYLVANIA — "It just feels good to come together as Catholics on a common giving day while supporting local parishes and Catholic causes closest to our hearts," says Lisa Louis, director of the Catholic Foundation of Northwest Pennsylvania. "Our Catholic faith teaches us to give thanks and give back. #iGiveCatholic on #GivingTuesday, Dec. 1, 2020, is a perfect way to do just that while making a bigger impact together all on one day. It is a quick and easy way for us to lift up our many Catholic organizations in need of funding with our donations at the end of a difficult year."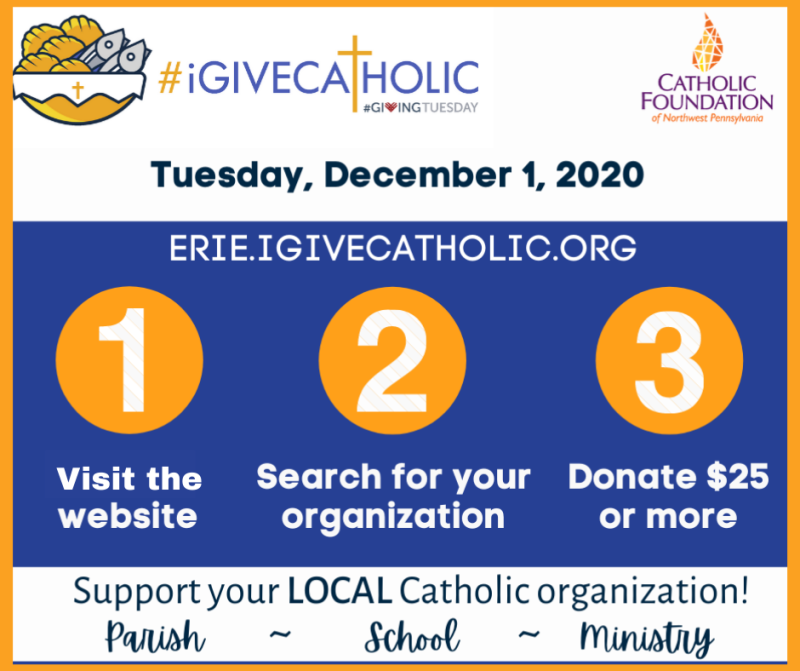 At https://erie.igivecatholic.org/ donors choose a parish, school or agency from a drop-down list and make an online donation or mail a gift directly to the organization of their choice. Donations also can be made at any time during the advanced giving period from now through Nov. 30, 2020.

To add to the excitement, donations will help some Catholic organizations win cash prizes totaling more than $10,000 through the generous support of #iGiveCatholic sponsors. Learn more about these prizes.

With a grateful and faith-filled response, northwest Pennsylvania Catholics unite, give back, and together in giving, receive.
-