KENTUCKY MAN'S POST-HURRICANE HELP SPURS 'CAJUN CHEFS' TO AID TORNADO VICTIMS
Elizabeth Wong Barnstead/Catholic News Service
06/20/2022
OWENSBORO, Ky. (CNS) — Those who have experienced a natural disaster are all too familiar with the timeline of public response.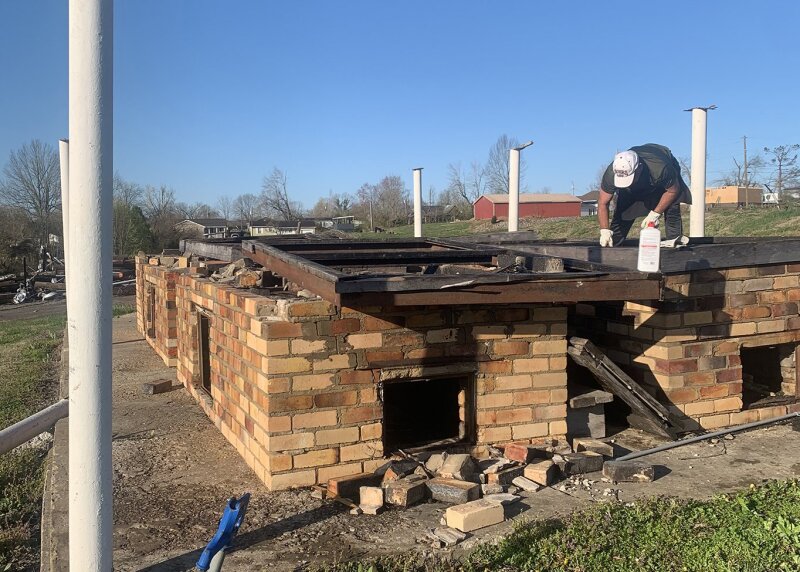 "The media, people come ... then everyone pulls out," said Sarah Hayden-Thomas, who brought a team — dubbed the "Cajun Chefs" — from Louisiana to assist western Kentucky tornado relief efforts.
"But nothing's changed" when everyone leaves, said Hayden-Thomas. "We're still broken."
Hayden-Thomas grew up in western Kentucky and today resides in St. Amant, Louisiana. Her region was devastated by Hurricane Ida in 2021, and as someone who has lived through multiple hurricanes and floods, she knows what it is like to receive a torrent of support from across the country in the early days — only to be forgotten in a matter of months.
"We're very familiar with disasters," Hayden-Thomas said in a phone call with The Western Kentucky Catholic, newspaper of the Diocese of Owensboro.
Yet they're also familiar with incredible kindness.
After Hurricane Ida happened, her parish, Holy Rosary in St. Amant, was impacted by the generosity of a man from Kentucky who drove down with a packed trailer of supplies to help Holy Rosary with its recovery efforts.
The stranger arrived and departed without any fanfare, and did not even leave his contact information.
So when tornadoes devastated western Kentucky during the night of Dec. 10, 2021, Hayden-Thomas thought about how best to help her native state. She remembered the compassionate Kentucky visitor who had driven hundreds of miles to lend a hand.
"People asked me, 'What can we do to help?'" she said.
Hayden-Thomas reached out to her cousin, Father Carl McCarthy, pastor of Christ the King Parish in Madisonville, Kentucky. Christ the King was one of the western Kentucky parishes that served as a tornado relief hub immediately after the storms.
"Because of that kindness (of the Kentucky visitor), crossing all boundaries and coming to us, we wanted to do something to give back," said Hayden-Thomas.
With permission from her pastor, Father Joseph Vu, she started putting out word to neighboring parishes about doing something to help western Kentucky.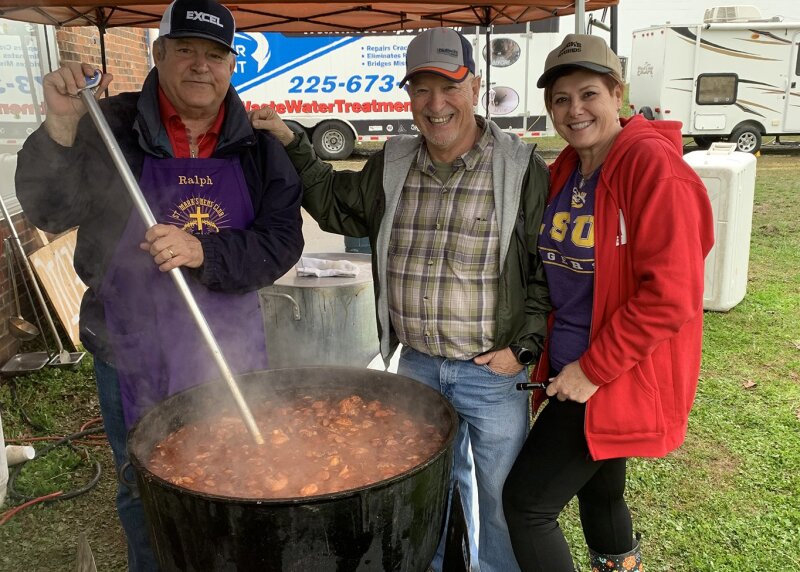 Their "mission trip," as they called it, became a collaborative project by parishioners of St. Theresa of Avila Parish and St. Mark Parish in Gonzales, Louisiana, and St. John the Evangelist Parish in Prairieville, Louisiana. Local Knights of Columbus and other Catholic organizations became involved as well.
Hayden-Thomas told Father McCarthy that she wanted to bring the team not in the immediate aftermath but in the months to follow.
The priest suggested that they come during western Kentucky's spring break week from April 4-8, since volunteers would be converging on the area to help with recovery.
"Maybe you can help feed those extra people," said Father McCarthy. From that point on, the Louisiana parishioners plotted out the cooking and food prep details to feed hundreds of volunteers.
-