KNIGHTS OF COLUMBUS BABY BOTTLE CAMPAIGN RAISES OVER $120,000 FOR THE WOMEN'S CARE CENTER OF ERIE COUNTY
By JT McDonald
09/12/2022
For most women, finding out they are pregnant is exciting and joyous. However, for many facing unexpected pregnancies in Erie County, it can be a worrisome time filled with questions and unknowns. This is where the Women's Care Center of Erie County comes into play. The Women's Care Center aims to help to provide an affordable, safe place of comfort, support, and health to individuals facing unplanned or crisis pregnancies. The center assists with making decisions about the future, providing medical care free of charge, and offering alternatives to abortion, through their in-house adoption agency.
The center's latest mission is purchasing a 25-foot RV outfitted as a mobile pregnancy resource center offering medical care, alternatives to abortion, and support for unplanned pregnancies.
"When we started talking about this, it really was to support the underserved community," said Randy Newport, executive director of the Women's Care Center. "We want to get into the inner city — a lot of these clients cannot get to our brick-and-mortar buildings — and we plan also to serve the local colleges." Said Newport, "These expectant mothers won't have to worry about trying to take a bus or find a ride if they need a pregnancy test or ultrasound."
The problem: This state-of-the-art mobile unit was quoted at just under a quarter of a million dollars, funding the center did not have available in its budget.
The Knights of Columbus, a charitable organization of practical Catholic men with over 1,600 members in Erie County, heard about this lofty goal and knew they could help through their pro-life initiatives.
"The ultrasound project is one of one of our pro-life programs," said Knights of Columbus State Warden Dave Spacht. "Over the last five to seven years, we've actually placed three ultrasound units at the Women's Care Center in Erie." Said Spacht, "The newest one they have is a little over a year old. It's running wonderfully." Spacht estimates that 70 to 120 women have chosen not to terminate their pregnancies because they had access to the ultrasound machines at the Women's Care Center.
For the mobile ultrasound campaign, the Knights distributed over 5000 empty baby bottles at Catholic Churches in the upper corner of Northwest Pennsylvania on Mother's Day, asking that parishioners return them filled with coins, cash and checks by Father's Day. What happened next stunned everyone.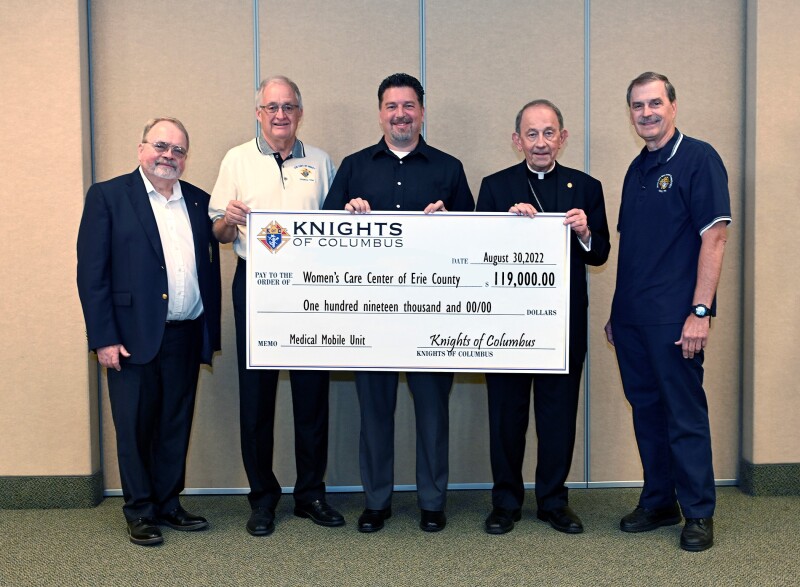 "We never expected anywhere close to the level of participation we had," said Phil Legler, Knights of Columbus chairman for the campaign. "We ended up with 41 Catholic churches in Erie and Crawford County that enthusiastically joined the effort," said Legler.
Legler even received a phone call from a kindergarten teacher at Seton Catholic School saying they had a check presentation for $2000 that the students had raised.
"Keep in mind we gave out the bottles at 41 Catholic churches, not schools. We never called these people. They actually went to the church and got 12 or 13 bottles all on their own," Legler said with a big smile.
For Newport, the level of participation was also a shock.
"People, were very excited to do this, and I think that to me, that's the Holy Spirit really working through the Knights through these parishes and just opening the door to bring a message of life to the community," said Newport. "I just have never seen anything like it. I've done this for a while, I've been around the church forever, and I've never seen people so giving and wanting to unify around a cause."
But the success of the campaign didn't end with the collection.

An anonymous donor has committed to covering the remaining cost of the mobile ultrasound unit. Newport, who placed the order for the unit last week, expects it to arrive later this year and immediately begin serving the community. The Knights of Columbus plan on making this an annual event with next year's goal to fund the operating costs of the mobile unit and establish a fund for a potential second mobile unit in the future.
With the goal achieved, and the mobile ultrasound unit ordered, this campaign can be considered an outstanding success. The baby bottle coin collection ran for just over a month, and raised over $120,000, mostly in coins. This generosity in such a short period of time gives over 120,000 reasons to show Northwest Pennsylvania that the Catholic community supports the pro-life cause.
— —
Want to donate to the campaign, get involved with next year's campaign and/or the Knights of Columbus? Donate online at WCCErie.org or contact Phil Legler at 814-464-7293 or legler.phil@gmail.com.
-