MEDALS, SCAPULARS ARE OFTEN PART OF JOCKEYS' UNIFORMS; AMID RISKS OF HORSE RACING, RIDERS VALUE PRAYER, DEVOTION
By Mary Rampellini, OSV News
05/08/2023
HOT SPRINGS, Ark. (OSV News) — Jockey David Cabrera has had a special devotion to Our Lady of Guadalupe since he was a child.

It's something he's continued to carry with him -— literally.

Cabrera, who races at Oaklawn Park in Hot Springs, is one of many jockeys who wear Catholic sacramentals when competing in races. He has a scapular with an image of Our Lady of Guadalupe.

"It's from Mexico," said Cabrera, 30. "I wear it all the time. I never take it off."

Other jockeys have a Miraculous Medal attached to the back of the helmets they wear each time they get on a racehorse. It's an old-school tradition -- one in place long before 25-year-old jockey Cristian Torres burst onto the scene at Oaklawn Park.

"I've seen it," said Torres, who is the meet's current leading jockey.

There are other traditions, too, noted jockey Jon Court, a 62-year-old veteran who rides at both Oaklawn Park and tracks in Kentucky.

"Through the years, I've seen some riders adamant they wear a certain saint medal or crucifix," Court told Arkansas Catholic, Little Rock's diocesan newspaper. "I've seen them down on their knees, kissing a medal."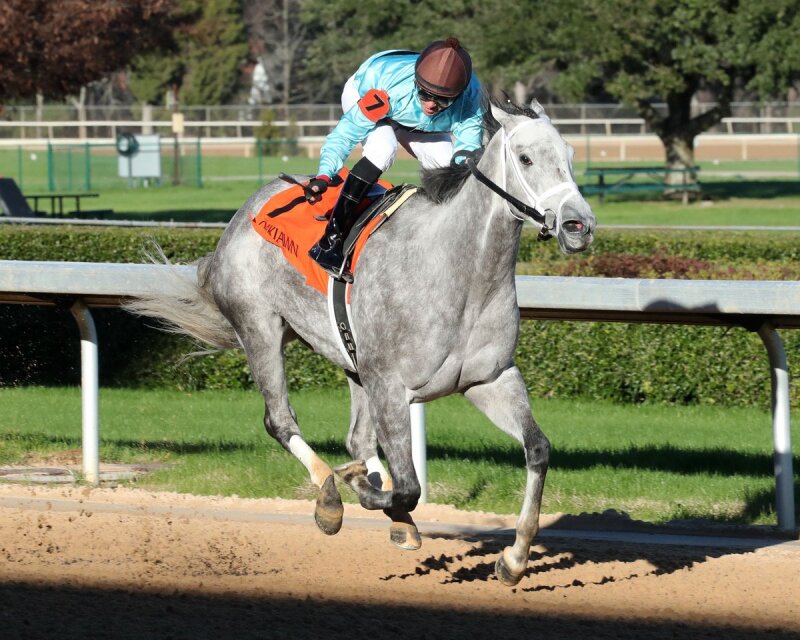 The profession of riding racehorses is fulfilling but also dangerous. The rules of the sport require an ambulance to follow jockeys around the track every time a race is conducted.
It's a way of life that leads many to call on their faith for protection.

Before each program of races at Oaklawn Park, track chaplains Rich and Robi Heffington visit the jockeys' quarters — where there are separate "locker rooms" for men and women.

"We have the chaplain in the jocks' room, and he prays for everyone for safety, for everyone who works with the horses," said jockey Francisco Arrieta, a 34-year-old native of Venezuela. "Every time I get on a horse in the post parade, I say, 'God, please take care of my horse and take care of me, in Jesus' name.' I've been doing that a long time. I put my trust in God."

Torres, who was born in Puerto Rico and later moved to Florida, said he does not wear any religious items on the racetrack, but he keeps a Bible in the jockeys' quarters at Oaklawn Park.

"When I go into the (starting) gate, I always say to myself, 'I'm in your hands in this race, God,' and I feel I'm covered," Torres said. "Every morning, my mom will text me a prayer, and she lets me know she's always praying for me. I go peacefully to work."

Cabrera, who won last season's riding title at Oaklawn Park, is a native of Mexico who grew up Catholic.

"I pray a lot before the races and sometimes after the races, just to thank God for his blessings," Cabrera said.

Cabrera said when he was an 8-year-old, he asked Our Lady of Guadalupe to intercede for him because he needed a miracle to help him through a difficult time at school.

"I prayed with all my heart," he said. "That miracle that I needed, it came true. So, I always think, no matter what it is, if I ask with a lot of faith and with all my heart, eventually things come around, and things smooth out."

Court is another jockey who keeps his faith life front and center during the races at Oaklawn Park.

"Throughout the day I meditate on certain Scriptures," he said. "I guess my go-to is Psalms and sometimes Proverbs. I enjoy the Old Testament equally as well as the Gospels.

"It does a lot of things. It gives me confidence. It gives me a sense of presence and a sense of security. It's very dangerous out there. We have to make split-second decisions."

Arrieta, who has established himself as one of the top riders at Oaklawn, said his faith makes him step back and be rational when things don't go the way he would have hoped in a race.

"He has a reason. He knows everything," Arrieta said. "He has the last word."

Arrieta, who just a few years ago started coming to Oaklawn Park, said he and his wife are looking at buying a home in Hot Springs. The couple has been married 15 years and have three children.

"My family and I really like it here," Arrieta said.

So does Cabrera, who takes part in some of the local church activities with his wife and daughter. In December, Cabrera was part of the Our Lady of Guadalupe procession down Central Avenue in Hot Springs from St. Mary of the Springs to St. John the Baptist for a special Mass.

"I always wanted to do something like this," Cabrera said. "They were looking for volunteers to help carry the statue because there were not enough guys. It was heavy. It was a blessing to me, to be able to carry her."

Both off — and on — the racetrack.
-