MIRACLE UPON MIRACLE: MARIA HOUSE PROJECT CELEBRATES 50 YEARS
Anne-Marie Welsh
05/24/2022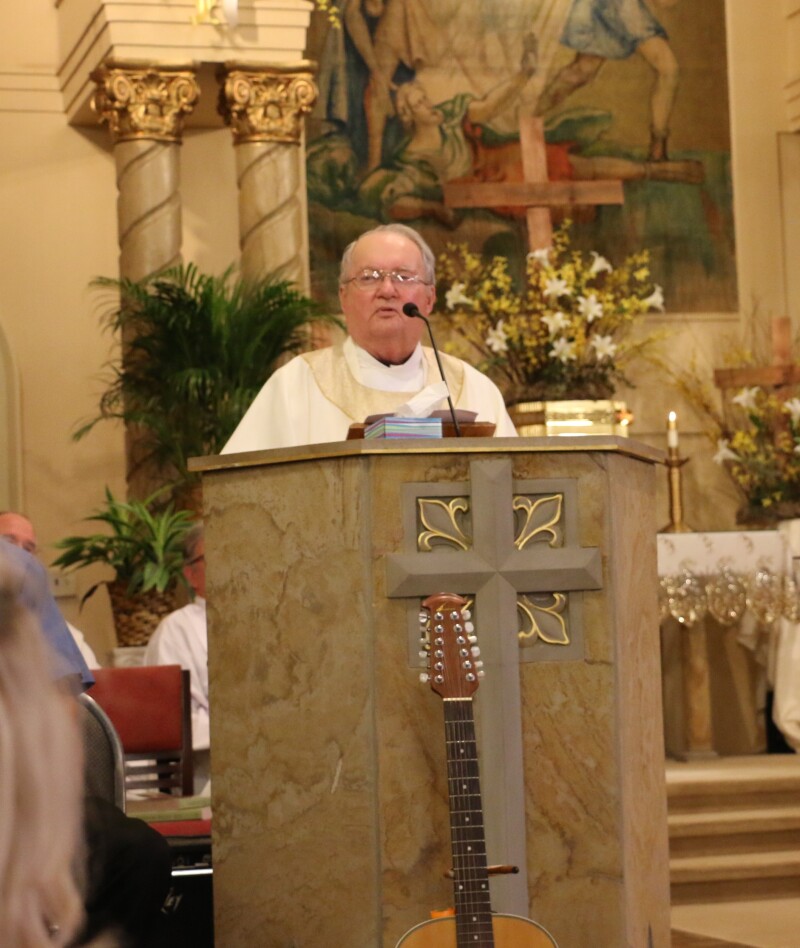 The pews of St. Paul Church in Erie were filled on Sunday, May 15, as those who treasure and support the ministry of Maria House Project came together to celebrate its 50th anniversary. Many tears were shed during the gathering, by both presenters and attendees. But they were cleansing tears of joy and gratitude.
Those not familiar with Maria House Project can read about the anointed work of its founder, Msgr. James Peterson, affectionately known as Father Pete, in the May/June 2006 edition of Faith magazine. A story about Justin Leroy, who spoke at the anniversary dinner, appeared in the October 2016 edition of the magazine.

"I'm amazed I'm still alive," Leroy said at the time.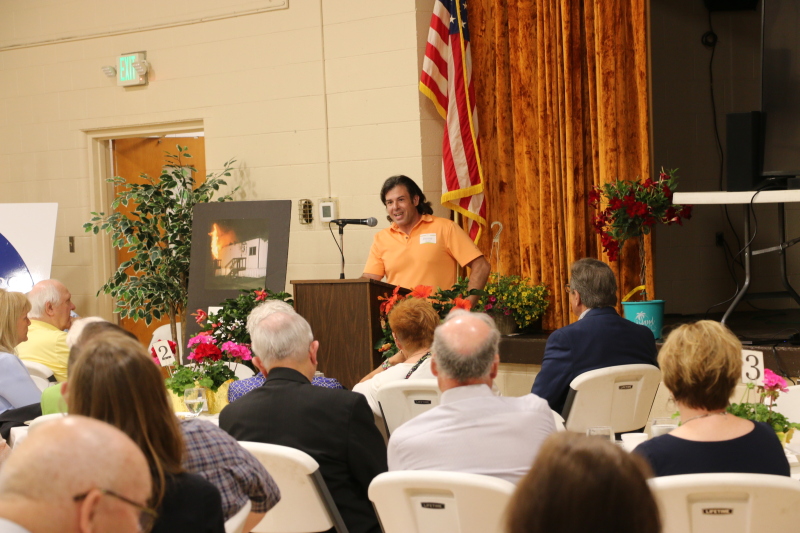 And indeed, speaking at the event, it is clear he continues to thrive in both his professional and personal life, thanks to the foundation he received at Maria House Project.
The celebration began the only way it could have: with Mass. Father John Fischer, retired pastor of St. Lawrence Parish in Albion, presided and offered the homily.

"Father Pete taught as Jesus taught," he said, reflecting on some of the basic tenets of the ministry. "'You are not your crime, your addiction or your sickness,' Father Pete often said. 'You are not your emotions, your passions or thoughts. You are a person, made in the image and likeness of God.'"
Father Fischer talked about how Msgr. Peterson worked with men who had suffered from addiction or been caught up in criminal activity, guiding them into meaningful lives.
"He taught them how to live, not just exist," Father Fischer said.
His homily also included a thought-provoking turn of phrase as he reflected upon the compassion necessary to bring about transformation in people's lives.
"You have to not only understand," he pointed out, "but like at the crucifixion, you have to 'stand under' and serve others."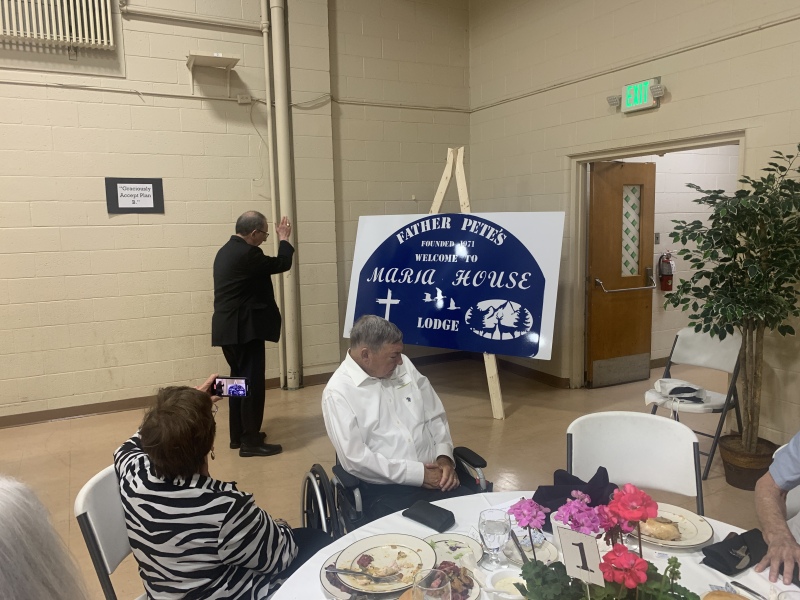 More than 200 volunteers, staff members, clergy, religious, benefactors and beneficiaries enjoyed dinner together after the Mass. During the meal, administrators unveiled a new sign, announcing that Maria House Project's main building, known as the Lodge, would henceforth be known as Father Peterson's Lodge. Bishop Lawrence Persico was invited to bless it.
Among those who spoke were Mayor Joe Schember, who offered a proclamation from the City of Erie, and Maria House Project Executive Director Joe Tarquinio, who shared the story of how he came to know and work with Msgr. Peterson, providing insight into what keeps him going.
"What I have seen is miracle upon miracle," Tarquinio said. "I know what these guys look like when they come in. Their best friend is a bottle, a needle or a pill. When they walk out, their best friend is Our Lord."
The highlight of the evening was testimony from three different men who credit Maria House Project with nothing less than saving their lives: Jimmy Cicero, Justin Leroy and Ace Ferry. Cicero said he first tried alcohol and drugs at the age of 12. He eventually lost his father, stepfather and girlfriend to drugs, not to mention custody of his sons, his house, his car, and work in the family business.
He said he lied, cheated and stole in order to feed his addiction.
"I was on a horrible path," he said. "I put my family through hell, but by the grace of God, I was saved." His suffering was intense, including three months in what he referred to as "the hole" in jail, where he had nothing but a steel cot and desk. Looking up at the ceiling, he saw the words, "Trust in God," inscribed. Several weeks into his stay, shoved way in the back of the desk — which was supposed to be empty — he discovered a Bible, open to Romans 5.
"We are justified by faith," he read. "We have gained access to his grace by faith." He called it God's gift to help him find his way.
When he was finally allowed to write letters, he wrote to Tarquinio, asking to be accepted back to Maria House Project. Joe agreed to give him another chance.
"Joe and the members of Maria House Project are a true testament to the gift of God in my life," Cicero said.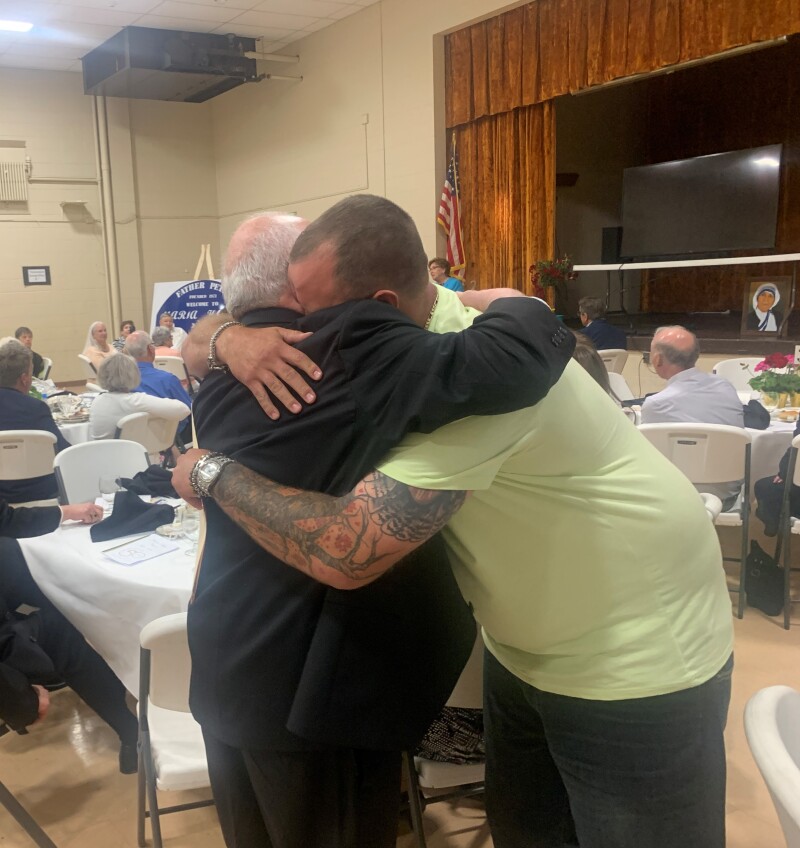 Today he said he has become a better father, son, brother and friend, and is a positive contributor to society who has been able to rebuild his life and his work.
The evening closed with remarks and the blessing from Bishop Persico.
Calling Maria House a very important ministry in the Diocese of Erie, the bishop said he remembered the concerns raised when Msgr. Peterson died.
"Some were worried about how Maria House would continue on," he said. "It has survived 50 years. And it will continue, as long as you are doing the work of the Lord, reaching out to those in need."
-