#MeToo, #ChurchToo LECTURE SHINES LIGHT ON CULTURE OF ABUSE
Mary Solberg
02/22/2019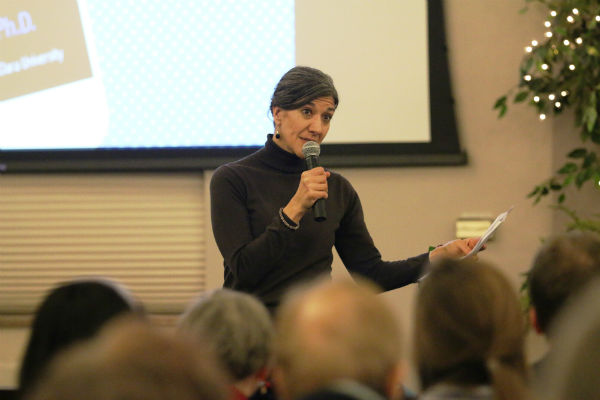 Some of the answers to the current sex abuse crisis facing the Catholic Church lie within its own social justice teachings, according to Julie Hanlon Rubio, Ph.D., featured speaker at the Feb. 21 Loftus Lecture at Gannon University in downtown Erie.
More than 200 people – including faculty, students, Gannon's board of directors and community members – listened as Rubio outlined such valuable Catholic principles as human dignity, solidarity and concern for the good of others.
This "lens of social thought," Rubio said, will help the church come to grips with its past sins regarding sexual abuse and move forward in a responsible, life-giving way.
"Catholic social thought equips us to address this with the language of justice," Rubio said.
Her talk came the same day church leaders from throughout the world gathered in Rome for a historic, three-day Vatican summit on the protection of children. Pope Francis has called for concrete changes in how allegations of clergy abuse can be addressed compassionately, fairly and appropriately.
In an interview before her talk, Rubio commended Pope Francis for recognizing abuse as a problem facing the universal church. Nearly 200 church leaders from throughout the world were in attendance at the Vatican conference.
"We have only scratched the surface of this problem in Africa and in India," Rubio said.
Bishop Lawrence Persico, who has led the Diocese of Erie through one of the church's most scandalous periods, invoked God's help in the crisis, saying at the evening's Benediction, "Grant us courage and wisdom, humility and grace so that we may act with justice and find peace in you."
Such humility is necessary for the church to move forward, according to Rubio.
"We need to own our own complicity," she said.
The title of her talk, "#MeToo, #ChurchToo: Sexual Violence and Social Justice" points to current social media efforts to draw attention to the issue of sexual abuse. The hashtags represent one way society has begun to talk frankly about what Rubio calls "a web of power" that has led to all sorts of social sins.
During her talk, she called upon educators to move beyond safe, large-group discussions of sexual violence on college campuses. While difficult and sometimes embarrassing, one-on-one conversations also are needed and would go a long way toward addressing the root cultural influences for such behavior, she said.
"If we can't talk about problems in our own house, we won't be able to in the public square," she added.
Before her lecture, Rubio met with many Gannon students, discussing her viewpoints and sharing ideas. A professor of social ethics at Jesuit School of Theology of Santa Clara University in Berkeley, California, she has written four books, including Family Ethics: Practices for Christians and Hope for Common Ground: Mediating the Personal and the Political in a Divided Church. Her current book project deals with feminism and Catholicism.
Rubio's call for more dialogue on campuses struck a chord with students who attended the Loftus Lecture.
Junior Sarah Lundquist said that even in 2019, teachers and students seem embarrassed to openly discuss sexual violence.
"The longer we don't talk openly about sexual abuse and pretend it isn't a real issue and put a veil over it, we just harm each other," Lundquist said. "It all starts with these tough conversations."
Michael Rizzo, also a junior, said Rubio's talk shed light on the issue.
"I think it was an important topic because we are in college in the midst of a hook-up culture," Rizzo said. "You see it all around you on social media and every Friday and Saturday night. I'm an RA [resident assistant]. With the new generation coming through, how do you address self-image, body image?"
-