Mother and son show beauty of Down syndrome
BY MARY SOLBERG | FAITHLIFE
05/09/2018
BY MARY SOLBERG | FAITHLIFE
When Diana Englund of Erie learned that her newborn son Nathan had Down syndrome, she worried about how people would treat him. She even wondered if the demands of caring for such a dependent child would snatch away her own freedom.
That was 23 years ago, and Englund, now 62, says, "Everything I worried about was useless. None of it ever came to pass."
A parishioner of St. Joseph Parish/Bread of Life Community, Englund reflects on her life with Nathan in light of legislation currently before the Pennsylvania Senate.
House Bill 2050 (Down syndrome Protection Act) proposes to ban abortions based on a fetal diagnosis of Down syndrome.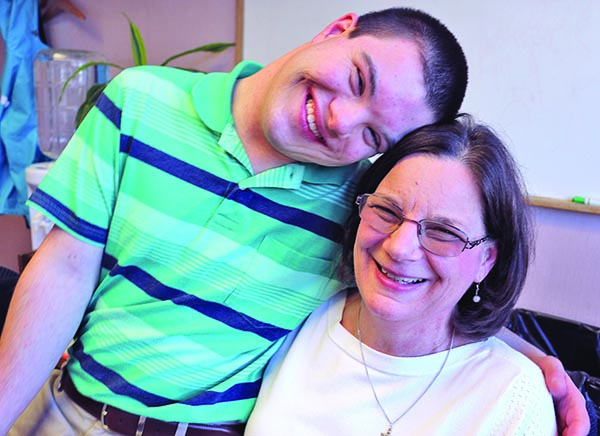 Photo by Mary Solberg
Nathan Englund and his mom, Diana, share a similar sense of humor and a desire to show the world that Down syndrome adds to a full life.
Pennsylvania's House of Representatives passed the bill April 16 by a resounding bipartisan vote of 139-56. Although the measure will be taken up by the Senate, Pennsylvania Gov. Tom Wolf already has expressed his opposition to it and could veto the bill.
"There's no reason justified to abort a person with Down syndrome," Englund says. "They're such a joy to everyone. I have never met a parent who wasn't happy with their child with Down syndrome and who didn't love them to death. And I have never met a person with Down syndrome who says, 'I have Down syndrome and I don't like my life.'"
Englund's fierce love for Nathan is obvious when the two sit across from each other. Their easy repartee indicates a lifetime of mutual care, appreciation, and even a shared sense of humor.
"She is a fantastic lady," Nathan says, laughing. "She drove us on trips some summers. She is busy. She's a likeable lady."
Englund good-naturedly accepts the compliment, but adds that Nathan wasn't so happy with her recently. She turned off his computer one night after he did not shut it down when she asked him a half-hour earlier.
"You were a little bit mad at me the other night," she chides him, adding, "You said mothers should be merciful and I wasn't being merciful. But we got over it."
Any parent might empathize with this situation. But what's exceptionally telling is how much Englund and her husband of 38 years, Richard, establish normal, everyday routines despite Nathan's Down syndrome.
At 23, Nathan is considered high functioning. He reads at a fourth-grade level and graduated in 2015 from the Harborcreek School District's life skills program. After taking a year-long culinary arts class at Mercyhurst University's North East campus, he got a job working part-time at Penn State Behrend's dining hall. He cuts meats at a food station and tends to the salad bar. He's also an altar server at St. Joseph, where he participates in the parish's Friendship Ministry, a program for people with intellectual disabilities.
The 10 members of the ministry do crafts, enjoy a Bible study and share a meal. Recently, Englund purchased a set of choir chimes so that the group could perform at local nursing homes. "We're going to nursing homes every other month now," Englund says. "They're happy to make other people happy." Nathan describes himself as "joyful."
"I am…yep," he says. "Life is good."
Michele Inter, director of the Office of Disabilities Ministries for the Diocese of Erie, has watched Nathan contribute to the community on many levels. He offers assistance with Joy Ministries, a diocesan program for people with intellectual and developmental disabilities, and he visits St. Joseph Church every Friday afternoon for a committed hour of personal prayer and adoration.
"Nathan has a true heart for service and a true heart for God," Inter says.
Inter is lobbying for passage of House Bill 2050 so that the world may benefit from future Nathans. The National Down Syndrome Society estimates that one in every 700 babies in the United States is born with Down syndrome, making Down syndrome the most common chromosomal condition. About 6,000 babies with Down syndrome are born in the United States each year. Aborting these babies, Inter says, would be a travesty.
"We would be missing the gift of pure love and pure joy, which those with Down syndrome give so wholeheartedly," Inter says. "The Holy Spirit is working through them."
Support the Down syndrome Protection Act
The Office of Social Justice and Life and the Office of Disabilities Ministries of the Diocese of Erie—along with the Pennsylvania Catholic Conference—urge people to advocate for House Bill 2050, the Down syndrome Protection Act. Under current law, a woman can obtain an abortion prior to 24 weeks gestational age for any reason if a physician deems it is necessary, except if the woman's sole reason is to select the sex of the child. The proposed bill will expand that exception to prohibit aborting the child solely due to a prenatal diagnosis of Down syndrome.
For more information about the bill and proposed action, go to www.pacatholic.org.
-