NATION AND DIOCESE TO RENEW CONSECRATION TO MARY MAY 1
Anne-Marie Welsh
04/28/2020
ERIE — Catholics across the country are invited to join their hearts and prayers together in a unique opportunity on Friday, May 1 at 3 p.m., as Archbishop José H. Gomez, president of the United States Conference of Catholic Bishops, leads a renewal of the consecration of the United States to Mary, Mother of the Church. At 7 p.m. on the same day, Erie Bishop Lawrence Persico will lead a livestreamed ceremony to dedicate the Diocese of Erie to the Blessed Virgin as well. Households across the diocese are strongly encouraged to participate in this rare experience.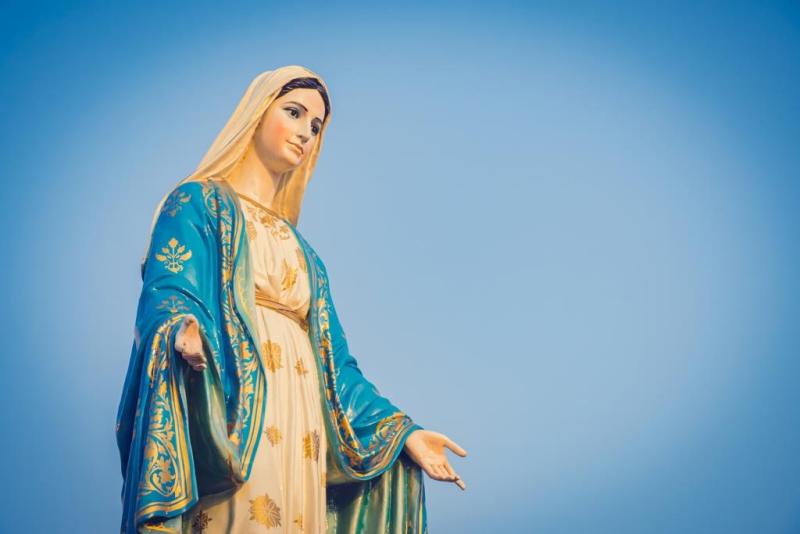 "I think it's very important for the people of our diocese to come together in prayer in the midst of this pandemic," Bishop Persico said. "Mary is our mother, the mother of the church. We are asking that she come to our aid by interceding with her son on our behalf during this time of real need."
An act of consecration to Mary is meant to be a reminder to the faithful of the Blessed Mother's witness to the Gospel, and to ask for her effective intercession before her son on behalf of those in need. Bishop John Carroll of Baltimore, the first bishop of the United States, promoted devotion to Mary, the Mother of God, and first placed the United States under her protection in a pastoral letter in 1792.
"I'm pleased this is happening on May 1," Bishop Persico said. "May is traditionally the month dedicated to Mary. Growing up, most of us experienced May crownings at this time of year. This renewal of consecration is a good way for us not only to ask for Mary's intercession, but also to honor Mary." The bishop said that while the national event is happening at 3 p.m., he hopes that by holding the diocesan consecration at 7 p.m., entire households will be able to share the experience.
"Its important that all of our voices be heard," he said.
Both events can be accessed on the diocesan Facebook page and through a banner found at www.ErieRCD.org. Worship aids for the consecrations can be downloaded at www.ErieRCD.org/inspiration.html.
The consecration is a fairly brief service that includes a short Scripture passage, a single decade of the rosary, and the consecration prayer itself.
Pastors also are being encouraged to consecrate their parishes to Mary, Mother of God via livestream for their parishioners if possible.
The renewal of consecration planned in this country for May 1 does not change the designation of Mary as the patroness of the United States under the title of the Immaculate Conception. Rather, this prayer reaffirms and renews previous Marian entrustments, and unites Americans in solidarity with the Holy Father, who recently set aside the first Sunday after Pentecost as the memorial of the Blessed Virgin Mary, Mother of the Church, as a source of protection and strength.
Bishops in the Canadian Conference of Catholic Bishops plan to renew their country's consecration to Mary on May 1 as well. The bishops' conference of Latin America and the Caribbean (CELAM) consecrated their nations to Our Lady of Guadalupe on Easter Sunday.

Consecration Q & A


What is consecration?
Consecration is a response to God's call. Baptism is our first consecration. Through baptism we no longer belong to ourselves, but to Christ who imparts his life to us. Throughout our lives, we engage in subjective consecration by voluntary adherence to what baptism has made of us.
Why a consecration to Mary?
Through a collective dedication or entrustment of a nation to Mary, an act of consecration is meant to be a reminder to the faithful of the Blessed Mother's witness to the Gospel and to ask for her effective intercession before her son on behalf of those in need.
Bishops of the United States have entrusted our nation to the care of the Blessed Mother on multiple occasions beginning in 1792. Several popes have consecrated the world to Mary on various occasions.
Vatican II calls Mary "our mother in the order of grace" (Lumen Gentium) Mary is the prototype of perfect consecration chosen to help us in our consecration through her intercession and by her maternal care. She is the perfect example of church, a model of all the faithful. All consecrations to Mary are Christocentric and theocentric, "heighten the depth and truth of our commitment to Christ and must explicitly state that our ultimate goal is God."
Is a renewal of consecration necessary?
This renewal of consecration "will give the church the occasion to pray for Our Lady's continued protection of the vulnerable, healing of the unwell, and wisdom for those who work to cure this terrible virus," said Los Angeles Archbishop José Gomez, president of the United States Conference of Catholic Bishops, in a letter to his brother bishops. Each year, the church seeks the special intercession of the Mother of God during the month of May. "This year, we seek the assistance of Our Lady all the more earnestly as we face together the effects of the global pandemic," he said. (United States Conference of Catholic Bishops)
-