NEW ACADEMIC YEAR BEGINS FOR HUNDREDS OF STUDENTS THROUGHOUT DIOCESE
Erica Erwin
08/27/2018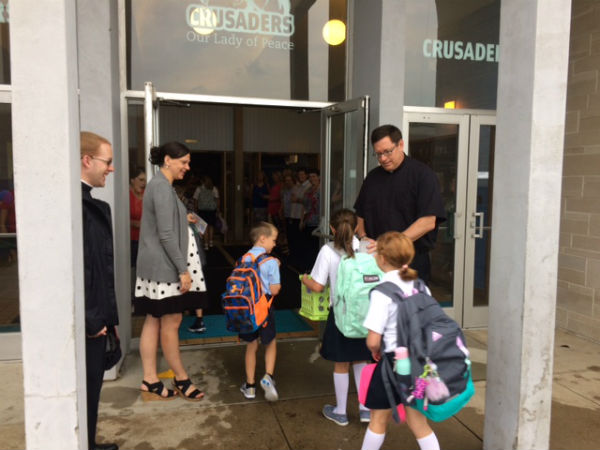 They came one by one, in pairs, and in small groups, the littlest of them holding their parents' hands and wearing nervous smiles with their bright new polo shirts. They walked up the stairs, through the entrance festooned with balloons and lined with teachers to welcome them and, with a quick hug or a wave to mom and dad, entered a new school year at Erie's Our Lady of Peace School.
Principal Lisa Panighetti stood outside with Father Rich Toohey and Father Kyle Seyler, pastor and assistant pastor of Our Lady of Peace, rattling off hellos and well wishes.
"I think it's going to be awesome," 8-year-old third-grader Trevor Benacci said as he waited to enter, a smile breaking across his face. "I'm looking forward to seeing all my friends I haven't seen over the summer."
The 2018-19 school year started Monday for hundreds of students in the six schools that make up the Erie Catholic School System, as well as for students in the Shenango Valley Catholic School System, Erie Catholic Preparatory School, including Cathedral Preparatory School, Villa Maria Academy and Mother Teresa Academy, Mercyhurst Preparatory School and several parish-based schools throughout the Diocese of Erie, including St. Bernard Elementary/Middle School in Bradford, St. Francis School in Clearfield, St. Gregory School in North East, St. Michael School in Greenville and Ss. Cosmas and Damian School in Punxsutawney. Students in the Elk County Catholic School System started the year on August 23; DuBois Area Catholic Schools and several other parish-based schools start today. Students at St. Joseph School in Lucinda, St. Joseph School in Warren and Seton Catholic School in Meadville go back to school on Wednesday.
The day unfolded with lots of laughs, a few tears, prayer and, yes, homework assignments.

7:55 a.m., Our Lady of Peace School
Students in Liz Swantek's second-grade class paused in their task of putting away classroom supplies to listen to morning announcements and a Gospel reading and to pray. Down the hall, the newly minted kindergarteners were just getting settled.
"So far I'm OK because he's OK," Julie Lehr said.
Lehr had just dropped off her son, 5-year-old Cooper Porter, in Mrs. Jubulis's kindergarten classroom, and all seemed well.
"He was excited but nervous," Lehr said. "Excited to make friends but nervous to leave me."
Giving Cooper a Catholic education was important, Lehr said.
"My mother's faith is very strong, and so is mine," she said. "I just want him to have that environment growing up."
The first day of school is a milestone and an emotional day for kindergartners – and their parents. School librarian Natalie Toscano was ready with a tissue for a teary mom who had just dropped her daughter, an only child, off at her classroom.
"As a mother, I totally get it," Toscano said with a smile. "They're letting their child go, but in such good faith that they'll be well taken care of here at OLP."
8:40 a.m., Blessed Sacrament School
"What do I do with my scissors?" "Where does this go?"
First-grade teacher Melissa Baldwin entertained a barrage of questions as she wrangled her students to the carpet in front of the class calendar.
"First day, it's overwhelming," Baldwin said and laughed.
Baldwin wasn't the only one feeling that way. Second-grader Brinn Schumacher admitted that she was a little anxious before she arrived that morning.
"Before I came to school I was really nervous but when I got to school I felt normal because Mrs. Dietrich is really nice. I hope it's going to be really fun."
Downstairs and less than one hour into her first day of teaching, Karen Weibel, a fifth-grade math, science and religion teacher, had just deposited her students into the gym. Weibel, who had taught dance classes since age 13, enrolled at Penn State Behrend to study chemical engineering but changed her career path about two and a half years into college. She transferred to Gannon University to study education.
"I wasn't working toward anything that I was passionate about," she said. "I reflected and realized that teaching dance made me happy. It wasn't the dance that made me happy. It was the teaching, the 'ah ha' moments, the interaction with the kids."
When Weibel realized her students were a little nervous this morning, she leveled with them.
"I said to them, 'Can I let you in on a little secret? I'm a little nervous, too. Together we'll make it through.'"
10:45 a.m., St. Gregory School
The entire school – teachers, staff and students – gathered on the basketball court outside St. Gregory School in North East to shake hands, an annual tradition meant to "start building yearlong relationships" and form community, Principal Nancy Pierce said.
Inside afterward, Amy Kloss led her level-four math students – seventh- and eighth-graders – in a math exercise meant to encourage teamwork, the ability to strategize, and communication. Then she quizzed them on their interests: What are their favorite foods? Who are favorite musical artists?
Eighth-grader Avery Ollinger has attended St. Gregory's since preschool. She was bummed that summer was ending, but happy to go back to the school routine with friends. She spent Sunday night getting her supplies and clothes ready.
"I love this school," the 13-year-old said. "I have a lot of fun here. I came into this school year just wanting to have fun and wanting to be friends with everyone. I just want it to be a good year."
1:10 p.m., Cathedral Preparatory School
Charlie Giambrone and Jalen Salvi, both 14-year-old freshmen at Cathedral Preparatory School, spent much of the first day trying to navigate their way through unfamiliar hallways between their classes and lockers.

Day One of high school was, so far, much like they expected: lots of new people, lots of camaraderie. What they didn't expect was the choices.

"There's a lot more stuff to do," Salvi said. "Depending on what you want to be when you grow up, there are so many options you can try."

They rattle off a list of electives that include drawing and clay and ceramics. Giambrone is already signed up for debate.

"I've been arguing with people since the day I was born," he said and laughed.
Senior Tim Klebanski, meanwhile, was already thinking about the end of the year as he sat in seventh period study hall.
"It's bittersweet," he said of the first day. "I'm really looking forward to go to college, but I also want to enjoy everything about senior year, from sporting events to everything I can take in, any school activities."
The best thing about Cathedral Prep is "the brotherhood," he said.
"Everyone knows everyone and enjoys each other's company, especially the other seniors. We've been through a lot together."
2:30 p.m., St. James School
The first day of the new school year winded down in the same way it began, with prayer. Students in Kim Cairns's fifth-grade class recited the Our Father and the Act of Contrition before a couple of them grabbed brooms and garbage bags to help clean up the classroom, a daily practice.
"They get a little responsibility" by taking ownership of the cleanliness of the classroom and personal space, Cairns said.
As yellow buses pulled up to the main entrance, Principal Lisa Ann Norton readied groups of students for dismissal in a long-practiced ritual.
"Did you have a good day today?" she called out to one group.
The students, ready for her, yelled back in unison: "You betcha!"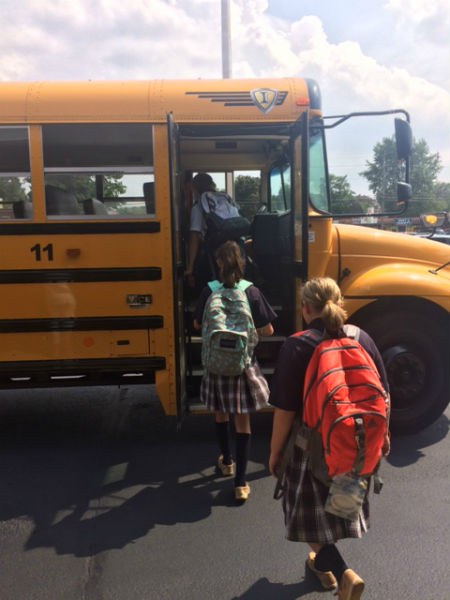 -