NEW CASTING OF CATHOLIC SCULPTOR'S IMMIGRATION ARTWORK UNVEILED
Mark Pattison/Catholic News Service
10/05/2020
WASHINGTON (CNS) — A new casting of a 3.5-ton bronze sculpture commissioned by the Vatican has made a temporary stop in Washington before it eventually finds a permanent home there.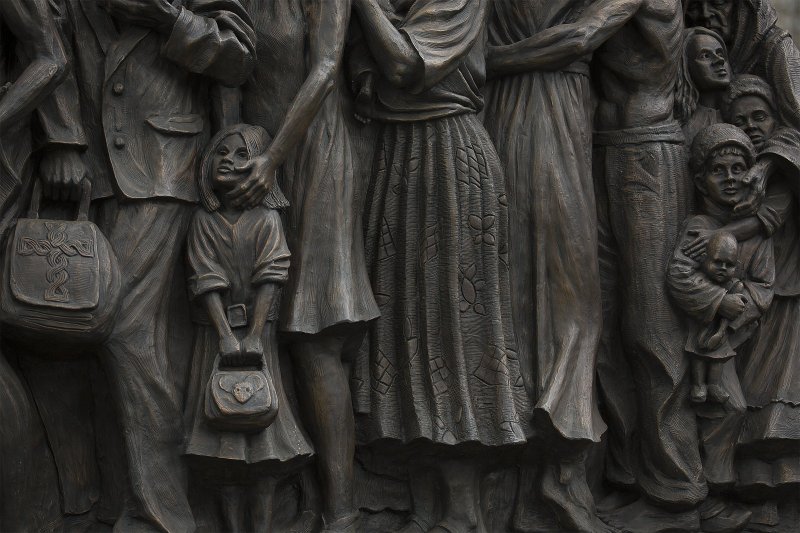 Angels Unawares was formally unveiled on a plaza at The Catholic University of America Sept. 27, the church-proclaimed World Day of Migrants and Refugees. This year's theme, chosen by Pope Francis, is "Forced Like Jesus Christ to Flee."
The statue will stay on the university's campus temporarily, before heading to its next stop — the campus of Boston College. It came to Washington from Our Lady of the Angels Cathedral in Los Angeles. After Boston, the sculpture is to make stops in other U.S. cities before returning to its permanent home at the university in 2021.
Its sculptor, Timothy Schmalz, chose the artwork's title from Hebrews 13:2, which he expresses this way: "Be kind to the stranger; you don't know if they are angels unawares."
When it returns for good to Catholic University, Angels Unawares, which depicts 140 refugees from all lands and eras in a large boat, will be placed in a reflecting pool. "In water! Which is going to be something!" said Schmalz, a Catholic, who spent one year in his studio crafting the original, which itself was unveiled at St. Peter's Square in the Vatican on last year's World Day of Migrants and Refugees.
The number 140 to depict refugees was deliberately chosen to match the number of saints depicted in the colonnade at St. Peter's. Schmalz said one cardinal told him approvingly, "It doesn't have to match (Gian Lorenzo) Bernini," the Italian artist who designed the square in the 17th century. "It matches the Gospels!"
Having so many figures in the sculpture allows for the full range of emotions refugees have on their journey, Schmalz said, among them, hope, fear, apprehension, joy and the pain of perhaps never seeing one's homeland again.
Schmalz put representatives of some of history's most searing refugee journeys near the front of his sculpture: a young Irish lad, symbolic of the Irish potato famine in the mid-19th century; a Jew fleeing Adolf Hitler's Third Reich in the 1930s; and "shoulder to shoulder" with the Jew, he said, a Syrian woman, emblematic of the Arab world's refugee crisis of the past decade.
"I had real refugees in my studio modeling for it," said Schmalz, a Canadian whose studio is in St. Jacobs, Ontario, a small town about 90 minutes west of Toronto.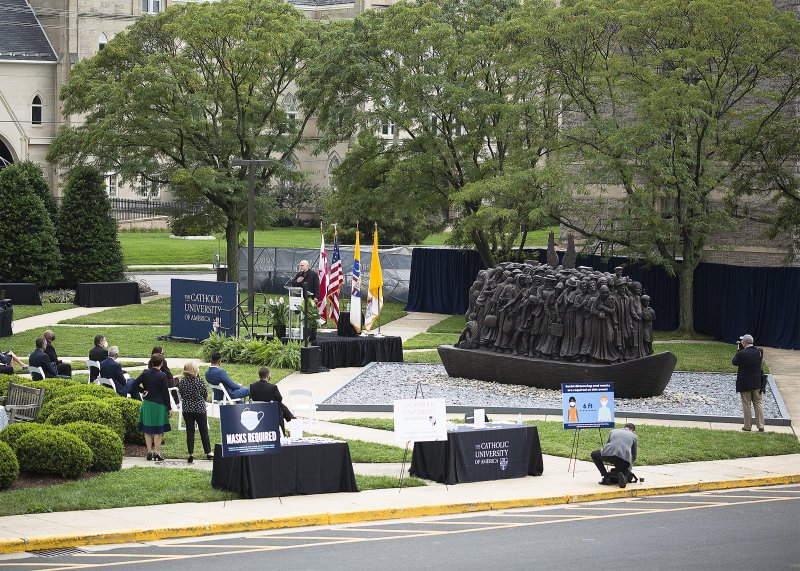 When he got the commission, "I dropped other projects. You have the excuse" of "carving, or crafting, the beliefs of Pope Francis," Schmalz told Catholic News Service Sept. 25 with Angels Unawares looming perhaps 20 feet away; he stopped the interview at one point to take pictures of it with his phone to share with others.
Schmalz, 50, has been sculpting for 30 years. He works exclusively in bronze. "I love bronze because it lasts forever," he said. But wouldn't mistakes last forever? He replied that while he might have paid less attention to the ringlets in the hair of one of its 140 subjects, there are "no mistakes."
But, he admitted, there nearly was one. In sending photos of the work in progress to the Vatican, Schmalz said he remarked that he had every refugee group represented — except indigenous people, since they did not flee by boat. "But they were displaced, too," was the rejoinder. So Schmalz made an adjustment on the fly and made one of the figures a Cherokee Indian on the Trail of Tears, the U.S. military's forced relocation of American Indians from the U.S. Southeast largely to present-day Oklahoma, during which thousands perished.
Schmalz said the original sculpture took one year to do. "When I was exhausted and couldn't go on anymore, I knew that I was done," he said. Making a copy takes six months. Schmalz told CNS that other copies will be made for "countries that have been impacted by refugees."
Angels Unawares is not Schmalz's first religious sculpture. Multiple castings of his Homeless Jesus are in national capitals worldwide. A sculpture based on Jesus' "Whatsoever you do" teaching in Matthew 25 is located at St. Matthew Cathedral in Washington.
In the CNS interview, Schmalz seemed to relish the opportunity to do religiously themed sculpture. "As far as art is concerned, especially Christian artworks — it has to go the extra mile," he said. "It has to do Christian ideal in order to be relevant today."
Noting the summertime spate of monument takedowns in the United States and elsewhere, he declared, "We can no longer do things half-assed in Christianity," adding, "We have truth, but we've been marginalized."
One figure may be targeted in a statue's removal, he said, but with 140 people represented in Angels Unawares, he said, "this is all of us."
-