NEW SCHOOL YEAR BRINGS CHANGES TO DIOCESAN SCHOOLS
Erica Erwin
08/28/2018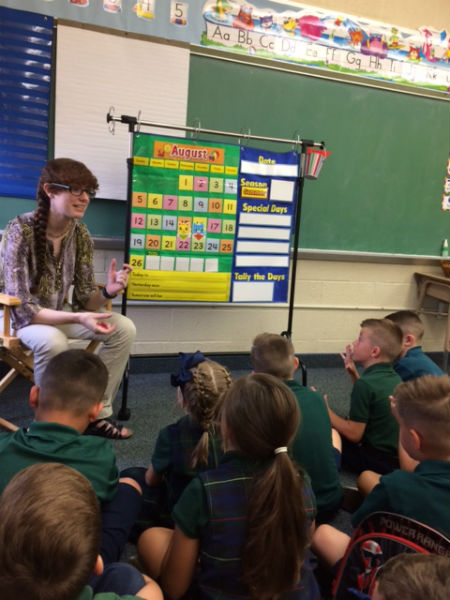 High-tech science labs.
More security.
New leadership.
Increased enrollment and an added grade level.
The start of the 2018-19 academic year in the Diocese of Erie brings with it changes that are providing new tools to hundreds of students and teachers and reshaping schools throughout the diocese.
Spotlight on science, security
Middle school students in all six schools that comprise the Erie Catholic School System – Blessed Sacrament School, Our Lady of Peace School, St. George School, St. James School, St. Jude School and St. Luke School – will begin the year with new science labs as part of a multimillion-dollar summer renovation project that also added new security systems to the entrances of three of the schools.
The labs feature lab tables, working sinks, cabinetry to hold supplies, energy-efficient lighting and new technology, including interactive touchscreen monitors.
The labs grew out of the same 2016 "Building in Truth and Love" comprehensive plan that reorganized the six schools under the new umbrella of the Erie Catholic School System, said Damon Finazzo, president of the system.
"It was an immediate obvious investment (in which we could) upgrade the buildings and provide more rigorous, more hands-on instruction for our middle school students to better prepare them for high school and beyond," Finazzo said.
The labs allow the system to better compete for students and provide them with the best education possible, Finazzo said
"It's the 21st century," he said. "Education is changing and we wanted to be at the forefront of that."
As part of the renovation project, three schools – St. James, St. Jude and Our Lady of Peace – also have new access control systems at entrances. Visitors are now funneled directly into reconfigured office spaces at each school that provide controlled access to the rest of the building. (Renovations at Our Lady of Peace will be complete this fall.)
The new security systems are "only the beginning as we evaluate what's best for everyone who enters our buildings," Finazzo said.
New leadership
Several diocesan schools are under new leadership this year.
Audrey Coletta, a former elementary principal in Harborcreek and Wattsburg, will serve as principal of St. Luke School in Erie. Ann Marie Lathan, an educator and parent of students at Erie's Saint George School, will lead the school.
Will Pituch, a graduate of Villa Maria Academy, filled the newly created position of vice president of academics and student affairs for Cathedral Preparatory School and Villa Maria Academy. Rick Herbstritt will serve as assistant vice president of Cathedral Prep; Veronica Conaroe will serve as assistant vice president of Villa Maria.
Tom Rinke has been named principal of Mercyhurst Preparatory School. Brenda Karlinchak will serve as an assistant principal.
Ray Knight and Lynn Kuchinski will take the helm of St. Boniface School in Kersey and St. Leo School in Ridgway, respectively. Joshua Testa will lead St. John Paul II School in Hermitage, and Marge Hajduk will lead St. Stephen in Oil City. Heather Kunselman has been named principal of Ss. Cosmas and Damian School in Punxsutawney.
"I am excited by the energy and passion for Catholic education that has been exhibited by our new administrators. Their influx of ideas will continue to help us grow," said Jim Gallagher, superintendent of Catholic Schools for the diocese. "I know we are on the right track when we continue to get qualified individuals who want to be a part of our Catholic school family. It's the mission of our schools and the opportunity to be a part of something special that speaks to them. It's what Catholic schools are all about."
Enrollment up, added grade
St. Joseph School in Warren has been growing – a trend that will continue this year with the addition of a sixth grade.
The move is a result of a feasibility study that analyzed student demographics and cost and determined the school had the capacity and enough parent interest to add the grade level. Eight St. Joseph students who otherwise would have had to enroll in another school to start sixth grade will now be able to continue their education there, Principal Nancy Warner said.
"It makes me smile," Warner said. "Our new pastor (Father Rick Tomasone) and I were talking about trying to bring this grade on board and we both felt it was important to at least get these students through half of their 12 school years in a Christ-centered educational setting. I'm just so happy it's happening."
The school also is welcoming 40 incoming kindergartners, its largest class incoming kindergarten class ever.
The growth is a stark turnaround for a school that, Warner said, was on the verge of shutting down not too long ago because of low enrollment. Commitment from school and church leaders and dedicated parents and parishioners has made the difference – and students will reap the benefits, Warner said.
At St. Joseph's, "we focus on so much more than excellence in academics," she said. "We focus on their (faith), their compassion toward other human beings."
St. Francis in Clearfield is celebrating its 125th anniversary this year with the good news that enrollment grew by 18 students.
"We had an open house for Catholic Schools Week and we had 15 families come," Principal Sheila Clancy said. "Thirteen enrolled within two weeks, which is really, really wonderful. In the past we would have had just a couple."
Clancy attributes the growth to a concerted and proactive marketing and advertising effort that included new brochures and ads playing on the screen of the local movie theater. In years past the school relied solely on word-of-mouth to grow its enrollment. That worked – one incoming kindergartner is a fourth-generation St. Francis student, and Clancy sees many parents who were her former students there – to a point.
"One of the things a lot of our parents said is, 'St. Francis is the best kept secret in town.' We decided we didn't want to be a secret."