'OUR CIVIC DUTY ... OUR CHRISTIAN RESPONSIBILITY'
Anne-Marie Welsh
01/31/2022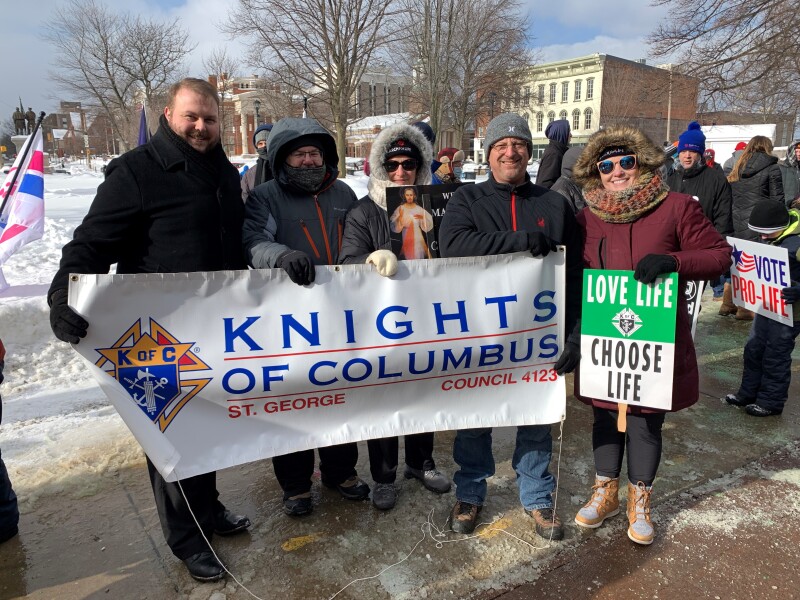 ERIE — "It's a part of not only our civic duty but also our Christian responsibility to stand up for life," Father Andrew Boyd, parochial vicar at St. George Parish in Erie, said at Erie's March for Life on Saturday, Jan. 29. Advocates gathered in Perry Square just before the annual event sponsored by People for Life. "Yes, it might focus on abortion, but we recognize the importance of every human life that God has given us, so we continue to protest any actions that go against life," Father Boyd said. He noted that protesters promote a worldview in support of life from conception until natural death.
An official count showed 199 participants took part in the event, which included a walk through downtown Erie followed by brief comments from several speakers. Father Boyd was invited to offer the prayer.
Among participants were members of the Knights of Columbus, Gannon Students for Life, families and activists. The event marked the 49th anniversary of the January 1973 Roe v. Wade Supreme Court decision that struck down the abortion laws of all 50 states. Since that time, 62 million lives have been ended through abortion. Media coverage was strong as the Dobbs v. Jackson Women's Health Organization before the Supreme Court will determine the constitutionality of a Mississippi law that banned abortions after the first 15 weeks of pregnancy.

With the march being held in a world still wrestling with COVID-19, Father Boyd also offered his take on responding to the pandemic from a pro-life perspective.
"Our protection of the most vulnerable in society has to extend to not just acts of violence against life, but also anything that deals with illness," he said. "We continue to work towards cures for illnesses in our world. That is an act of life."

-