PASTORAL PLANNING CONTINUES AS FAITH FORMATION THEMES INTRODUCED
10/21/2018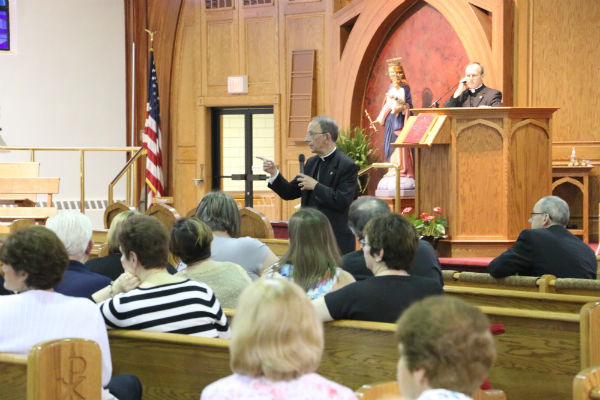 Bishop Lawrence Persico and members of the Faith Formation Implementation Team will travel to three locations in the Diocese of Erie this week, proposing a formation framework that will be introduced in parishes over the next four years.
The effort will emphasize four areas of encountering Christ:
Welcoming and belonging: Creating relationships conducive to growth in discipleship
Catechesis: Imparting the faith to people of all ages
Sacramental preparation: Encountering Christ in the sacraments and worship
Service: Living out what has been experienced through community, catechesis and the sacraments.
Deacon Steve Washek, newly named director of faith formation for the diocese, said the areas of encounter will be used to guide parishes along a path of growth.
"As we shift to each focus, we will build upon what we've experienced and learned," he said.
Bishop Persico maintains that evangelization is more than a program with a beginning and an end. It requires ongoing commitment.
"This approach will allow us to take concrete steps, to learn, to refine and to keep moving forward," Bishop Persico said.
Pastors and parish leaders will be given an assignment to complete before the end of the year. They are to identify one example of welcoming and one example of belonging they either do well, or hope to improve. In early 2019, Deacon Washek will host regional gatherings during which parishes will have the opportunity to brainstorm and share ideas while developing their plans more fully.
Faith formation is the fourth component of the 2015 pastoral planning initiative called "Prayer, Planning, Possibilities." Major efforts already have been launched regarding vocations, Catholic schools and parish restructuring. Along the way, a number of offices and job descriptions also have been realigned.
During this week's vicariate meetings in Erie, Hermitage and Saint Marys, Bishop Persico will offer comments on the Pennsylvania grand jury report on clergy sex abuse. It will be his first major opportunity to meet with parish leaders since the report was released Aug. 14.

Bishop Persico sees the need to rebuild trust and credibility.
"I am grateful for the timing of this aspect of planning," he said. "We're in the midst of a uniquely challenging moment in the church — one that has required each of us to recognize that our commitment must be to Christ. Renewal will take time. But I am eager to begin."
The four areas of encounter that will be introduced in parishes will each address the six recommendations of the Faith Formation Task Force. For an overview of the recommendations first made public in 2017, visit www.ErieRCD.org/planning.htm.
-