PASTORAL PLANNING UPDATE
Anne-Marie Welsh
05/10/2022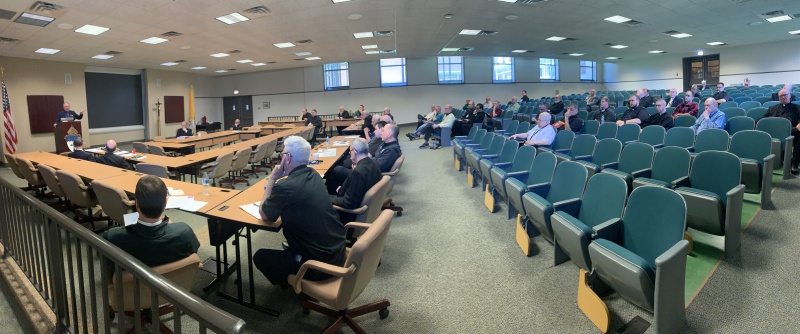 NORTHWEST PA — It has been five years since the first phase of parish restructuring was implemented in the Diocese of Erie as a result of pastoral planning. At that time, through a series of mergers and partnerships, and after a significant process that included dialogue, feedback and refinement, the diocese reduced the number of its parishes from 117 to 96.
"Change is never easy," says the Most Rev. Lawrence T. Persico, bishop of Erie. "But it's encouraging to see that the majority of parishes have handled their transitions very well. The primary goal remains creating healthy, vibrant parishes where people can grow in their relationship with Christ."
Since the plan was first implemented, two more mergers have reduced the number of parishes in the diocese to 94.
As Bishop Persico has said on numerous occasions, planning will be a way of life within the diocese going forward. To that end, a series of resources and options were created by diocesan administrators for those involved in a second phase of planning during which a number of parishes in several regions have been exploring the possibility of merging or partnering in the future.
While not as public as the first-round effort, this second phase of planning has been transparent within the communities involved, including the parishes of St. Agatha, St. Brigid and St. Mary of Grace in Meadville, that have now come together as one: the Epiphany of the Lord Parish.
Recognizing that a number of parishes in need of planning next steps would benefit from a more structured approach, Bishop Persico now has introduced a third phase of pastoral planning. The national Meitler organization already has been engaged, first to update key data that will be useful for planning in three deaneries, and secondly, to outline the steps that need to be taken to bring plans to fruition.
"I know some pastors might prefer it if I simply made decisions about the future," Bishop Persico says. "And in some ways, that would be easier. But I believe strongly that pastors and parish leaders need to have a good understanding of their situations, explore their options and collaborate to find the best path forward."
The first deaneries that will be involved in the third phase of planning are the Bradford Deanery, the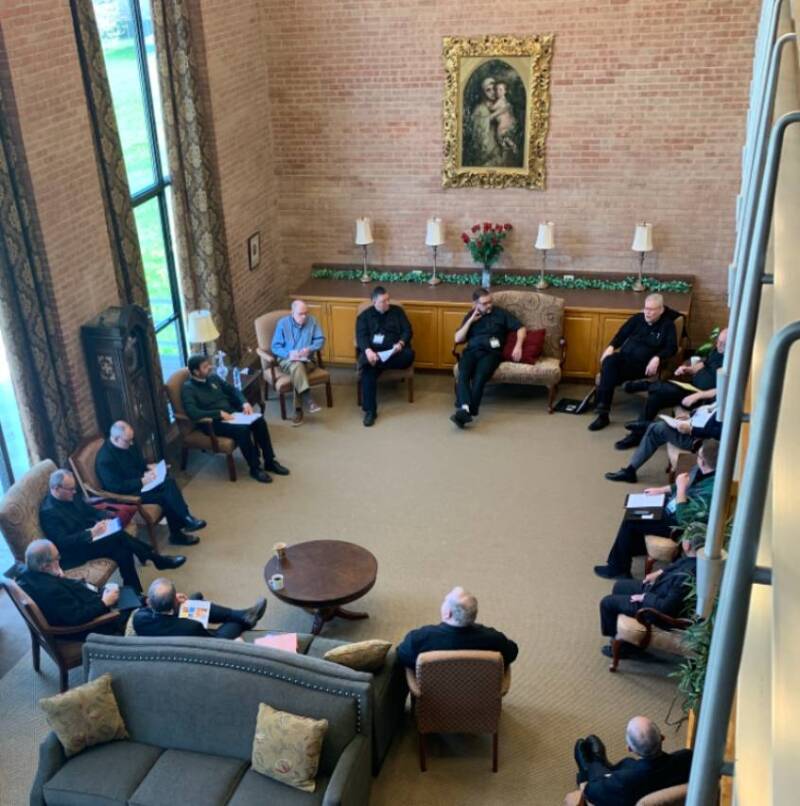 Oil City Deanery and the West Erie Deanery. Priests from those areas gathered at St. Mark Center in Erie on May 10 to meet with Mark Kemmeter of Meitler. Kemmeter is familiar to many pastors and parish leaders, as he traveled throughout the diocese on behalf of Meitler during the first phase of planning.
"Having new demographic, religious and parish information helps communities discern options and possibilities," says Kemmeter, who has worked with dozens of dioceses across the country. "Data gives people the information they need to make decisions with confidence. They're not just making good guesses about the future." The data gathered includes information on population growth or loss, employment trends, poverty levels, housing, religious affiliation and more. Among other data, the study also looked at trends over the past seven years for Mass attendance, infant baptisms, first Communions, confirmations, marriages and deaths for each parish in each of the deaneries involved.
In late May and early June, Kemmeter will return to meet with pastors and parish leaders in each of the three deaneries, providing them with a more in-depth look at their data and its implications. He also will guide them through the steps they need to take in the coming months to successfully develop a plan based on the data.

"Planning involves a great deal of discernment," Bishop Persico says. "That's true not only at the parish level, but also at the administrative level. Bringing Meitler on board in this new capacity is the right step at this time. Mark's expertise, coupled with his knowledge of our diocese will serve us well."
-