POPE FRANCIS PAYS TRIBUTE TO POPE BENEDICT; HIGHLIGHTS GENTLENESS
Cindy Wooden, OSV News
12/31/2022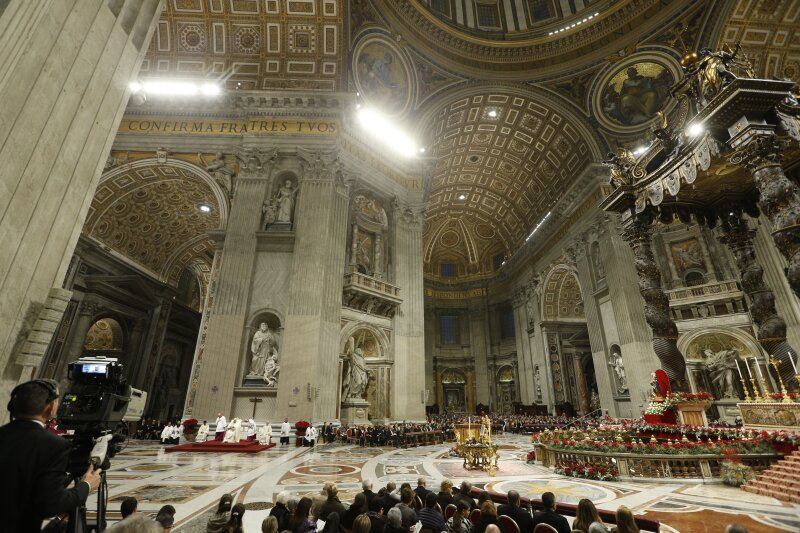 VATICAN CITY (OSV) — Keeping his appointment to celebrate vespers as 2022 was ending, Pope Francis also paid tribute to his predecessor, Pope Benedict XVI, who died early Dec. 31.
"At this moment, our thoughts go spontaneously to our dearest Pope Emeritus Benedict XVI, who left us this morning," Pope Francis told thousands of people joining him in St. Peter's Basilica for the evening prayer service.
"With emotion we remember him as such a noble, such a gentle person," the pope said. "And we feel so much gratitude in our hearts: gratitude to God for having given him to the church and to the world; gratitude to him, for all the good he accomplished, particularly for his witness of faith and prayer, especially in these last years of his retired life."
"Only God knows the value and strength of his intercession and his sacrifices offered for the good of the church," Pope Francis said of the 95-year-old Pope Benedict, who had spent almost 10 years in retirement in a monastery in the Vatican Gardens.
The prayers of the faithful also included special mention of the deceased Pope Benedict, asking God to allow him to see Jesus face to face.
In the main section of his homily, Pope Francis focused on kindness and gentleness as both a religious and a civic virtue.
With the Christmas season still underway and the basilica's Christmas decorations still in place, Pope Francis said that Jesus "did not come into the world swooping down from heaven; he was born of Mary."
Jesus became human "with her consent; in freedom, in gratuitousness, in respect, in love," the pope said.
Focusing specifically on the Diocese of Rome, his diocese, Pope Francis urged citizens to cultivate kindness in their relationships with each other.
"Kindness is an important factor in the culture of dialogue," he said, "and dialogue is indispensable if we are to live in peace, as brothers and sisters, who do not always get along -- that is normal -- but who nevertheless talk to each other, listen to each other and try to understand and meet each other."
Kindness is not just politeness, he said, it is a virtue that can "humanize our societies."
"Kindness is an antidote against some of the pathologies of our societies: against cruelty, which unfortunately can creep in like a poison in the heart and intoxicate relationships," he said, and also "against distracted anxiety and frenzy that make us focus on ourselves and close us off to others."
Too often, the pope said, people get caught up in their own lives and do not realize how aggressive they are and how they stop asking "please," or saying "sorry" or "thank you."
"Peace progresses with those three words," he said. "It would be good for us to think about using 'please,' 'sorry' and 'thank you' often."
Pope Francis said his wish for the new year would be that everyone try harder to be kind.
"Experience teaches us that if it becomes a way of life, it can create healthy coexistence," he said, and "it can humanize social relationships by dissolving aggression and indifference."
After the service, Pope Francis joined thousands of people in St. Peter's Square to admire, and stop to pray, in front of the Nativity scene.
-